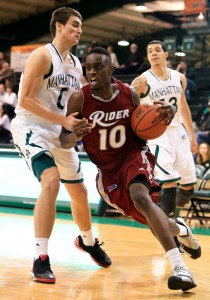 By Paul Gotham
ROCHESTER, NY – Zedric Sadler drained a three-pointer with fifteen seconds remaining, and a rugged Rider Broncs (18-13/ 12-6) defense proved too much in a 65-61 victory over the Canisius Golden Griffins (18-12/ 11-7) in Metro-Atlantic Athletic Conference action at the Koessler Athletic Center Saturday afternoon.
Sadler's three completed a second-half comeback which saw the Broncs erase seven-point halftime deficit.
"I'm proud of our guys," Rider head coach Kevin Baggett said. "It seemed like a tournament game already."
The Broncs, who trailed for the entire first half, turned up the pressure on defense and converted that momentum into a positive on the offensive end.
"It was a great defensive effort," Baggett continued. "We needed to tighten up some things at halftime."
Rider converted a long defensive rebound and a steal on back-to-back possessions to take their first lead of the game.
Jonathon Thompson ran down a rebound when it was tipped out of the lane and went end-to-end cutting the Canisius lead to one at 50-49. Sadler followed with a steal and layup for Rider's first lead of the game at 51-50.
"Zedric and Jon both did a good job picking their guards up," Baggett explained. "We really forced them to run their offense from way out by not allowing them to get in their sweet spots on the court in terms of where they want to get the ball to guys."
Nurideen Lindsey increased the margin to four with a three from the left corner.
The Griffs responded.
Jordan Heath got position in the post and took a lob from Harold Washington for a bucket. Billy Baron lofted in a floater from the baseline.  On the next trip, Baron used a high ball screen to get open behind the arc. He drew contact on the shot and converted the three charity tosses.
Isaac Sosa stretched the lead to five with a trey from the right corner forcing a Rider timeout with 4:24 remaining.
It was the last points on the afternoon for Canisius.
"We knew it was to be a battle," said Canisius head coach Jim Baron. "Last time we played them we really did a good job of rebounding, did a real good job of defending and we didn't do a good job."
Canisius used the long ball and jumped to an eight-point lead from the opening tap.
After Freddy Asprilla took an Alshwan Hymes lob into the post for a bucket, Hymes and Isaac Sosa nailed back-to-back three-balls. Harold Washington drove baseline and kicked to Hymes in the right corner for trey. Hymes fed Sosa on the next possession stretching the edge to six forcing a Rider timeout.
The Griffs continued from there. Sosa grabbed a defensive rebound, went the length of the floor and pulled up for two from inside the lane for 10-2 Canisius advantage.
Anthony Myles trimmed the deficit with a pair of free throws, but Reggie Groves pushed the lead to nine with a catch-and-shoot trifecta from Hymes.
Rider cut the margin to four at 22-18 when Jonathon Thompson nailed a three from the top.
Canisius quickly answered.
Sosa used an upfake and one dribble to his right for a pull-up jumper. Billy Baron hit two from the free throw line before Washington led Baron for a layup with a behind-the-back pass on a two versus one break.
The Griffs led 28-18.
Rider closed within six at 32-26 when Thompson drove and used a double pump for a bucket.
Washington converted a four-point play when he was fouled on a three-point shot.
Junior Fortunat closed the first 20 with a rebound and putback at the buzzer for the 38-31 count.
Canisius had nine assists on 12 field goals in through the first 20 minutes of play.
Fortunat led the Broncs with 12 points. Lindsey and Thompson added 11 each.
Baron, Sosa and Washington all scored 14.
Manhertz had a game-high eight rebounds.
Hymes had six including the 1,000th point of Canisius career.
Rider outrebounded Canisius 29-21.
The Broncs scored 34 points in the paint to 20 for the Griffs.
Canisius finished with just 11 assists after handing out eight in the first 20.