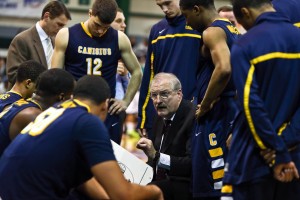 By Paul Gotham 
BUFFALO, NY – Billy Baron handed out just one assist. It came with less than six minutes to go. The Metro-Atlantic Athletic Conference's leader in helpers came in averaging more than five per game.
Isaac Sosa connected just one time behind the arc. Sosa's 3.1 makes per contest from long range ranks second in the MAAC. He only had four attempts Sunday afternoon.
The Golden Griffin offense committed 16 turnovers while accounting for just six assists.
Despite it all and being on the road, against the conference's first place team in a gym where Canisius hasn't won in a decade, the Griffs came away with a crucial 77-70 victory over the Niagara Purple Eagles.
But it was not without its tenuous moments.
Like the game played a fortnight ago, Canisius built a double-digit lead only to watch it slowly dissipate.
Niagara's match-up zone, once again, stymied the Canisius offense. With Marvin Jordan and Tahjere McCall harassing the ball in the backcourt, the Griffs lost precious seconds each possession on the shot clock. Once in the frontcourt, the Blue and Gold struggled to get their usual looks into the post. Sosa found no room to roam on the perimeter. Baron found limited openings to create.
Meanwhile, Niagara's offense whittled away at the deficit. Ameen Tanksley connected from behind the arc. Malcolm Lemmons added a triple. McCall finished a rebound and putback.
Juan'ya Green hit one of two free throws to give NU its first lead since the opening moments at 53-52. The sophomore guard then nailed back-to-back threes, and momentum wore purple and white.  One would not have been surprised to find Yogi Berra standing in the lobby discussing the phenomenon of experiencing a current event in the past.
"Obviously, we showed our resilience. We showed the character we have as a team," Billy Baron said. "They kind of hit us back at Canisius. We were able to bounce back. We as a team hit some big shots."
After four lead changes during the next three minutes, Billy Baron's layup with 2:14 pushed the Griffs ahead 66-64 and started a 13-6 run to end the game.
"We kept coming back," said Canisius head coach Jim Baron. "It's the sign of a team that's continuing to work on maturing. We got to keep working on getting better. That's the biggest challenge for this basketball team."
Layup finished Billy Baron found himself sprawled out on the hardwood in front of the unforgiving Niagara student section. Game officials went to the television monitor to determine the foul that sent Baron to the floor was not flagrant.
Meanwhile, the junior guard gathered himself for a free throw.
"Seeing him go the ground like that and get back up and not quit on us, it just gives us fuel," said Canisius forward Jordan Heath. "We play off that. It's huge for us."
Moments later, Heath followed a Harold Washington layup attempt in the open floor and delivered a thunderous two-handed slam for a 68-64 Canisius advantage.
"Jordan with that putback dunk," Billy Baron said. "That's the stuff that we need to get that win."
With the win, Canisius improves to 9-5 and joins a bottleneck at the top of the MAAC where one game separates first-place Niagara (10-4) from Canisius, Iona and Loyola all tied for second.
Rider sits one game back at 8-6.
"They picked us ninth," Jim Baron commented. "Last year we had one league victory, five overall victories, and I said 'you guys have done it. You guys are doing it.' But now we got to take the next step."
Baron won his 400th game this season after stops at St. Francis, Pa., St. Bonaventure and Rhode Island. At each school Baron took over a struggling program and brought it to prominence. But this year is different.
"For me I got to pinch myself sometimes because this has never happened this fast at all the programs I've taken over. It hasn't happened this fast. I have to take a step back once in a while to say this is new territory for a lot of these kids, and that's why I think there are some inconsistencies. My goal is to get them to be a lot more consistent."
Consistency will be important when Canisius visits Loyola for a rematch Thursday in a  game that could go a long way in determining the top of the MAAC. Canisius continues on the road at St. Peter's Saturday. After the BracketBusters game at Vermont on February 23rd, the Griffs return home to finish the season with games versus St. Peter's and Rider.
Canisius finished 9-9 in 2010-11 and 2000-01. Not since 1998-99 have the Griffs registered double digits under the W.
"We know there's a lot pride with this school," Billy Baron commented. "We think we have the opportunity to win this conference. That's our goal. When we all came together at the beginning of the year, we said 'we want to get to the NCAA Tournament.' We're not going to take anything less. This is what we're capable of. We're coming together as a team."