Plenty of goodness around the A-10, MAAC and Patriot League this past week.
They are who we thought they were
Returning all five starters from a year ago, many expected the still young Niagara Purple Eagles to finish in the top four of the MAAC.  So when the denizens of Monteagle Ridge opened the season 5-7, the head scratching started. Especially when a 3-7 (one of the wins over D2 Mansfield) UB trimmed the Purps on December 8th. Since then NU is 8-2 and presently sit alone atop the Metro Atlantic.
In all fairness to the Purps, seven of their eight losses have occurred away from the friendly confines of the Taps Gallagher Center including defeats at Notre Dame, Oregon State and Iona. The aforementioned setback to UB happened on the Bulls' home court. NU also fell to St. Bonaventure at Rochester's Blue Cross Arena. NU's lone home loss came to a vastly underrated Bucknell team. Don't be surprised when the Bison advance in the NCAA Tournament.
Antoine Mason leads a trio of Purple Eagles scoring in the double digits.  The son of former NBA-player, Anthony Mason, knows how to get to the free throw line and makes it count once there. Mason is 111-of-139 (79.9 percent) from the charity stripe. No player in the top 50 of the country has made more free throws than Mason.
Speaking of the Bison
Bucknell's Mike Muscala leads the land with 12 double-doubles.  Muscala just missed triple-doubles in two recent contests.  He posted 20 points, 13  rebounds, seven assists and three blocks in a win over Army on January 12th – a game in which he only played 26 minutes. Muscala came close to a triple-double again on Wednesday with 25 points, 10 rebounds, seven blocks and four dimes at Colgate.
Fo' Fo' Fo' Sure
It's always a good day when one can quote hall-of-famer Moses Malone.  It was four wins, in four games for Buffalo's Big 4 on Saturday. Canisius pummeled Siena. St. Bonaventure took one in the City of Brotherly Love.  Niagara notched its 7th straight MAAC win, and the UB Bulls rallied to beat Bowling Green.
The sweep brought on this question:
All big 4 men's teams win today. Last time that happened? Anyone? @gogriffs @mreitnour82 @ubjonfuller @pickinsplinters @nickveronica

— Johnathan Snyder (@J_Snyder613) January 20, 2013
Fetching this response:
Thanks to @j_snyder613 for the idea: All Big 4 MBB teams won on the same day for the first time since Feb. 20, 1988. (1 of 2)

— GoGriffs (@GoGriffs) January 20, 2013
(2 of 2) @gogriffs 69-52 at Northeastern @nupurpleeagles 80-62 at Colgate @ubathletics 65-64 vs. Pace @go_bonnies 77-67 at George Washington

— GoGriffs (@GoGriffs) January 20, 2013
Big 4 teams swept games at the Liacouras Center this year with Canisius getting the job done last month.
For the young ones out there, click here to read about Moses Malone's Fo' Fo' Fo' Sure prediction. The '82-'83 Sixers might be the most overlooked when talking about greatest teams of all time. Moses, Dr. J, Mo Cheeks (before his career helping young singers with the national anthem, Cheeks piled up a career that  ranks top all-time in assists, steals and assists : turnovers), Andrew Toney (underrated shooting guard) and Bobby Jones (the original glue guy).
On my command, unleash hell
After falling behind 64-49 early in the second half of Thursday's WNYAC game with the Mercyhurst North East Saints, Jerry Burns and his Monroe Community College Tribunes outscored opponents 176-74 over the next 55 minutes of game action. The Tribs, ranked no. 6 in the country,  dispatched the Saints, 97-90 before overwhelming the Alfred State Pioneers, 128-48.  MCC forced 42 turnovers over the 55 minutes while allowing just 30 field goals.
Monroe Community College @mcctribunes defeats Mercyhurst North East, 97-90, despite a halftime deficit of 14 @njcaa pickinsplinters.com/2013/01/17/fan…

— Joe Manganiello (@joemags32) January 18, 2013
"A good basketball team finds different ways to win," Burns said after Thursday's win. "You're not going to win every basketball game the same way. You're not going to play well every game. This was a big win for us because we were down fourteen at the half and not playing well. But to find a way to win, that has to come from the players, and the guys found a way to do that."    
Address unknown  
This is a tale of a near baseline-laptop catastrophe. That is what nearly happened when St. Bonaventure's Youssou Ndoye rose to block his second of two shots on contained in the video included. Yours truly had a more than front-row seat to the play and saw the potential for said electronic device to serve as backsplash when Youssou played Return to Sender.
Here's how it played out.    
Got me thinking some time after the ball that Xavier's Brad Redford intended for twine. What if Youssou was 6'6″ instead of 7'0? Would the ball have come off the floor at a different angle and thus struck the PC instead of sailing at least five feet over my head?  Height? Force? Angle? I need a physicist to figure out something like that.    
Speaking of a physicist  
Who is the only NBA rookie that can dunk on you and calculate the force?  
'Scuse me while I kiss the sky
This is worth a second look.  
Congratulations to Demitrius Conger who recently joined the 1,000 point, 500 rebound and 200 assist club.  
Steve Masiello tells it like it is This is worth a giggle. Fast forward to the 3:40 mark and hear how Manhattan's coach handles a reporter's question.
"I'm thankful to all the people who gave me a chance to coach at this level for 26 years to allow me to get to 400 wins." Jim Baron #Griffs — Griffs_MBB (@Griffs_MBB) January 18, 2013
We're mass communicating
It is long overdue to acknowledge the passing of Charles Durning who played the role of Pappy O'Daniel in O Brother, Where Art Thou?
Where would we be without this wisdom?

We're mass communicating #ourCOG from ourCOG on Vimeo.
and

Oh caption, my caption!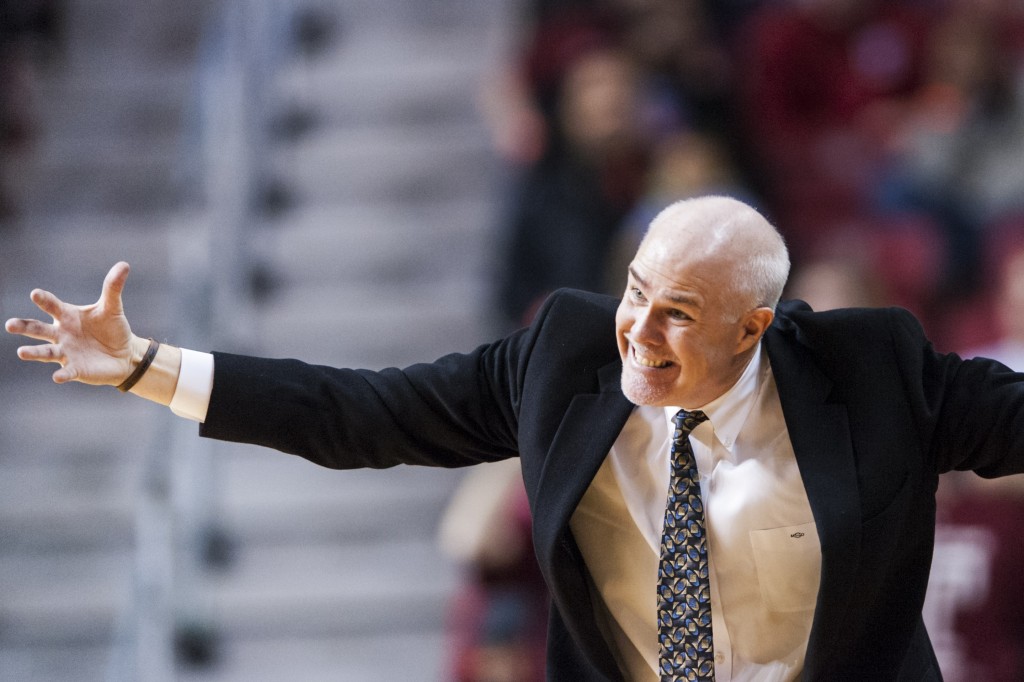 Use the comments below to provide a caption for this photo of St. Bonaventure's Mark Schmidt.
Of course you've seen this
Anything to add?