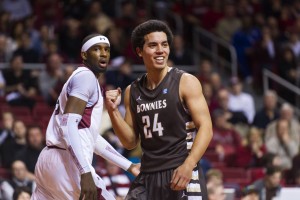 Courtesy of GoBonnies.com
PHILADELPHIA – Behind a career-high 22 points from Matthew Wright, St. Bonaventure (8-9, 1-3 Atlantic 10) snapped a six-game losing streak, picked up its first win in A-10 play and claimed its first victory at Temple (12-5, 2-2 A-10) in 31 tries Saturday afternoon in front of a national TV audience with a 81-78 decision over the Owls.
Wright tied a career high by knocking down 4-4 from 3-point range and dished out three assists. The Toronto native led a quintet of Bona starters in double-figure scoring for the first time this year. Seniors Demitrius Conger and Eric Mosley netted 15 each, sophomore Youssou Ndoye contributed 12 and Chris Johnson added 10 as the Bonnies defeated the Owls for the first time in 16 tries, dating back to 2002.
Holding a 10-point lead with under 8 minutes left after Wright's fourth 3-pointer of the game, Temple – receiving votes in this week's Associated Press Poll – gradually chipped away at the Bona cushion and got the deficit down to one, 69-68, with 2:56 left following two Khalif Wyatt free throws.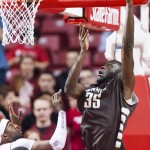 However, on the next SBU possession it had an answer – like it did all afternoon – as Conger drilled a 3-pointer. Ndoye stepped up and drew a charge for Wyatt's fifth and disqualifying foul on the ensuing defensive possession, and Johnson knocked down a 3 on the Bonnies next trip to go back up seven, 75-68.
The 7-foot Ndoye added a pair of free throws after another SBU defensive stand, and in a span of 1:30, Bonaventure went on an 8-0 run to go from up one to up nine and give the senior class a win versus every A-10 school over their four years.
On the day, the Bonnies hit 11-18 3-point attempts, tying a season high for makes set against VCU exactly one week to the day. The win is also the first for the Brown and White exactly one month to day as their last victory came on Dec. 19 against The Citadel. The victory is just the second on the road this year (2-6), as the other came in the initial road contest of the season at Cornell.
St. Bonaventure had an answer for the Owls all game, starting late in the first half. Bona jumped out to an eight-point lead twice in the opening six minutes, but Temple regrouped and eventually went on an 11-0 run to take a 34-29 lead with 2:30 left in the opening stanza. After head coach Mark Schmidt called a timeout, SBU retaliated with an 11-2 stretch to close the half with a 40-36 lead.
After the Bona advantage had swelled to 12 in the second half, Temple went on a mini 4-0 run, but that was quenched by a rare Michael Davenport 3-pointer – just his sixth of the year – to get the lead back to double figures. Temple got the deficit back down to seven, 60-53, with 8:16 remaining, but Wright promptly drilled a 3 and was fouled to extend back to a double-digit edge.
Wyatt finished with his second 30-point game of the year as the senior dropped in a quiet 31 on 10-13 from the floor and 8-8 from the free-throw line. After scoring 16 points in the first 16 minutes of the game, the Bonnies kept reserve Jake O'Brien off board the rest of the day. T.J. DiLeo and Scootie Randall also reached double figures Owls, who are responsible for Syracuse's only loss this season.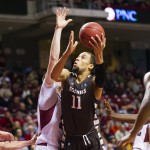 Conger finished just one rebound shy of his third double-double of the season, and Ndoye added seven in a starting role. Johnson dished out a career-high seven assists, breaking his previous high of five set Wednesday night against Xavier. For the game, SBU had 21 assists on its 27 field goals (27-55, 49 percent) and turned the ball over just 10 times.
The Bonnies were extremely efficient in taking advantage of Owls' mistakes as they finished with 23 points off just 11 Temple giveaways. In its previous two games combined Bonaventure had just six total points off turnovers.
St. Bonaventure returns to Philadelphia on Wednesday when its difficult conference-opening slate continues against preseason league favorite Saint Joseph's. Tipoff is set for 7 p.m. from Hagan Arena.

GAME NOTES: Temple is moving to the BIG EAST after this year … Dave Ryan and Pete Gillen had the call on CBS Sports Network … Bonaventure shot 16-19 (84.2 percent) from the free-throw line … Temple was a perfect 10-10 from the stripe … the Owls attempted 34 3-pointers (12-34, 35.3 percent) … Temple had a 32-30 edge on the glass and outscored Bona's bench, 27-7 … Marquise Simmons added Bonaventure's other four points … Conger, who also issued four assists, played a full 40 minutes for the fifth time this year … the Bonnies committed just 11 fouls … Ndoye rejected two shots for the second straight game and made his sixth start of the year.