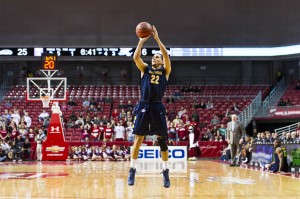 By Paul Gotham
BUFFALO, NY — The Canisius Golden Griffins took full advantage of their second chances, Thursday night, but Isaac Sosa didn't need many.
Sosa paced four in double figures as the Golden Griffins defeated the Alcorn State Braves, 87-74 in the Gotham Classic at the Koessler Athletic Center.
The Golden Griffins converted 16 offensive rebounds into a 26-2 advantage on second chance points while Sosa tallied double figures for the sixth straight game.
"He works very hard to prepare himself," said Canisius head coach Jim Baron. "Our guys get him the ball."
Sosa hit eight-of-12 from the field including five-of-nine behind the three-point arc.
"He's coming off screens and especially in transition," Baron continued. "We get the ball down [the floor] early in transition, and we want to score as quickly as possible."
Sosa's full arsenal was on display Thursday night. Though the senior guard led the Griffins behind the arc, he also showed the ability to score with his back-to-the basket.  He sparked a 10-0 spurt as the Griffs took a double-digit lead into the half.
He got position in the paint, used an upfake, stepped through and finished with a floater for a 30-27 edge. It was a lead the Griffs never surrendered.
One trip later, Billy Baron found him early in the break for a catch-and shoot three.
"Once again, I was just being aggressive," Sosa explained. "Like coach said, this is a very unselfish team. We had 17 assists. My job is to find the open spot, and my teammates do their job and try to find me open."
The Griffs continued to roll from there.
Chris Manhertz followed with a pair of one-and-one free throws, before Billy Baron cut through the lane and took an Alshwan Hymes pass for a layup and 37-27 Canisius lead.
Sosa kept the Griffs moving. After a pair of free throws snapped the run, he connected for three from the top of the key on a Billy Baron pass.
"Isaac is very important to our team," Billy Baron explained. "If we want to get to where we want to go, and accomplish our goals, he's got to be shooting the ball the way he has the last three or four games. It's huge when you got a guy hitting shots like that. The driving lanes open and a lot of other things open up. It's important that we can keep this confidence up."
The Braves cut the lead to eight before Baron drew contact at the buzzer getting to the line where he hit three charity tosses to give Canisius a 44-32 lead at half.
"We knew this was going to be a challenging game," Jim Baron commented. "They're very athletic. They can get up and down the floor."
The Griffs jumped to an early five-point lead. Sosa hit a turnaround jumper in the post. Manhertz took a high-low post entry from Jordan Heath for a deuce. Canisius led 12-7.
Alcorn State responded with 11 straight.
Anthony Evans hit a trey from the top. LeAntwan Luckett finished a layup on the break. Marquiz Baker hit a runner in the lane. Josh Nicholas got ahead of the defense for a basket. Baker scored on a layup for an 18-12 Alcorn State advantage.
Canisius did not let up in the second stanza.
Baron and Reggie Groves connected on back-to-back treys as the Griffs scored 14 straight for their largest lead of the game.
Josiah Heath followed with a baseline jumper. Hymes hit pairs of free throws on the next two possessions. Jordan Heath finished a baby hook in the lane, and the Canisius lead bulged to 79-53.
Manhertz had a game-high nine rebounds as nine different Griffins recorded multiple boards for 41-25 advantage on the glass.
"We put two halves together with rebounding the basketball," Jim Baron noted. "We had a number of guys stepping up. Guys stepped up and made plays and made shots."
Sosa finished with a team-high 21.
Billy Baron added 19 hitting four-of-11 from the perimeter and nine-of-ten from the free throw line.  The junior guard handed out five assists with a turnover and grabbed five rebounds.
Jordan Heath  chipped in 14 and Manhertz 11.
Alcorn State's Baker had a game-high 30 hitting six-of-17 behind the arc. Anthony Nieves added 20.
The Griffs improve to 9-3 with the win. They travel to Detroit to take on the Titans, Sunday afternoon. Tip off is scheduled for 3 p.m. at Dick Vitale Court.