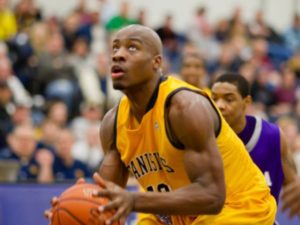 By Paul Gotham
BUFFALO, NY — The change in the Canisius Golden Griffins men's basketball program can be as obvious as the overall record or as subtle as a change in the game notes.
Jim Baron's tenure as head coach of the Golden Griffins, while still measured in months, harkens back decades in the men's basketball program history.  With a resounding 82-54 triumph Monday night over Longwood, the Golden Griffins have improved to 7-2 on the young season. Not since 1966-67 have the denizens of Main Street, Buffalo known such numbers.
The Griffs went on the road and took their first two in Metro Atlantic Athletic Conference play topping Fairfield and Marist to grab an early lead in the league race.
Points are up (76 this year as opposed to 66 a year ago). Turnovers are down (15 per game in 11-12; 13 in 12-13), and taking offensive charges is a matter of emphasis.
The addition is slight, but under the section entitled Statistical Odds and Ends in the game notes, published by the Canisius Sports Information Department, is reference to Offensive Charges Taken. Not so slight is the response from the Golden Griffins bench when a Blue and Gold defender beats an opposing ballhandler to the spot, sticks his chest in and takes the contact.
With four offensive charges taken Monday night the Griffs ran their season total to 19 and have already surpassed last year's total of 18.
"It's been unbelievable," Baron said of his team's efforts on the defensive end. "I've challenged the guys, and we have goals that we put up on the board as far as taking charges."
Josiah Heath leads the category with eight. Chris Manhertz follows with five.
"I got a 300 pound guy taking a charge," Baron noted. "That is huge."
Manhertz combines work on the floor with work on the glass. His nearly eight rebounds per game leads the Griffs and is second in the Metro Atlantic Athletic Conference.
"For us to win, [we] got to control the boards, and that's going to be consistent," Baron continued. "Chris really understands it, and that's why we're in the position we're in. He's a huge part of it."
Manhertz corralled five offensive boards Monday and converted those into six points going to a jump hook with either hand.
"He's got the body and the grit you need to have to win," Baron said while comparing Manhertz, a Bronx native, to Delray James, (Brooklyn), a former Rhode Island player from Baron's previous coaching tenure.  "All of the teams I've coached, I've always had a kid that has that kind of grit. I don't know if it's a New York thing , but they have that grit that they're not afraid to use their body."
Manhertz pulled down a career-high 18 rebounds, seven on the offensive glass, in the Blue and Gold's road win at Marist.
"We talk about going to the offensive glass, and he understands it better than anybody," Baron continued. "Chris has just been a man child inside as far as what he does with his intensity."
The Griffs travel to Philadelphia to take on Temple, Wednesday night. A 7 p.m. tipoff is scheduled.