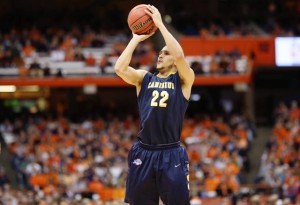 By Paul Gotham
BUFFALO, NY — Nothing could cool off Isaac Sosa, Monday night. Not even his coach.
Sosa turned in a near-perfect performance as the Canisius Golden Griffins (7-2) routed the Longwood Lancers (3-8), 82-54 in non-conference action at the Koessler Athletic Center.
Sosa connected on his first three attempts behind the arc as the Golden Griffins sprinted to a double-digit lead before the first media timeout.
"I told Billy (Baron) and Harold (Washington) that I was feeling pretty good," Sosa said when asked about his mindset prior to the game. "They did their job. As teammates, they're supposed to find me, and they always do their job."
Washington got dribble penetration from the left wing on the Griffs' first possession and kicked to Sosa in the right corner for a catch-and-shoot trey to open the scoring. Next trip down the floor Baron fed Sosa with a drop-off in transition.  On the next possession, Sosa pulled up from the right wing for a 9-4 Griffin advantage.
"That's what he does. If you give him time and space, he has that uncanny ability," said Canisius head coach Jim Baron. "I've constantly challenged him as far as stepping up and being ready to knock it down. He's playing with confidence."
Sosa connected four times in six attempts from long range for 12 points in just 11 minutes of playing time in the first half. After the Griffs stretched their lead, Jim Baron went to his bench.
The rest did not slow Sosa who drilled two more threes on his first two touches of the second half. He made a UCLA cut off a down screen and took a Baron pass at the top of the arc for a catch-and shoot trifecta early in the second stanza. Josiah Heath led him with a pass for another three, and the Griffs never looked back. Sosa finished the night eight-of-12 and a game-high 24 points.
Chris Manhertz and Alshwan Hymes added a bulk of the remaining offense. Manhertz also topped double digits in the first half. On three occasions,  the 6-6 forward grabbed offensive rebounds and finished at the rim.
"It was a great team victory," Baron said. "We knew Longwood coming in they had a tough schedule. They played Marshall. They played Arkansas. They played Georgetown. We knew they were going to be a feisty group, but we played to win."
After the first media timeout, Manhertz took a block-to-block feed from Freddy Asprilla and sent home a thunderous two-handed slam.
Jeylani Dublin kept the Lancers close. The red-shirt sophomore completed a traditional three-point play before hitting a jumper from the right wing. Michael Kessens finished a basket and free throw to pull Longwood within two at 20-18.
Dublin picked up his third foul with 9:20 to go in the half, and Canisius took advantage.
Hymes and Asprilla keyed a 12-3 run as the Griffs ran their lead to double digits again.
Reggie Groves drove the lane and fed Asprilla for an easy dunk. Hymes connected on back-to-back threes before leading Asprilla in the lane for a drop step and bucket. Groves finished at the rim, and Canisius led 32-21.
The Blue and Gold used an 8-2 run midway through the second half to extend their lead to 16. Hymes knocked down a pair of charity tosses. Heath used the window on an in bound play for a deuce. Asprilla took a lob pass from Washington and finished with a lay-in. Hymes got ahead of the defense for a layp-up and a 60-44 bulge, forcing Longwood to call a timeout.
Hymes ended the night with 18 points. He hit four-of-10 from long range. He was part of a Canisius bench which outscored their counterparts, 35-4.
"The bench stepped up," Baron explained. "That's how these guys practice. We play against each other. We work against each other, and they know when I put them in the game, I expect them to be aggressive. Even down the stretch we had open looks, and guys were ready to shoot. Sometimes, it's tough to slow that down. We need to have that kind of confidence as we move forward."
Manhertz led the Griffs with nine rebounds.
Washington had a game-high seven assists.
Dublin notched a double-double for the Lancers with 12 points and 10 boards.
Canisius travels to Philadelphia to take on Temple, Wednesday night. From there, the Griffs stay on the road and play at #20/17 UNLV,  Saturday night.