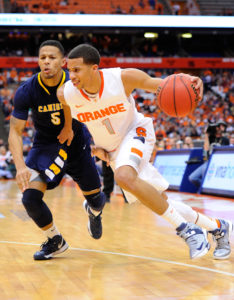 By Paul Gotham
SYRACUSE, NY — They come in waves. The Syracuse Orange are relentless.
James Southerland, a 6-9 forward, can connect from behind the arc. Rakeem Christmas and DaJuan Coleman combine for a formidable frontcourt. Christmas adept inside with a jump hook that he can use from either side of the paint. Coleman is a 288 pound force whose drop step can be close to impossible from stopping.
At the helm of this offense, which scores more than 84 points a game, is a guard tandem that provides a near perfect compliment for each other.
Michael Carter-Williams and Brandon Triche: if one doesn't get you, the other one will. The two combined for 31 points and 19 assists Saturday night while committing just four turnovers as the Orange defeated the Canisius Golden Griffins, 85-61 in the Gotham Classic at the Carrier Dome.
"They're good. They're very good," said Canisius head coach Jim Baron. "They are as good as anybody in the country. They got experience. They got size."
Carter-Williams is a slender 6-6, 185 pounds while Triche is 6-4, 205 pounds.
Carter-Williams moves the ball from foul line to foul line with ease and speed. The sophomore guard can slice through the defense, or he can knock down a catch-and-shoot three. At the same time he has the ability to pull up in transition and hit a mid-range jumper.
All this and he leads the nation with more than 10 assists per game. At the same time, his nearly four steals per contest is second in the country. Saturday night handed out 14 helpers and swiped three.
"He's the key," said Syracuse head coach Jim Boeheim. "He knows how to get in the lane. He knows where people are. He sees people. He makes creative passes. He really understands the game."
The pair combined for nine points as the Orange jumped to 58-42 early in the second half of Saturday night's game.
Triche nailed a three in transition. One possession later, Carter-Williams created a turnover and led Triche into the open for a dunk. A couple of trips later, Triche hit a pullup jumper and followed that by leading Carter-Williams for a basket.
"Brandon and Michael are playing great," Boeheim added.
Triche's game presents particular difficulty for opposing defenses. Coming into Saturday's contest he was hitting more than 30 percent (11-36) behind the arc. While not a spectacular number, the senior guard takes advantage of that to open up the inside where he can use his frame to ward off defenders as he attacks the basket.
Add to that his 33 assists for a well-rounded game. Against Canisius he neatly timed a pass for a transition alley oop dunk which Southerland completed.
"We're selfless," Triche said after Saturday's game. "All we care about is winning. We don't care who is shooting the ball as long as it's going in. That's the type of team we have. We got Mike doing a great job of telling everybody where to go and getting assists."
The Orange started the day number four in the nation. With number one Indiana's loss to Butler, the Orange figure to climb. All this just in time for Big East play to start on January second when Rutgers comes to the Carrier Dome.