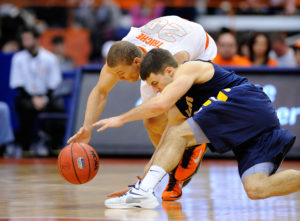 By Paul Gotham
SYRACUSE, NY — Credit Jim Boeheim for his ability to keep a sense of humor about him. Despite being on the verge of his 900th career victory, the Syracuse head men's basketball coach still has a knack for self-effacement.
"I'm not stupid," Boeheim said after his Orange defeated the Canisius Golden Griffins, 85-61 in the Gotham Classic, Saturday night at the Carrier Dome. "Although there are some people that would argue with that."
Give Boeheim credit also for not allowing all those victories to cloud his memory.
899 wins in the books, but Boeheim spent more time talking about one of his losses during his post-game press conference.  That one loss came when current Canisius head coach, Jim Baron, last brought a team to the Dome. Jim Baron and the Rhode Island Rams with Baron's oldest son, Jimmy, upset the Orange, 91-89 on December 8, 2007. The younger Baron sank his first five three-pointers that evening en route to a six-for-nine performance.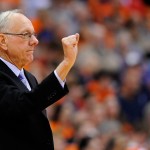 Saturday night, Jim Baron and his youngest son, Billy, looked to repeat history.
"I was worried about him," Boeheim said. "His brother beat us in here. I didn't want him to be able to call his brother tonight and say that he beat us too."
For 20 minutes it looked possible.
Billy Baron scored nine and grabbed five rebounds as the Golden Griffins stayed close going into the half.  His drive from the top of the key and finish in traffic pulled the Griffs within two at 25-23.  Moments later, he combined with Jordan Heath on a ball screen at the top. The 6-2 junior guard drew the defense and dished to his teammate for a step back three to narrow the gap at the 30-29.
Baron hit four-0f-12 in the first 20 including one from behind the arc.
"He's a real good player," Boeheim continued. "He really sees the game and understands the game."
Billy Baron finished the night sharing a team-high 15 points with Isaac Sosa. He added four assists and a game-high seven rebounds as the Griffs won the battle of the boards, 37-34.
"His brother was a long range guy," Boehiem added.  "Billy tried. He made one of those out there. He wasn't quite as far as his brother when he was here. I think his brother made only eight of them if I'm recollecting correctly."
Eight? Okay, so maybe Boeheim's memory isn't perfect.
Canisius returns home Monday for a tilt with Longwood. Tipoff at the Koessler Athletic Center is scheduled for 7 p.m.
Syracuse hosts Detroit, Monday night. That game is also slated for 7 p.m.