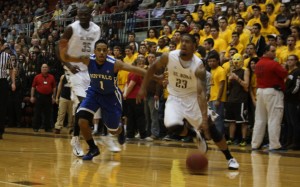 By Ryan Lazo
ST. BONAVENTURE, N.Y. — Imagine sitting out of basketball for one whole season then suffering an injury during the preseason the next year, limiting your ability to practice with the team.
That's exactly what happened to St. Bonaventure's senior forward Chris Johnson.
The Nova Scotia native played Junior College Basketball at Kilgore College for two seasons before sitting out a season and joining the Bonnies.
The year off took a toll on Johnson — he wasn't in shape, couldn't pick up the system and his mind was not where it needed to be.
"Taking the year off away from basketball, I wasn't even thinking about basketball," the 6-foot-5 Johnson said before practice. "I was thinking about family duties, how to provide for my family and help out my mom. Last year was so much to take in."
And it showed on the court.
Johnson played sparingly through the team's first seven contests, recording just 24 minutes of game action, but an injury to Michael Davenport against Canisius opened an opportunity and he didn't miss it.
Playing a then career-high 25 minutes, Johnson unveiled an uncanny ability to use his quickness to get to the hoop for acrobatic scores and a soft touch from the outside. His 19 points led the Bonnies in a 81-62 thrashing of the Golden Griffins.
"I came in behind the eight-ball," Johnson said following the game. "It took me some time to get my feet under me, but that's coming around now with my conditioning."
Over the course of last season, Johnson became a more confident player and his impact on games improved.
"Last year, it was a learning experience for him," Bona head coach Mark Schmidt said before practice. "He wasn't in great shape and he was learning the system."
But the key for Johnson was getting back into game shape. The more time he spent in the gym, the more practices he was able to participate in — the better he became.
"You lose your timing, you lose your legs, you lose your competitiveness," Schmidt said of Johnson missing a year. "It's one thing if you're playing in the church league, but you're playing high-level basketball and it's hard to get the chip on your shoulder back."
With the departure of Andrew Nicholson and Da'Quan Cook, two senior leaders who combined for 26 points per game , Schmidt looked to Johnson to fill the void.
Through eight games, Johnson is the team's leading scorer at 15.8 points per game and he has tied a career-high 19 points on four separate occassions this season.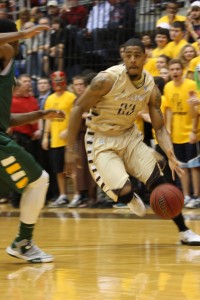 "We knew that he had it in him," Schmidt said of Johnson's impact on the court. "We just didn't know when it was going to show."
Johnson is seemingly a different player for this Bona squad. When the jump-shots are not falling and all the team can hear is the clank of the rim, Johnson immediately takes over.
Instead of firing up outside shots, the senior uses his quickness to get to the hoop for easy buckets or at least draw a foul to stop the clock and momentum.
"He understands that he's a senior and this is his last go-around," Schmidt said. "He's matured. He has a good IQ for the game and he understands there are times that we need him for a jump-shot and other times a drive to the basket."
This was never more evident than in Bona's last game, a loss on the road to Arkansas State. The Red Wolves were threatening to run the Bonnies out of the building as every trip down the court ended in a jump-shot missing off iron.
But Johnson knew the he could help stop the momentum by going to the basket and he did just that. And by following his lead, Bona was able to claw their way back into a game that could have been a blow-out.
In fact, to show how much confidence Schmidt has in the player who recorded two coach's DNPs last season, a play was drawn up for him to have the winning shot. Tied at 70-70, Schmidt's play worked to perfection as Johnson had a great look at the basket from the corner beyond the arc, but it fell short.
The 46 percent 3-point shooter has grown into a senior leader. He doesn't talk much, but instead leads by example.
"I'm not really someone who considers themself a leader, I just try to do everything that's right," Johnson explained. "If you want to follow me, then good, but I'm going to get in the gym and work out. I'm going to listen to the coaches and come here to get treated. That's just things you do when you try to be successful."
By any measure, Johnson has been successful this season. It would be a nightmare scenario to think where Bona would be without their most dangerous weapon, but even scarier is Johnson's commitment to get better.
"I'm continually working on my body, trying to get more athletic and stronger," Johnson said. "I'm shooting 70 percent from the foul line, that's hard to look at. Every area needs improvement. I'm not satisfied."
Johnson's drive and determination to improve his play will continue to help Bona out throughout the season. While the team may no longer have Nicholson to turn to, another talented and quiet leader is emerging in No. 23.
Ryan Lazo can be reached on Twitter @RMLazo13