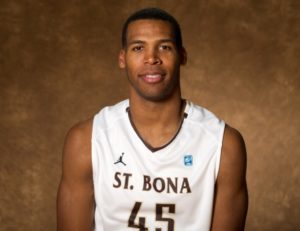 By Paul Gotham
ROCHESTER, NY — Michael Davenport might have exhaled one of those deep lung-clearing breaths, but no timeout was taken. No chance to mark this spot in time.
A little more than four minutes remained in the first half at the Blue Cross Arena when Davenport connected from behind the arc. Teammate Matthew Wright drove the baseline and kicked a pass from under the basket to Davenport for a catch-and-shoot three. St. Bonaventure's Bonnies led the Niagara Purple Eagles, 27-24 en route to an 80-75 victory.
It wasn't that Davenport had hit a three. He's proven himself more than capable in the past. The Cincinnati, Ohio native had previously connected 64 times from long range in his career with the Bonnies. He had a career-high four treys against UMass in January of 2011.  Then there was Davenport's three at the buzzer on February 5th, 2011 which ended an 11-game win streak for the Duquesne Dukes and touched off a celebration not seen at the Reilly Center in almost a decade.
But the redshirt senior's trifecta on Saturday afternoon marked a spot on his personal timeline. This three was the first for Davenport in Brown and White in almost a year. The last time Davenport heard his name and "for three" called by Bona public address announcer, Adam Bennett, was December first of last year.
"It's a really big confidence booster," Davenport said of his performance on Saturday. "We're just taking this, and we're going to build off this and just keep it going."
Just for good measure, Davenport knocked down a jumper on the next possession. He hit another trey moments later.
Davenport's 2011-12 season was cut short when he suffered a separated shoulder on December 10th against Canisius. He, along with fellow teammate Marquise Simmons, spent the year on the sidelines encouraging their teammates. Both players received medical redshirts for the season.
"I'll never forget that last year by this time me and Marquise didn't play in Rochester. Obviously no one wants to get injured and sit out especially being a competitor and playing as many games as I have played," Davenport added. "It was kind of heart-breaking, but it was a real good learning experience for me, personally. I took what I observed and looked forward to being in the moment. I took what the guys did and carried it on to this year."
Davenport finished with eight points on three-of-five shooting including two-of-four behind the arc.  He added two assists, a rebound and took a charge in 15 minutes on the floor.
"Mike came in and played with the most confidence he has played with all year," said St. Bonaventure head coach, Mark Schmidt. "He hit a couple shots, and that's what we need."
It was Davenport who stopped a Niagara attempt to tie the game in the closing seconds when he made a steal on an inbound play.
"Mike's was a great play when it really counted," Schmidt said.
"They did their three across," Davenport said when recalling the final play. " One of the things Niagara is good at is slipping screens. I was in the right position at the right time when he tried to slip, and I got my hands on the ball."
Davenport's eight points were part of an SBU bench effort which outscored Niagara's  31-18.
As part of his rehab, Davenport and Wright took part in nine-day European tour with the Global Sports Academy's summer collegiate tour.  The team played five games in Belgium while also getting to visit France.
"You always hear about it and guys say not me," Davenport said during the pre-season when talking about his injury. "Having that happened to me gave me a greater appreciation for things."
Davenport has 757 career points for the Bonnies. He averaged 11 points a game his junior season.
The Bonnies improved to 3-1 on the season. They travel to Athens, Ohio, Wednesday to take on the Ohio Bobcats of the Mid-American Conference. The game pits a pair NCAA Tournament participants from a year ago. The Bobcats, under former head coach John Groce advanced to the Midwest Region semi-final before falling in overtime to North Carolina.
Groce is now the head man at the University of Illinois.
St. Bonaventure returns to the Reilly Center on Saturday to take on the UB Bulls. A 7 p.m. tipoff is scheduled.