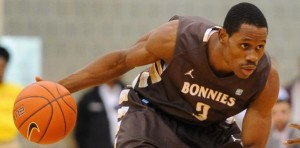 St. Bonaventure returns to Rochester Saturday for "Thanksgiving Throwdown" after a week off as it takes on its second Little Three rival in a row when the Bonnies battle Niagara. The visit to Blue Cross Arena marks Bonaventure's 18th all-time game in Rochester, including each of the last three years. SBU will be looking to snap a six-game winless streak at Blue Cross Arena, and bounce back from a 72-69 setback against Canisius last Saturday.
Bonnies At Blue Cross Arena
The Bonnies lost at the buzzer last year against NC State, 67-65, in a back-and-forth game that featured 11 lead changes and nine ties. C.J. Leslie, the Preseason ACC Player of the Year this season, hit the game-winning shot following a full-court inbounds pass, despite subsequent replays which showed Leslie had stepped on the out-of-bounds line.
St. Bonaventure is 6-11 at Blue Cross Arena all time, and 1-6 since 2000, including six straight losses. However, those six losses have been by just 22 total points – an average of 3.6 points per loss. SBU's last win, a 79-78 decision over Charlotte, came when the 49ers were still a member of Conference USA.
Dec. 20, 2011              NC State                     L, 67-65
Dec. 23, 2010              Virginia Tech               L, 76-68 (OT)
Nov. 17, 2009              St. John's                    L, 69-68
Nov. 30, 2005             West Virginia               L, 66-61
Dec. 3, 2003                Syracuse                     L, 87-78
Nov. 30, 2002             Saint Louis                  L, 56-54
Nov. 25, 2000             Charlotte                    W, 79-78
Dec. 29, 1983              Northeastern              L, 82-72
Dec. 28, 1983              American                     W, 97-77
Dec. 28, 1982              Seton Hall                   L, 76-74 (OT)
Dec. 30, 1980              Canisius                     W, 78-63
Feb. 28, 1979              Syracuse (ECAC)         L, 83-71
Mar. 4, 1978                VCU (ECAC)                W, 63-61
Mar. 1, 1978                Syracuse (ECAC)        W, 70-69
Jan. 14, 1978               Notre Dame                L, 79-78
Dec. 29, 1976              Princeton                     L, 59-55
Dec. 28, 1976              Univ. of Rochester      W, 59-40
The St. Bonaventure-Rochester Connection
Though separated by some 120 miles, St. Bonaventure University and the greater Rochester region have long been linked. Many students from the region matriculate south and west to the St. Bonaventure campus each fall. A large number of Bonaventure graduates are also employed by Rochester companies and several make the Flower City a life-long home.
Also closely linked are Rochester and St. Bonaventure basketball, which returns to the Blue Cross Arena Saturday. The matchup with Little Three rival Niagara marks the 18th Bona basketball game ever in Rochester. Last year, the Bonnies fell, 67-65, in a back-and-forth game against North Carolina State.
There have been 12 Rochester natives who have suited up for the Bonnies, some of whom will be in attendance on Saturday afternoon. Among the most notable Rochester products to play for St. Bonaventure are standout guards Mark Jones and Glenn Hagan and player/coach Larry Weise. Tyler Relph, the former McQuaid Jesuit star and New York State Player of the Year, also completed his collegiate career with the Bonnies in 2008.
Jones ranks 10th on St. Bonaventure's all-time scoring list with 1,704 career points and sixth in assists with 408. Hagan, who helped the Bonnies win the NIT championship as a junior in 1977, was the program's all-time assists leader when he graduated and now stands third. Hagan also ranks 19th all time with 1,396 points. Weise, who played at SBU from 1956-58, is better known as the coach who led the Bonnies to the Final Four in 1970. Weise, who still calls Rochester home (at least when the weather is warm), is St. Bonaventure's wingingest coach with 202 victories in 12 seasons.
3-Point Threats
Though only four games into its 2012-13 season, Niagara is among the national leaders in 3-point shooting. The Purple Eagles are tied for 6th in the country with Virginia Tech in made 3-pointers (42), which comes out to an average of 10.5 per game. That 10.5 average ties NU with Santa Clara and Virginia Tech for 5th in the nation. Sophomore Juan'ya Green leads the Purple Eagles with 11 3-pointers, and has also dished out 25 assists – his 6.3 per game average ranking him 33rd nationally.
NU-SBU Rivarly
Saturday's meeting between St. Bonaventure and Niagara will be the 152nd in the rivalry, with SBU holding an 83-68 all-time advantage. Last year, the Bonnies claimed a 72-70 win at Niagara to snap an eight-game losing streak to the Purple Eagles. Prior to that, Bonaventure had claimed 11 straight victories over their Little Three rival. SBU's longest winning streak in the series is 16 games (1962-71), while its longest losing streak in the series is nine games (1939-45).
Scouting Niagara
# The Purple Eagles are 2-2, with home victories over Saint Francis (Pa.) and New Mexico State. They lost to Oregon State on the road and Bucknell at home.
# Niagara used a 54-point second half en route to erasing a 22-point first-half deficit in its 86-83 victory over New Mexico State on Sunday.
# NU has scored at least 83 points in three contests this season and is averaging 81.5 points per game.
# Niagara was picked to finish 5th in the MAAC Preseason Coaches' Poll.
# Sophomore guard Juan'ya Green, the reigning MAAC Rookie of the Year, leads the Purple Eagles in scoring (18.0 per game) and assists (6.3 per game).
# The balanced NU lineup has five players averaging 8 points per game or better: Green (18.0), Antoine Mason (17.0), Marvin Jordan (10.0), Ameen Tanksley (9.8) and T.J. Cline (8.0).
# Coach Joe Mihalich employs a four-guard starting lineup of Green, Mason, Jordan and Tanksley.
# Mihalich is two wins away from 250 for his career.
Bounce-Back Bonnies
The Bonnies have proven the ability to bounce back from losses particularly well, especially in the non-conference slate the last two years. Over that time, Bonaventure 9-1 following a loss, with the only two-game losing streak coming against Virginia Tech (73-64) and Arkansas State (58-52) last year.
Close Calls Early On
St. Bonaventure has been challenged with close contests in each of their first three games this year. All of SBU's games have been decided by 10 or fewer points, marking the first time that has occurred since the start of the 2006-07 season. Additionally, the last time two of Bonaventure's first three games were decided by five points or fewer was in 1996-97, when after opening with a 10-point win over Canisius, it defeated Rice by five points before losing by two against Buffalo.
Johnson Hot To Start
During the offseason, head coach Mark Schmidt called Chris Johnson the one player who would surprise opponents this year. So far, that's exactly what the senior has done as he's tied his career high for scoring twice already, netting 19 points in consecutive games against Cornell and Canisius. Through three games, he's already scored 47 points – a plateau he didn't reach until the 11th game last year. Additionally, the Nova Scotia native has already tied, or broken, a career high in four other categories (rebounds, 6; field goals made, 8; 3-point field goals made, 3; minutes played, 34).
Efficient Mosley
In the game at Canisius last Saturday, guard Eric Mosley came off the bench to score 14 points and tie a career high with four 3-pointers. The senior played just 12 minutes, making him the first Bona player since Andrew Nicholson on Dec. 22, 2009 against Niagara to score more points than minutes played. Nicholson tallied an incredible 24 points in just 16 foul-plagued minutes against the Purple Eagles.
Last Time Out
Despite shooting exactly 50 percent from the floor in their 72-69 loss to Canisius last Saturday, the Bonnies committed more turnovers (19-13) and struggled to get to the free throw line. SBU went 8-10 from the line, but a more aggressive Griffs' squad made eight more free throws than Bonaventure attempted, going 18-21 on the afternoon. The last time that an SBU opponent made eight or more free throws than the Bonnies attempted was Charlotte on Jan. 9, 2010. SBU was 1-4, while the 49ers were 15-21 as they claimed a 57-54 victory.
'Quise Shaping Into Form
After tearing his Achilles just two minutes into last season, Marquise Simmons has gradually worked his way back into game form. After opening the season with a pedestrian four-point, one-rebound performance in 13 minutes against Bethune-Cookman, the Washington, D.C., native has seen his minutes and production increase each game. He tallied 14 points and grabbed six rebounds in 20 minutes at Cornell – the 14 points being the most he's scored in a game since the 2010-11 season when he netted 18 versus La Salle on Feb. 12, 2011. He then played 27 minutes off the bench against Canisius, recording five points and pulling down a game-high eight rebounds.
Next Up
St. Bonaventure remains away from the Reilly Center as it travels to Athens, Ohio, to battle the Ohio Bobcats on Wednesday evening at 7. It will be the first of six non-conference matchups against teams which went to postseason tournaments last year. Ohio lost in overtime in the Sweet Sixteen to North Carolina last year and returns all five starters from that team.