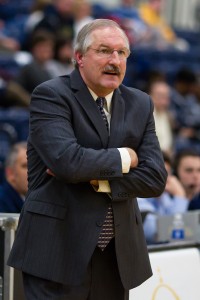 By Paul Gotham
BUFFALO, NY — In this age of advanced statistics, where analysts toil over complex formulas to unlock the mysteries of sporting outcomes, Jim Baron proved that experience still has value. The veteran coach relied on his gut for a last-minute decision Saturday evening, and he got what he wanted.
With his team clinging to a three-point lead in the closing seconds of the Big 4 opener at the Koessler Athletic Center, Baron chose a zone defense to secure a 72-69 victory for the Canisius Golden Griffins over the St. Bonaventure Bonnies.
"I tell you what, I think I was the only one in the gym that wanted to do it," Baron said about the choice to not play man-to-man defense. "My assistants thought I was out of my mind."
The Griffs' efforts with a zone previous to that play hadn't done much in the way to create confidence among the Canisius faithful. Just seconds prior Bona's Charlon Kloof got an open look from behind the arc. Fortunately for Canisius the shot caromed off the iron.
"I don't know," Baron continued. "Sometimes, as a coach you have some instincts, and I said I'll take the hit."
Earlier in the game, Canisius went 2-3 after a pair of Billy Baron free throws.  SBU's Eric Mosley took advantage of the space afforded and promptly nailed a trey from beyond the top of the key. Mosley's shot gave Bona the lead at 29-28.
As if fueled by the zone, Mosley got into a rhythm. The 5-10 guard drained two more long balls on the following possessions and increased St. Bonaventure's advantage to 35-30. It was a lead SBU did not surrender until Harold Washington's layup with 1:31 remaining gave Canisius  a 66-65 edge.
"They took Mosley out," Baron explained about the final play. "I thought there wasn't that much time, and they were setting up for a man-to-man play. We made an adjustment."
Matthew Wright's attempt at the buzzer kicked off the rim giving Canisius a 72-69 triumph.
Baron went through the customary post-game handshakes before making his way to the Canisius student section where he shared high-fives with members of the C Block. Twenty-four hours earlier he and his team were out drumming up support giving away tickets for the game. Now they were thriving in the revelry.
"It doesn't happen overnight," Baron said of rebuilding the Canisius program. "I'm a little bit surprised to be honest with you."
"It's a great home court advantage," Baron said of the KAC. "We're on Main Street, the student body, the alumni, and I think it's a great place to create a home-court advantage, and that's what we want to try to keep going."
With the victory, Canisius improved to 2-0 for the first time since 2000-01 season.  Baron becomes the first coach since John McCarthy in 1974 to start his stint on Main Street with a pair of victories.
Baron came to Canisius after coaching at Rhode Island from 2001-11. The Brooklyn native played four years at St. Bonaventure serving as co-captain of the Bona squad which won the 1977 NIT Championship. He returned to his alma mater in 1992 and eventually led the Brown and White to the NCAA Tournament in 2000.
"I knew the intensity of it coaching in the Atlantic 10 for the last 20 years and coaching against Bonaventure for the last 11," Baron said. "They're a good team. They got a lot of experience.  I told our players that we have an opportunity. because they're coming from the Atlantic 10, and they won the league."
SBU inducted Baron into its Hall of Fame in 2009.
"It's unique, and it's different," Baron said of playing and beating his former school. "You know what goes into it when you're playing against some place that you played at and coached at."
Despite the history Baron deflected the attention from himself and to his team.
"It's not about me," Baron continued. "It's about these guys. They made it happen. They deserve all the credit."
Washington finished with a game-high 23 points on 7-14 shooting from the field including 3-3 behind the arc.
Isaac Sosa added 14 for Canisius.
Chris Johnson led four Bonnies in double figures with 19.
Mosley and Demitrius Conger added 14 each. Wright finished with 13.
St. Bonaventure falls to 2-1.
Both teams continue Big 4 play this week. Canisius hosts UB Tuesday night. An 8 p.m. tipoff is scheduled at the KAC. St. Bonaventure and Niagara meet Saturday at Rochester's Blue Cross Arena. Game time is scheduled for 4 p.m.