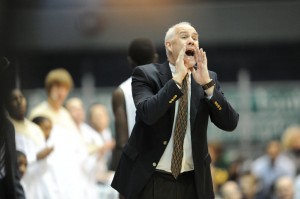 By Paul Gotham
How does that old saying go? The more things change; the more things stay the same?
The fortunes of this year's St. Bonaventure men's basketball team lie somewhere in the above contradiction. That's not to suggest the Bonnies are a contradiction. Nothing could be further from the truth.
Their play on the court might look slightly different this year, but the Brown and White will keep the same principles which head coach Mark Schmidt has used to build his program.
"It's the same thing. We talk about it all the time. If you can defend, if you can take care of the basketball, if you can rebound, you're going to win," Schmidt said last month during the Atlantic 10 media day at the Barclay's Center in Brooklyn, New York.  "Those are the three aspects of the game that you try to win in every contest."
The Bonnies led the Atlantic 10 in rebounding margin (+5.5-the next closest was Dayton at 3.5) a year ago as they earned a first-round bye in the post-season conference tournament and went on to win the school's first league title.
"We emphasize it (rebounding)," Schmidt said referring to the wisdom of his mentor, the late Skip Prosser.  "It's not what you teach, it's what you emphasize. If you emphasize it every day, you're going to be good at it. It's not going to be any different this year. Rebounding is limiting your opponent to one shot. That's paramount. You lose games when you give second and third opportunities."
The Bonnies outrebounded their opponents in 22 of 32 games last year. Four other games resulted in a split on the boards.
"It's a toughness thing," Schmidt added. "The toughest team is going to win because the toughest team is going to get those rebounds when they need them."
The Bonnies held opponents to 65 points per game – good for second in the A-10 with a field goal percentage defense of .417.
Maintaining defensive efficiency will look different this year. The Bonnies will be without the services of first round NBA draft pick, Andrew Nicholson who averaged two blocks per game and affected at least that many attempts.  Gone also are Nicholson's 8.4 rebounds and 18.5 points per game. Not to mention the attention Nicholson demanded on a nightly basis.
"I'm not going to lie to you missing Andrew is a big loss," Schmidt said. "We're going to have to change how we play a little bit. We don't have the horse inside that go-to guy."
What the Bonnies do have is nine returning players with significant game experience and enough guards to protect Buckingham Palace.
"We're not going to change how we play and how we're successful. We'll tweak it a little bit," Schmidt explained during the Big 4 media day at the Pearl Street Grill in Buffalo, New York. "We're not going to be a running and pressing team where we give up ten dunks and shoot 30 or more threes. That's not going to happen. We're going to play a little bit faster and try to get easier baskets. Our team is much more experienced on the perimeter than it is inside, so we got to take advantage of that."
Speeding up the game will increase the number of times Bona touches the ball. Last year the Bonnies averaged less than 66 possessions per game (11th in the league). UMass led the way just shy of 75. But Bona made good on their chances scoring more than a point per possession.
Can the Bonnies increase their number of possessions while maintaining their efficiency per possession? For that to happen Schmidt will lean on senior Demitrius Conger.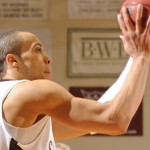 "Demitrius is a guy who has had a great career.  Now he's got to take that next step," Schmidt explained.  "He's got to go from a role guy to one of the go-to guys.  He's got to be a stat stuffer. He's got to be a guy that can go out and get 15 points and get eight rebounds and get five assists. That's what he has to do. We're confident that he can do that."
To accomplish that Conger will be called upon to make the switch from defending small forwards to power forwards.
"You look at basketball now. It's almost like the power forward is no longer a power forward.  That power forward is now a three-guard," Schmidt commented.  "We can use Demitrius at the forward. It may be difficult for him to guard a legitimate power forward, but how are they going to guard him? He's big, strong and long with a seven-foot wingspan. He plays bigger than the six-five, six-six that he is."
Conger will look to neutralize opposing forwards when they have the ball and take advantage of his quickness when Bona is offense.
"From an offensive standpoint being able to take that four-man off the bounce is something that we hope he can do."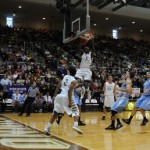 But Conger is far from the only piece of the puzzle. Starters Charlon Kloof and Jordan Gathers return for Schmidt as do Matthew Wright, Chris Johnson, Eric Mosley and Youssou Ndoye. Michael Davenport and Marquise Simmons comeback to the lineup after a year sidelined with injuries.
"In the development of a player and the development of a program, you expect those guys to take that next step. If they don't then we're going to struggle."
The next hurdle becomes keeping those players happy. Nine guys will have to share five spots on the floor and one basketball.
"You got to have good chemistry. You got to have unselfish guys," Schmidt commented. "When I take a guy out, he's on the sideline cheering for his teammates. That chemistry is paramount. You watched our guys last year no one cared about the credit. They were a team. We got a lot of guys. Guys aren't going to play 40 minutes a game. Can they accept those roles? It's going to be about guys accepting their roles to the best of their abilities."
"You win on defense," Schmidt said. It's the trifecta: you got to defend. You got to rebound. You got to take care of the basketball. That's the staple, and that staple has to be the staple every year. If you're worried about are we going to outscore people, then you'll win some games, but you're not going to win a majority of your games."
The Bonnies will start playing the trifecta Friday night when the 2012-13 season tips off. Bethune-Cookman comes to the Reilly Center for a 7 p.m. start.