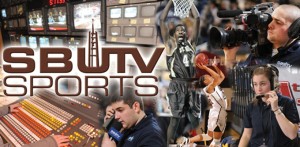 ST. BONAVENTURE, N.Y. – The St. Bonaventure University Athletics Department is proud to announce that it will once again stream home men's and women's basketball games free of charge for the 2012-13 season.
Fans will be able to access SBU-TV's broadcasts, beginning with the men's and women's exhibition doubleheader on Saturday, live over the Internet through the CBS All-Access player on GoBonnies.com. No usernames, passwords or account will be required.
St. Bonaventure graduate Dan Collins '73, the vice president of corporate communications at Corning, Inc., provided the lead sponsorship to underwrite the costs associated with the broadcasts.
Every home game at the Reilly Center will be streamed live except for the men's matchup against Xavier on Wednesday, Jan. 16, which will air nationally on the CBS Sports Network. CBS does not permit schools to produce original broadcasts for games that are aired nationally.
Six cameras positioned at various locations throughout the Reilly Center will capture all the action. Broadcasts will also feature multiple-angle instant replays, statistical presentations, graphics and sideline reports. SBU graduate Jeremy Noeson '05 will call the play-by-play for the majority of games, and color commentary will also be provided.
The broadcasts will be produced by SBU-TV under the direction of Paul Wieland, associate professor of journalism and mass communication, and technical director Joe Paciorkowski. Undergraduate students from the Russell J. Jandoli School of Journalism and Mass Communication will continue to provide most of the broadcast crew, including a sideline reporter.
Games are produced through a network-level television sports production truck donated by Game Creek Video. The truck, a 48-foot, 40-ton unit, sits just outside the Reilly Center and was once used for major league sports and the Academy Awards. The equipment on the truck includes a Grass Valley 3000 switcher, four hard Ikegami cameras with Canon lenses, three hand-held Ikegami cameras, four Sony W75 Beta decks, a Yamaha 3500 audio console, a Chyron Infinit and an Abekas DVEous.
For information on sponsoring future broadcasts, contact Aaron Hill, director of sales and marketing, at ahill@sbu.edu or(716) 375-2086.