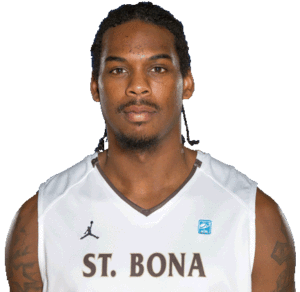 By Paul Gotham
St. BONAVENTURE, N.Y. — The final horn sounded, and the St. Bonaventure Bonnies ran on to the Boardwalk Hall court in celebration. A 67-56 victory over Xavier clinched the first Atlantic 10 Championship in school history and secured a a spot in the NCAA Tournament.
The party was barely a few minutes old when Marquise Simmons left center court and hobbled to the baseline, grabbed the Bonaventure school flag and stood waving it in front of the frenzied student section. For four months Simmons sat on the sideline wearing a walking boot. Now, it was his chance to contribute, and he did just that.
"I was excited for our team and for our program," Simmons said recently when thinking back to last March. "We worked really hard. A lot of guys stepped up and played roles they weren't ready to play.  I was happy the hard work all paid off. I was excited for everybody."
The Bonnies made a 13-point halftime lead stick outscoring the Musketeers 11-6 in the final two minutes of the game and assure the schools' first trip to the NCAA Tournament in more than a decade.
"From the beginning of the game I had a feeling we were going to win," Simmons recollected. "We came out with intensity on defense. We were taking care of the ball. We were playing together and getting after it. It made me feel like I was part of the game because I was jumping up and down. and sweating on the bench, but I hadn't played a second."
For Simmons 2011-12 ended before it barely had a chance to get started.  Less than two minutes into his first shift of the season, Simmons had the ball under the basket, planted on both feet and tore his right achilles tendon.
"I was in denial when it first happened," Simmons said.
Denial didn't last long. Simmons couldn't avoid the truth. His play under the basket earned him a trip to the free throw line.
"Right when I tried to take a step I noticed something was wrong. Schmidt asked me if I needed to come out. I told him no I was fine. I limped to foul line and shot the free throws. My foot wouldn't go up."
Simmons stat line for the season consisted of one rebound, two free throws attempted and two made. He made his way to the bench and locker room. His season was done.
"After I made the second free throw I told them I got to come out. Had I missed the free throw, I probably would have had to grab somebody and foul just so I can get out of the game. There was no way I could get back."
Simmons is no stranger to injury. He started the previous season recovering from another injury. He eventually played 22 games for SBU. The 6-8 forward from Capitol Heights, Maryland averaged 3.6 rebounds and 3.9 points. He notched a career-high 18 points and nine rebounds as the Bonnies ended the regular season with a 75-73 defeat of La Salle in double overtime. He looked ahead with anticipation to 2011-12.
"When it happened, I was shocked. I was scared. I was upset. I was a bunch of things."
Simmons was joined on the bench seven games later by Michael Davenport who separated his shoulder in a victory over Big 4 rival, Canisius.
"Michael and I became cheerleaders."
It's been a long road to recovery. After spending a season on the sideline, Simmons is ready to wear the uniform and get between the lines.
"I'm feeling back in shape," Simmons said. "I'm still getting back into tip-top shape. The foot feels fine. It feels sore a little here and there, but that's normal."
Not one to shy away from contact, Simmons will play a valuable role as the Bonnies seek to fill the void created when Andrew Nicholson graduated and was taken in the first round of NBA draft.
"My role will be whatever the team needs from me whether that's rebounding or toughness on defense. Whatever it may be, my role is to help us win."
Bona tips off the season with a home opener against Bethune-Cookman on Friday, November 9th. Game time is scheduled for 7 p.m. Simmons is looking forward to being back in the lineup. In two months the A-10 will start conference play with the  additions of Butler and VCU to the mix.
"We want to play against good competition, so Butler and VCU being added to our league is two good teams coming from their respective conferences. It's a great step up for our league. I do think that before those two teams came in this was one of the toughest leagues to play in night in and night out. There are no easy games in this league."