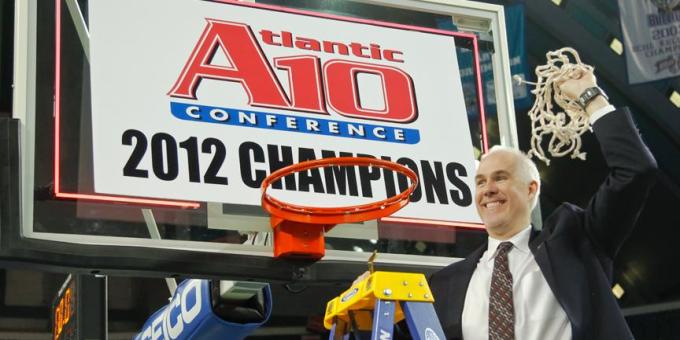 ATLANTIC CITY, N.J. — For a brief period of time Sunday afternoon the game clock at Boardwalk Hall and St. Bonaventure's lead appeared in direct correlation. Time ticked away as did Bonaventure's advantage over Xavier University.
Their deft shooting touch which carried them through the quarter and semi-final rounds of the Atlantic 10 tournament was gone. The Bonnies went without a field goal for 7:25 – a zero-for-seven stretch accompanied by three turnovers. Their 15 point-lead shrunk to ten.
Concern hushed cheers.
A thunderous Andrew Nicholson dunk on a rebound and putback re-ignited the Bona faithful for a fleeting second.
Moments later, bulge was reduced to edge.
Dezmine Wells took a long outlet pass from Kenny Frease and finished an open-floor layup getting contact. The traditional three-point play converted, and the Musketeers reduced the one-time 17-point lead to just four.
"We learned a great lesson in the UMass game," Bona coach Mark Schmidt said after Sunday's Atlantic 10 championship win. "We played not to lose, and today that didn't happen, they made a run at us, and we answered."
Thirty games passed. Five months of practices,walk-throughs and shoot-arounds, not to mention film sessions, scouting reports and individual workouts behind them, the Bonnies still found it within them to take a lesson and apply it to a new situation.
"We were playing with house money," Schmidt added. "Nobody expected us to be there, and we went out and played."
The weekend represented the Bona season. One that, if nothing else, has demonstrated SBU's ability to adapt.
Twenty-four hours earlier, Bonaventure found themselves in a similar situation – clinging to a lead.
With Nicholson playing just nine minutes because of foul trouble, SBU built 37-24 advantage at half hitting 18-of-32 (56.3 percent) from the floor.
Nicholson's trey from the top of the key with 7:29 remaining in the game gave Bona a 70-54 lead over UMass. The Minutemen whittled away at the margin.
SBU's rebounding (they came into the game ranked 28th in the country with +5.3 margin) abandoned them as UMass grabbed 11 offensive boards in the second half alone en route to a 40-34 advantage on the glass. It was the first time all season that an A-10 team beat the Bonnies on the boards.
Making matters worse, SBU missed four straight from the free throw line and hit just 6-of-13 during one stretch.
Matthew Wright sealed the triumph with a pair from the charity stripe.
The Brown and White shot 50.9 percent (28-55) for the game. Their two-day total (including the quarter-final victory over St. Joseph's on Friday) from the floor was 55-105 (52 percent).
The shooting touch went south on Sunday connecting on just 20-of-59 (33.9 percent) for the game and 11-of-34 for the second half. The Bonnies regained their rebounding advantage getting 42 boards to Xavier's 29 and used it for the triumph.
"We talk about it all the time, the three phases, defending, …rebounding, …and no turnovers," Schmidt explained. "When you do two out of three of those things well, you're going to have success, and if you do all three you're going to win by a bigger margin."
Much the same way they have for the season, SBU put themselves in position to win all weekend.
The team that lost their sixth-man, Marquise Simmons, seconds into his first shift on the floor in the season opener, figured out how to survive. Simmons averaged almost four points and four rebounds a year ago. He would have been counted on for at least that this season. Instead, he suffered an achilles injury against Cornell, was fitted for a walking boot and spent the year watching from the sidelines.
Michael Davenport joined Simmons eight games later. The senior guard, with his arm in a sling because of a shoulder separation, was forced to watch as  his teammates fell at the buzzer to North Carolina State.
Fifteen points and nine rebounds of production sitting on the bench.
Freshman, Youssou Ndoye stepped in for Simmons. By the middle of January, Ndoye was contributing multiple rebounds per game. He grabbed a season-high six boards at St. Louis. A week later, the native of Senegal scored a career-high seven.
Jordan Gathers moved into the rotation. The freshman guard play limited minutes through the middle of January. By February 18th, Gathers was starting.
"It's a miracle. We lost two of our better players to injuries, one the first second of the first game, Marquise Simmons, Michael Davenport, we lost him, a potential 1,000 point scorer, so two of our top-seven out for the year and you look at each other and you say – what are we going to do?" Schmidt explained.
"But the bench grew up. Youssou grew up, Jordan grew up, we got more from Da'Quan (Cook) and Eric (Mosley), they stepped up and stepped into those positions and personally — especially Jordan and Youssou, wouldn't have played nearly as much but when we had those two injuries early in the season they grew and one of the reasons why we're here today is because of our bench."
When it was over, players, coaches and staff flooded the floor. Simmons grabbed the Bonnies banner and made his way to the student section waving it in approval of the fan support. Player turned cheerleader.  Just another example of the Bonnies' ability to adapt.