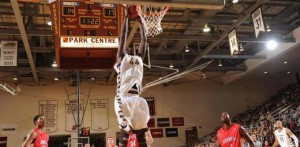 By Paul Casey Gotham
ST. BONAVENTURE, NY — Loyola head coach Jimmy Patsos only got to witness the play of Andrew Nicholson for 24 minutes on Sunday. The eighth-year coach got his fill. And then some.
Nicholson scored the game's first points – a thunderous right-handed slam on a drop step that split a  double team.
Wide-eyed, Patsos turned to his staff seated on the bench, shook his head and muttered into his hand.
"We all know he's going to get drafted," Patsos said of Nicholson. "He's going to be a solid N.B.A. guy that plays for like ten years."
Nicholson picked up his second foul less than six minutes later, but the setback didn't stop the National Player-of-the-Year candidate from putting his imprint on the contest. The senior forward finished with 18 points on 5-of-8 shooting from the field. Nicholson connected eight times in nine attempts from the free throw line including three in the game's final minute as St. Bonaventure sealed a 76-66 victory.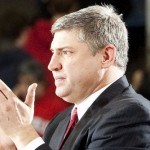 "They're inside is their strength," Patsos said of SBU's offensive attack.
Before taking over at Loyola, Patsos spent 13 seasons as an assistant  on the Gary Williams staff at the University of Maryland.   During that time the Terrapins earned 11 consecutive NCAA Tournaments, including seven Sweet Sixteens, back-to-back Final Four appearances (2001 and 2002) and the 2002 NCAA National Championship.  Under his watch, Patsos contributed to the development of 13 players who were drafted into the NBA, including six first-round selections and lottery picks — Walt Williams (1992), Joe Smith (1995), Steve Francis (1999) and Chris Wilcox (2002). Keith Booth (1997) and Juan Dixon (2002) were also taken in the first round.
"Guys call me all the time because I was in the ACC for a long time, and I will tell them about Nicholson," Patsos added when talking the N.B.A. prospects of the Bona forward. "I don't think he is going to be a star, but he is going to play."
Patsos earned his 100th win at the helm earlier this season. He and his staff took over a program that won just one game in the season prior to his arrival.
Up next, Nicholson and the Bonnies travel to Rochester for a tilt with North Carolina State.  Tip off is scheduled for 7 p.m. Tuesday at the Blue Cross Arena. Representatives from 12 N.B.A. teams have requested credentials for the contest.
The Bonnies have played six games in Rochester since 2000. Last year against Virginia Tech, Nicholson led all scorers with 22 points to go with eight rebounds but SBU fell 76-68.
Ogo Adegboye hit a three at the buzzer as SBU rallied from a 13-point halftime deficit to force an extra period. It was the Bonnies fifth overtime period in less than a week.  The Hokies outscored the Brown and White 11-3 in extra time.
St. Bonaventure has also played games in the Flower City against St. John's (2009), West Virginia (2005), Syracuse (2003), Saint Louis (2002) and Charlotte (2000).