by Wally
What a day it's going to be just 65 miles up the road in College Station, TX!!!    Wish I had ducats, but at least my daughter and some friends will be there taking it all in.    Anyway, the mid afternoon showdown between OK State and Tex A&M isn't the only big game this weekend.   Here's a preview/prediction on most of them:
Temple at Maryland:   Hate to say it, Rey, but I think the Owls are going down on the road.   Hope not, but I think the Terps will rebound from a very poor game offensively last week and I think they're "just as good as" Penn State.   Fear the turtle … Terps win 27-17.
#11 Florida State at #21 Clemson:    Underdog Tigers coming off an upset of Auburn while the Seminoles are ticked off after failing to hold serve at home vs #1 Oklahoma.   Starting QB for the Noles, EJ Manuel, still appears to be hampered by injury.    I just don't think FSU has enough offense with a banged up starting QB to win this one on the road.   Tigers take it  30-21.
#7 Oklahoma State at #8 Texas A&M:    This should be  a great ballgame at a great venue.    (Have I mentioned that I've never seen students impact the game as much as they do at A&M … truly something to behold!).   The winner of this one should set themselves up to vault into the top 2 if they can beat Oklahoma later this season.   Anyway, this is how I see it … the teams are fairly similar … both are well-coached and play well on both sides of the ball.   OK State may have the more potent offense, but A&M has the slightly better defense …. and most importantly in this one, home field advantage.    The 12th Man prevails as A&M takes it 30-27.
#14 Arkansas at #3 Alabama:     I'd love to be able to say that the Razorbacks will somehow … finally … win the big one.   But I can't.   They failed to pull it out at home last year when they had Bama on the ropes and Ryan Mallet to close the deal … which he failed to do.    This time, they're going to Tuscaloosa and are facing probably Saban's best defense yet at Bama.    I'm hoping for an Arkansas upset, Russell, but the brain says the Tide will take it  27-17.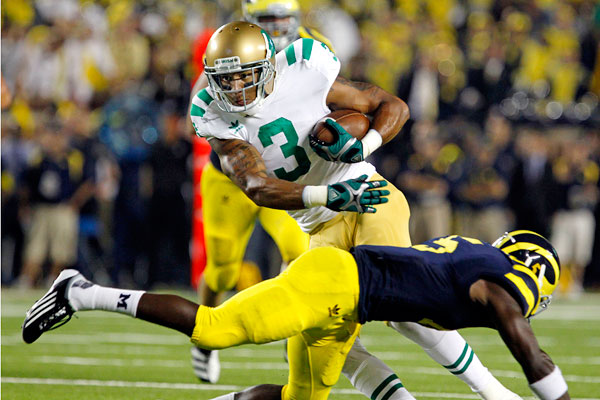 Notre Dame at Pittsburgh:    The Irish took one big step toward righting the ship by beating Michigan State last week, but two steps are required … they must win this game against a so-so Pitt squad.    Pitt is nearly last among 120 teams in pass defense, which isn't a good thing when ND's Michael Floyd, one of the nation's elite WRs,  is staring at you.   Notre Dame simply has more talent than Pitt, who blew a large lead at Iowa last week.   Unless the Panthers can overwhelmingly win the turnover battle, the Irish should prevail  31-21.
Mizzou at #1 Oklahoma:   Not this year and not on the road.   I just can't see the Tigers hanging with the Sooners for 4 quarters.  OU is too talented and they have too much to lose.   Sooners win going away … 38-24.
#2 LSU at #16 West Virginia:     This should also be quite a ballgame … Morgantown at night … yikes.  Again … the size and speed of LSU's players all over the field might be unmatched.    And they've played two very challenging games while shutting down their opponents with stifling defense and a methodical but efficient offense.   Can WVU, a pretty talented squad, play 4 FULL quarters and match LSU's intensity?    Would love to see WVU pull off the upset here, but I think LSU will wear them out in the 4th.  This one is very close through 3 quarters, but LSU prevails 27-21.
Tulsa at #4 Boise State:   Another big day for Kellen Moore.    Broncos … by 23!!!   
#10 Oregon at Arizona:   Arizona and coach Mike Stoops are clearly on the hot seat and feeling extreme pressure to produce right now.   Meanwhile, a talented Ducks team is looking forward to this conference road game.   The 'Cats will quack under the pressure … Ducks win 31-20.
USuC at Arizona State:    Question is, will the Trojans play up to their talent level or not?   They're gonna have to in order to pull this one out … and even that might not be good enough.   I think home field wins it for ASU.   Crash … tell Nance I'm going with her Sun Devils over USuC … 31-26.