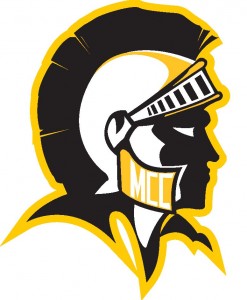 By Paul Casey Gotham
ROCHESTER, NY — Gavin Guarrera (Webster, NY/Webster-Thomas) planned to spend his Sunday afternoon with the comfortable responsibility of keeping a score book. Instead he took advantage of an opportunity for revenge.
With Shawn Corrigan (Rochester, NY/Rush-Henrietta) leaving after just two-thirds of an inning pitched, Guarrera was pressed into service.
And the sophomore southpaw made good on his chance.
Guarrera hurled five and a third of shutout ball as the Monroe Community College Tribunes defeated Genesee Community College 3-0 in regional baseball action.
Guarrera came on with the bases loaded and two outs and responded by striking out the first batter he faced.
"I was just trying to get ahead," Guarrera said. "I threw all fastballs."
Guarrera's fifth pitch froze Genesee's Zach Ranta for the out.
"Gavin did what we needed," head coach Mike Kelly commented. "That was a big performance."
Genesee failed to get a runner past second for the remainder of the game as Guarrera allowed five hits while striking out four and walking none. He made use of a pair of double plays to avoid trouble. One play served as a high school reunion of sorts as a trio of Webster-Thomas alums combined to end an inning.
With runners on first and second and one out in the fifth, Guarrera's pitch was sent into center field where Bobby Frantz (Webster, NY/ Webster-Thomas) snared the sinking line drive and fired a strike to second as Kevin Johnson (Webster, NY/ Webster-Thomas) waited for the second out of the play.
"That was a huge play," Guarrera noted. "I was pitching to contact and letting my defense do the work."
Monroe bats got all their runs in the first inning.
Nick Bunce (Rochester, NY/ Greece Athena) plated Johnson with a bases loaded RBI sacrifice fly to left centerfield. A.J. Kehlenbeck (Oakfield, NY/ Oakfield-Alabama) followed with his first of three hits on the afternoon bringing home Cody Mombourquette (Ottawa, ON/Colonel By St. Matthews). Wes Hoppner (Ottawa, ON/Holy Trinity) finished the scoring with an infield single that allowed Adam Urschel (Clarence, NY/ Clarence) to cross the dish.
Guarrera made the lead stand. When Genesee got a leadoff single in the sixth, the lefty induced a comebacker that he turned into a 1-6-3 double play. He followed by fanning the last batter he faced for his fourth win of the season.
Johnson came on and retired the side in the seventh for his ninth save of the season. The right-hander struck out two.
Guarrera gave up eight earned runs to GCC in two and a third innings of work in  last year's regionals.
Kehlenbeck went 3-3 with an RBI. Hoppner was 2-2 with an RBI and a sacrifice. Frantz and Mombourquette each had a base hit.
The Black and Gold improves to 26-9 and will host Niagara CC on Tuesday for a pair. First pitch is set for 2 p.m.