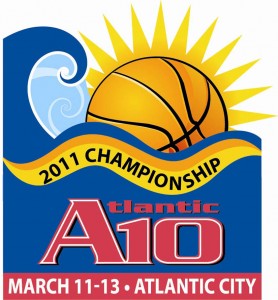 "Gonna be a rumble out on the promenade" when eight Atlantic 10 teams converge on the Boardwalk Hall in Atlantic City this weekend.
An automatic bid to the NCAA tournament is on the line, and Pickin' Splinters has exclusive coverage of the 2011 Atlantic 10 tournament.
Casey and Smitty will be reporting from courtside as all the action unfolds.  Get up-to-the-minute scores, stats, insights and analysis.
Friday's second round games will have regional coverage. Yes, you can follow on gametracker, but Pickin' Splinters gives readers a chance to be a part of the coverage. Ask questions. Offer opinions. And, by all means show your school colors.
Come early. Come often. We will be starting our coverage at 11 a.m. on Friday morning. Take a seat because there is always room for one more on the Bench.
2011 Atlantic 10 Men's Basketball Championship

Tuesday, March 8
First Round – Campus Sites
#10 La Salle at #7 St. Bonaventure – 5:00 p.m. (CBS College Sports Network)
#12 Saint Joseph's at #5 George Washington – 7:00 p.m. (CBS College Sports Network)
#11 Saint Louis at #6 Rhode Island – 7:00 p.m.
#9 Dayton at #8 Massachusetts – 9:00 p.m. (CBS College Sports Network)
Friday, March 11
Quarterfinals – Boardwalk Hall – Atlantic City, N.J.
Game 5 – #1 Xavier vs. #8/#9 winner – 12:00 p.m. (CBSC Syndication)*
Game 6 – #4 Duquesne vs. #5/#12 winner – 2:30 p.m. (CBSC Syndication)*
Game 7 – #2 Temple vs. #7/#10 winner – 6:30 p.m. (CBSC Syndication)*
Game 8 – #3 Richmond vs. #6/#11 winner – 9:00 p.m. (CBSC Syndication)*
Saturday, March 12
Semifinals – Boardwalk Hall – Atlantic City, N.J.
Game 9 – Game 5 winner vs. Game 6 winner – 1:00 p.m. (CBS College Sports Network)
Game 10 – Game 7 winner vs. Game 8 winner – 3:30 p.m. (CBS College Sports Network)
Sunday, March 14
Finals – Boardwalk Hall – Atlantic City, N.J.
Game 11 – Winner of Game 9 vs. Winner of Game 10 – 1:00 p.m. (CBS)
"We're goin' out where the sand's turnin' to gold so put on your stockin's baby 'cause the night's getting cold
And everything dies baby that's a fact
But maybe everything that dies someday comes back
and meet me tonight in Atlantic City
Meet me tonight in Atlantic City
Meet me tonight in Atlantic City"