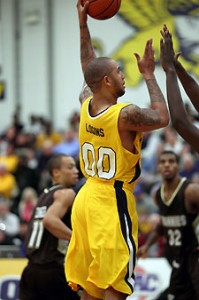 By Paul Casey Gotham
BUFFALO, N.Y. — Scott Machado stood at the top of the key shaking his head. To his left, Jermel Jenkins extended his arms in a gesture of disbelief. Under the basket, Mike Glover was doubled over clutching his shorts.
Not exactly the picture one would expect from a first-place team in the final moments of a conference game.
Gaby Belardo finished a pair of lay ups late, Greg Logins netted a career-high 30 points and a relentless Golden Griffin defense led to a 75-73 victory over the Iona Gaels in Metro-Atlantic Athletic Conference action at the Koessler Athletic Center, Sunday.
Logins paced Canisius with 22 second-half points. The senior forward hit 8 of 10 from the field including four from behind the arc as Canisius rebounded from a four-point halftime deficit.
"This kid just went ballistic," said Canisius coach Tom Parrotta motioning to Logins. "It was like a heavyweight fight. He couldn't breathe. He was cramping. He was on the sidelines. He went in and did what he had to do."
From the inside and the outside, Logins opened the second stanza scoring Griffs' first seven. Robert Goldsberry hit Logins at the foul line, and the Sodus, New York native caught and shot. On the next trip, Goldsberry found Logins in transition and the 6'7″ forward connected from behind the arc on the left side.
Elton Frazier missed a pull-up jumper, and the Griff front court took turns keeping the ball alive in a scramble before Logins secured it and finished over the outstretched arms of an Iona defender.
After employing a 1-2-2 three-quarter court press back to a 2-3 zone, Iona switched to man-to-man early in the half, and Glover drew the assignment of chasing Logins.
Logins connected twice from long range then he went into the post and sealed Glover, and Julius Coles delivered a lob for 66-63 lead with 2:33 remaining.
"He can go on tears," Parrotta said of Logins. "And what an opportune time to go on a tear. He was clearly, clearly on fire, and the guys got him the basketball. It's a nice luxury to move him around the perimeter because most people say 'get him inside, get him inside, get him inside,' but he's six-for-seven from three. That's a wonderful luxury to have."
"He made everything he threw up," Iona coach, Tim Cluess said of Logins. He made almost every single shot where he was open on."
With the shot clock running down, Coles crossed over from the top of the key and finished with a lay up from the right side, and Canisius led 68-63.
Machado answered with a jumper at the other end. Jenkins got a steal and led Machado for a lay up, and the Griffs led by one.
Iona called a timeout with 45 seconds remaining to set up a full-court press. Canisius put four players across foul-line extended. Frazier cut to the ball while Belardo released. Instinctively, Frazier sent a pass ahead that Belardo gathered in and finished.
Iona was not done.
Machado broke free for a lay up, but Coles blocked the attempt. Frazier grabbed the rebound and was quickly fouled. The senior forward hit both free throws for a five-point lead.
Sean Armand responded for the Gaels with a three.
Iona pressed again, and, again, Belardo broke free. This time, Coles fed the Canisius point guard into the open for the basket.
"We didn't have a timeout," Parrotta noted. "These guys (Coles and Belardo) had the presence of mind.
Machado came into the game leading the nation with 8.1 assists per game, and Glover averaging 20 points and 10.8 rebounds. Machado dished out 11 assists, and Glover had 39 points and 14 rebounds when the Gaels defeated Griffs 94-85 earlier this season. On Sunday, the Iona point guard finished with five assists and three turnovers. Glover scored 11 points.
"We obviously watched what he (Glover) did to us the first time," Parrotta explained. "We thought we had the personnel to go one-on-one with him because we were very, very concerned with Machado the first time, that is, getting into the lane and finding those three point shooters.  They're fanstastic. We said we'll stay closed on the people on the perimeter, and try to keep Machado in front of us and try to jab at him to force him to finish over the top. He is more comfortable dishing. That's why he leads the nation in assists."
Glover finished 4-of-11 from the field – his worst shooting performance of the season to date.
"We never left him (Glover)," Parrotta said. " Elton was never in help. He stay connected to him. That cuts down his aggressiveness for alley oops, drop-off passes and offensive rebounds."
Logins is the first Griffin to score 30 points in a game since Corey Herring scored 32 against Fairfield on 1/29/06. His 22 points in the second stanza was the most points in a half since Chcuk Harris poured in 20 versus Marist 12/8/06.
Coles, Frazier and Goldsberry all accounted for five assists apiece. Canisius blocked a total of nine shots with Tomas Vazquez-Simmons rejecting three. The senior now has 259 career blocks.
Coles scored 12 with Frazier and Belardo each accounting for 11.
The win was a reversal of fortunes for a Canisius team that has dropped three consecutive single-digit games. Canisius lost to Rider at the buzzer 77-76 on January ninth. Eight days later, the Griffs fell 73-69 to Siena at the Times-Union Center. Fairfield downed the Griffs by seven on Friday.
With the win, Canisius improves to 3-6 in the MAAC and 9-10 overall. Iona falls to 7-2 and 13-7.
The Gaels will host Rider, Friday. Niagara visits the KAC for a 7 p.m. tip off.