By Paul Gotham
Setting: The West Virginia University Coliseum is the site for a Big East Top Ten Battle as Jim Boeheim brings his No. 5 Syracuse Orange (16-1/3-1) to Morgantown for a tilt with Bob Huggins and his No.10 West Virginia Mountaineers (13-2/4-1).
Plot: Syracuse carries a three-game winning streak into the contest. West Virginia has split their last four after getting out of the gate with 11 consecutive wins. The loser of this game drops two games off the pace in the Big East with Villanova and Pittsburgh standing at 2-0.
Sub-Plot:  Saturday's game is the only time the two rivals meet during the regular season. The Orange might still have something to prove. West Virginia earned a spot in the pre-season AP Poll at No. 10.  Syracuse fell into the category of others receiving votes.
The game is the second of three on the road for the Orange. Wednesday, Syracuse downed Rutgers, 81-65. The Orange travel to South Bend for a game with Notre Dame on Monday. After playing their last two on the road, West Virginia returns home. The Mountaineers take a break from conference play for games with Marshall and Ohio State next week.
Flashback: Madison Square Garden hosted the most recent matchup of these two as Syracuse continued on their 'Marathon Men' odyssey. One night after turning away UConn in a six OT thriller, the Orange downed WVU in overtime, 74-69. Eric Devendorf led the way with 23, and Jonny Flynn added 15 points and nine assists.
Jim Boeheim-coached Orange teams hold a 19-6 advantage over the Mountaineers.
Syracuse and West Virginia have combined for 10 NCAA Tournament appearances since 2001. The Orange won the title in '03 and have a pair of Sweet Sixteen appearances. West Virginia reached the Elite Eight in '05 and also have reached the Sweet Sixteen twice.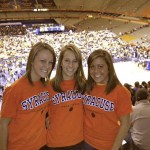 Foreshadowing: Thirty-four Orange have earned spots in the NBA. Carmelo Anthony, Jonny Flynn, Donte Green, Jason Hart, Etan Thomas and Hakim Warrick currently hold spots in the Association.  Thirteen Mountaineers have played in the NBA. Joe Alexander is the only current alum of West Virginia basketball in the Association.
Tone: Urgency will hang in the air as these thoroughbreds jockey for position. It's only mid-January, but no team wants to dig a hole.
Conflict: Huggins uses six players 17 minutes or more. Boeheim deploys seven of his guys for 20 minutes or more.
Da'Sean Butler and Darryl Bryant lead the Mountaineers with 22 three pointers apiece. Butler hits 32.8 percent of his shots from long range while Bryant knocks down 39.3 percent. Will West Virginia need a long-range attack to combat the Syracuse zone? Can the Mountaineers have success inside with 6'9″ Devin Ebanks?
Syracuse's rebound margin of 3.5 contributes to 85.2 points per game while holding opponents to 64.2. West Virginia holds a rebound margin of 8.5 leading to 75 points per game. Mountaineer opponents have scored 61.7 per outing.
West Virginia has played two fewer games than Syracuse but has grabbed 35 more offensive rebounds (241-206). The Mountaineers need success on the boards to win this game. Ebanks grabs 8.3 boards while Kevin Jones gets 7.8.
Butler leads three Mountaineers in double figures with 15.9 per game. Jones and Ebanks score 15.3 and 12.5 respectively.
Butler and Bryant also hand out three assists per game each.
Rick Jackson, Arinze Onuaku, and Wesley Johnson will have the charge of keeping the West Virginia front court off the glass. Johnson leads the way with nine boards. Jackson grabs 6.9 and Onuaku 4.1.
Johnson leads four Orange in double figures with 17 points. Onuaku adds 10 as do Andy Rautins and Brandon Triche.
Rautins's contributions extend far beyond his raw numbers. The senior guard has an increased ball-handling role this year. Rautins hands out 5.5 assists per contests but has over two turnovers. His miscues have become somewhat conspicuous of late, but that is only representative of his increased role. With Jonny Flynn in the back court last season, Rautins rarely had to go beyond two or three dribbles. Now, he is frequently handling the ball from foul line to foul line. The result is an increased number of turnovers. Rautins's average turnovers per game will decrease as the season continues.
The battle for transition points could tilt the balance in this game. Both teams are capable of prolific runs. At the same time, these combatants have shown they can slip into lulls. Will the importance of this game keep both teams at their peak? Can Syracuse take advantage of a deeper bench?
Triche has acclimated himself to keeping the Orange on the move. The freshman is adept at finding the open man up the floor and threading passes between defenders.
Both teams struggle from the free throw line. West Virginia hits 66.7 percent from the stripe. Syracuse finishes 69.2 percent.
Resolution: Last time Syracuse traveled to Morgantown, the Mountaineers put an 81-61 hurting on them. That was then, and this is now. The Orange are ready to show they can step up and win away from home. Johnson will prove too much for the Mountaineers to handle as Syracuse takes a one-possession game.
Got any comments about the game? Post them here.