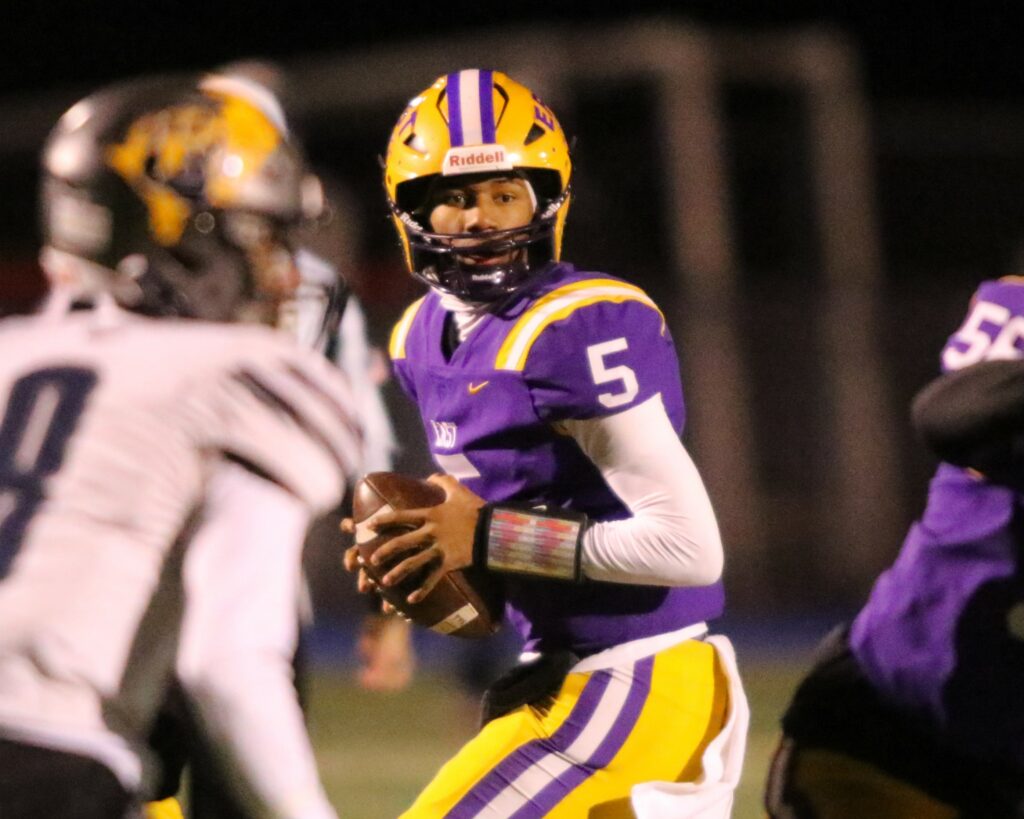 One squad is coming off its first sectional title since 2005. Another is making an appearance in the Far West Regional for the first time in 13 years. Williamsville South High School is the setting Friday when Clarence and East/WOIS match up in the Class A Far West Regional. Here's the breakdown:
EAST/WOIS EAGLES (11-0/No.7 NYSSWA Class A)
vs.
CLARENCE RED DEVILS (11-0/No.11 NYSSWA Class A)
Friday, Williamsville South HS, 8 p.m.
How they arrived here: East/WOIS opened with a 28-14 win over No. 7 Webster Schroeder before defeating defending Class A2 champion No. 2 Canandaigua in the semifinals 30-14. The Eagles then downed Brighton 25-8 to win the Section V Class A title. Clarence defeated Williamsville East 43-26, West Seneca West 28-21 and Lockport 43-16 to be crowned sectional champions.
Points per game: East/WOIS (41.6), Clarence (34)
Points allowed per game: East/WOIS (12.2), Clarence (16.3)
Trends: East/WOIS has outscored its opponents 197-49 in its last six contests. Clarence has scored at least 40 points in five games this season.
Players to watch for East: Zymier Jackson Sr. QB 151-of-226 attempts, 2,611yards (3rd in Sec. V single-season history), 24 passing touchdowns, two interceptions, 69 carries, 533 rushing yards, eight rushing touchdowns; Ervin Wiggins Sr. WR/OLB/DB 40 receptions, 779 receiving yards, 12 receiving touchdowns, six interceptions, five returned for touchdowns, 78 total tackles, 14 tackles for loss; Anthony Diaz Sr. WR/DB 45 receptions, receiving 754 yards, 1350 all-purpose yards, three punt return touchdowns, seven total touchdowns; Jeremiah Tucker Jr. DE/LB 127 total tackles, 18 tackles for loss, two sacks, one blocked punt for a touchdown; Perrion Willaims Sr. LB/WR 125 total tackles, 14 tackles for loss, six sacks, 15 receptions, 315 yards, four total touchdowns; Deandre Leonard Sr. OLB/WR 16 receptions, 300 receiving yards, three receiving touchdowns, 96 tackles, 11 tackles for loss, three sacks; Brandon Franklin Sr. OL/DL 83 tackles, nine tackles for loss, sack; Anthony Hampton Jr. LB/RB 91 tackles, five tackles for loss, sack, seven rushing touchdowns; Yusuf Abdi Jr. K 71 total kicking points, 56-for-59 extra points (all three misses blocked), 5-for-6 field goals, long of 38 yards

Clarence: David Van Horn (Jr. RB/LB) 86 carries for 679 yards and 12 touchdowns. Jeff Long (Jr. RB/DB) 106 rushes for 612 yards and nine touchdowns, 335 receiving yards on 31 catches and three touchdowns, 54 tackles, four interceptions, one forced fumble, one fumble recovery, one defensive touchdown. Bryce Tubin (Jr. QB/DB) 145-for-223 passing, 2256 yards, 23:5 TD/INT ratio, 58 carries for 282 yards and three scores. Corey Cummins (Sr. QB/DB) 32 catches for 702 yards and eight touchdowns. Hayden Arrison (Sr. TE/LB) six catches for 80 yards and two touchdowns, 129 tackles, 18 TFLs, four sacks, five fumble recoveries. Jake Mattoon (Sr. TE/LB) 117 tackles, eight TFLs, five sacks, one fumble recovery. Brady McGrath (Sr. RB/LB) 198 yards and four touchdowns on 34 carries, four catches for 110 yards and a touchdown, 82 tackles, two TFLs, two sacks, one interception, two fumble recoveries. Clayton Feltz (Sr. WR/DB) 68 tackles, two TFLs. Ryan Geasling (Jr. K/WR/DB) 8-for-9 PATs.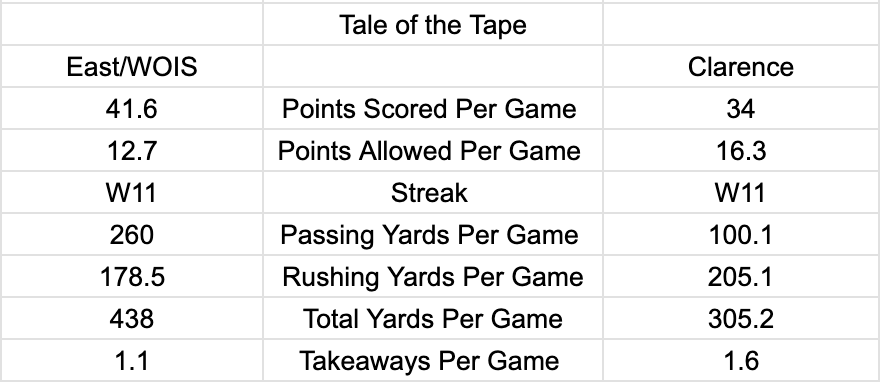 Coaches: Steve Flagler and James Vann (East/WOIS), Paul Burgio (Clarence)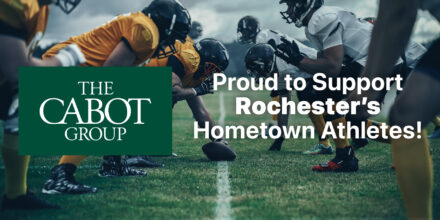 History 101: After appearing in three of the previous four sectional championships, East won its first title since 2005. The Eagles claimed back-to-back sectional titles in 2004 and 2005 but did not advance to the state quarterfinals losing both years to Webster Thomas in the regional qualifier. Clarence is making its first regional appearance since 2010 when the Red Devils fell to Rush-Henrietta 42-34, the eventual state champion.
What's at stake: A spot in the NYS Class A semifinal against either Whitesboro (III) or Vestal (IV).