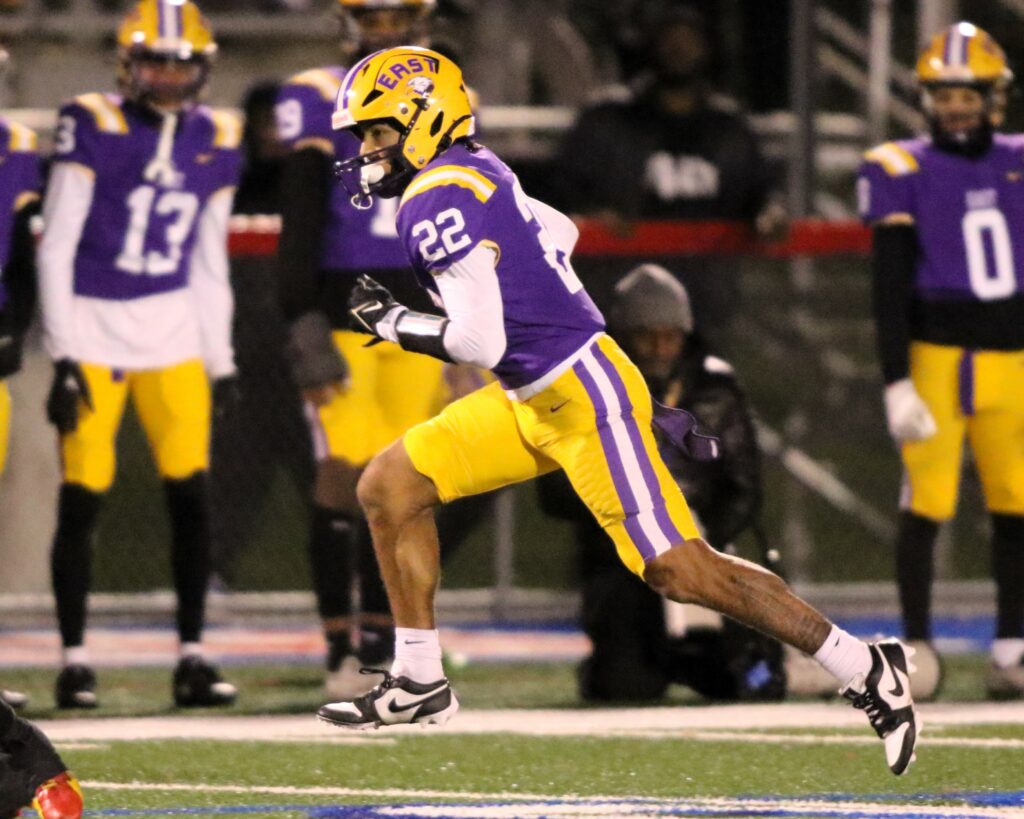 By KEVIN OKLOBZIJA
The individual awards had been handed out, followed by the Section V Class A championship block, and East High/World of Inquiry School players were beginning their joyous celebration at midfield.
After three consecutive title-game defeats, East/WOIS finally earned that elusive sectional football title, the school's first since 2005, with a 25-8 victory over Brighton on Friday night at Fairport High School.
But before Anthony Diaz joined his teammates in the high-fives and trophy photos, he deftly negotiated his way through the mass of people – very much like he did in scoring the game's first touchdown with an 85-yard interception return – to find his father, Larry Morales, on the sideline.
They embraced in a congratulatory hug.
"He's been there since forever," the senior wide receiver and safety said. "He introduced me to the game of football. I give him all my props, all my credit."
Not long after, East co-head coaches Steve Flagler and James Vann were saying very much the same thing about Diaz, along with the rest of the senior class as their undefeated season (11-0) continued.
"The tone for this was set four years ago by the seniors," Vann said. "We played East football: Hard-nosed, don't quit, fly around."
Diaz led that squadron with three critical plays.
** After Brighton's defense forced a three-and-out punt on the first possession of the game, the Bruins methodically marched from their own 32 to the East 24 with 12 consecutive running plays, 10 by junior Gavin Parks for 43 of those yards.
But on fourth down, Diaz intercepted a pass by quarterback Tyler Martinovich at the East 15 and sped the other way, using his blockers to perfection for the 85-yard return for the touchdown and a 7-0 lead.
"He's been our guy for four years and he made a play when we desperately needed one," Vann said.

** Nine plays into the second quarter, Diaz took a toss behind the line of scrimmage from quarterback Zymier Jackson, took three steps on what appeared to be a screen play, then, while on the run, lobbed a perfect pass to the back left corner of the end zone to a wide-open Ervin Wiggins.
The trickery worked to perfection and gave East/WOIS a 14-0 lead.
"I know what I gotta sell and he (Diaz) knows to stay patient," Wiggins said of the moves required on his route to initially bring defenders with him.
** Brighton trailed 14-0 at halftime but started the third quarter by driving 60 yards on nine running plays. The last two yards came as Martinovich dived into the end zone, and when Parks ran in the PAT conversion, the Bruins trailed 14-8.
The score hadn't changed late in the quarter but the momentum quickly did. Jackson threw a strike over the middle to Diaz, who worked free for the diving catch at the East 47. On the next play, Jackson connected with Diaz for another 13 yards, and those two plays helped East extend the lead to 17-8 with a 23-yard field goal by Yusuf Abdi.
When Jackson connected with Wiggins on an 11-yard TD pass with 4:32 remaining in the game, East had secured the victory and sectional title.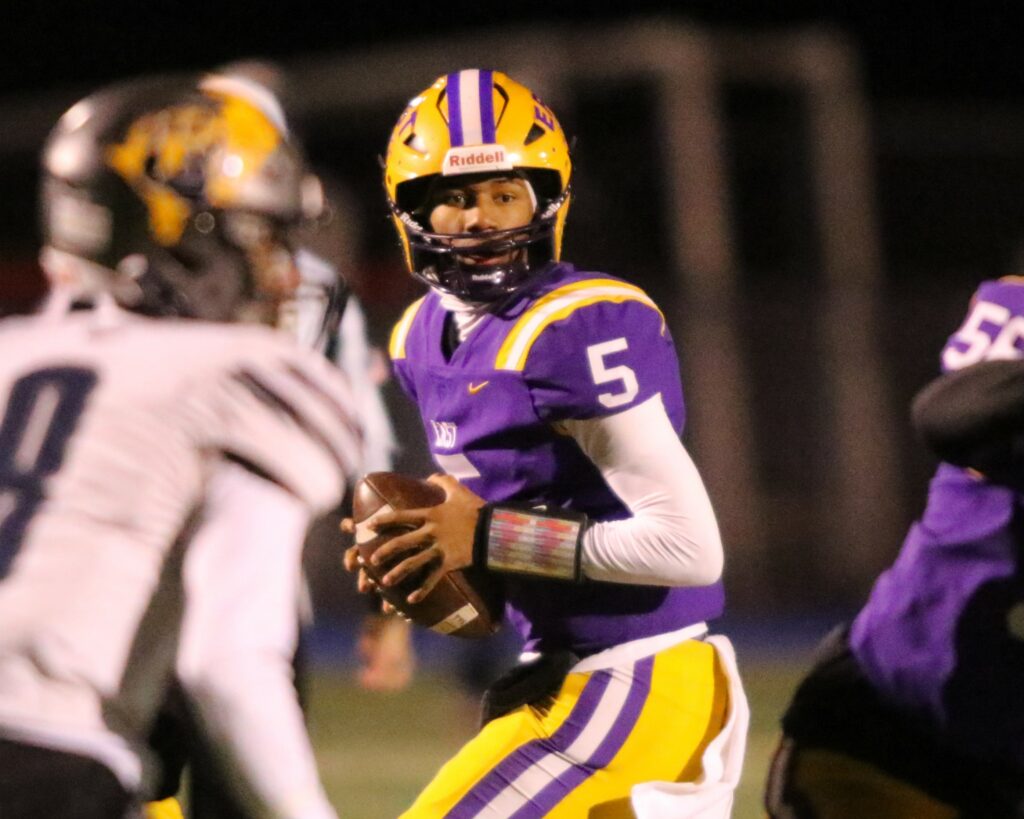 "It's an unreal feeling," Diaz said.
Said Flagler: "It was our time. Our guys were rockin' all year."
For fourth-seeded Brighton (7-4), a surprise finalist in the minds of some, the loss stung badly. The Bruins had earned a berth in the finals by edging Irondequoit 15-13 in the quarterfinals before thumping top-seeded Victor 35-13 in last week's semifinals.
But the dream of bringing home the school's first-ever sectional title fell short.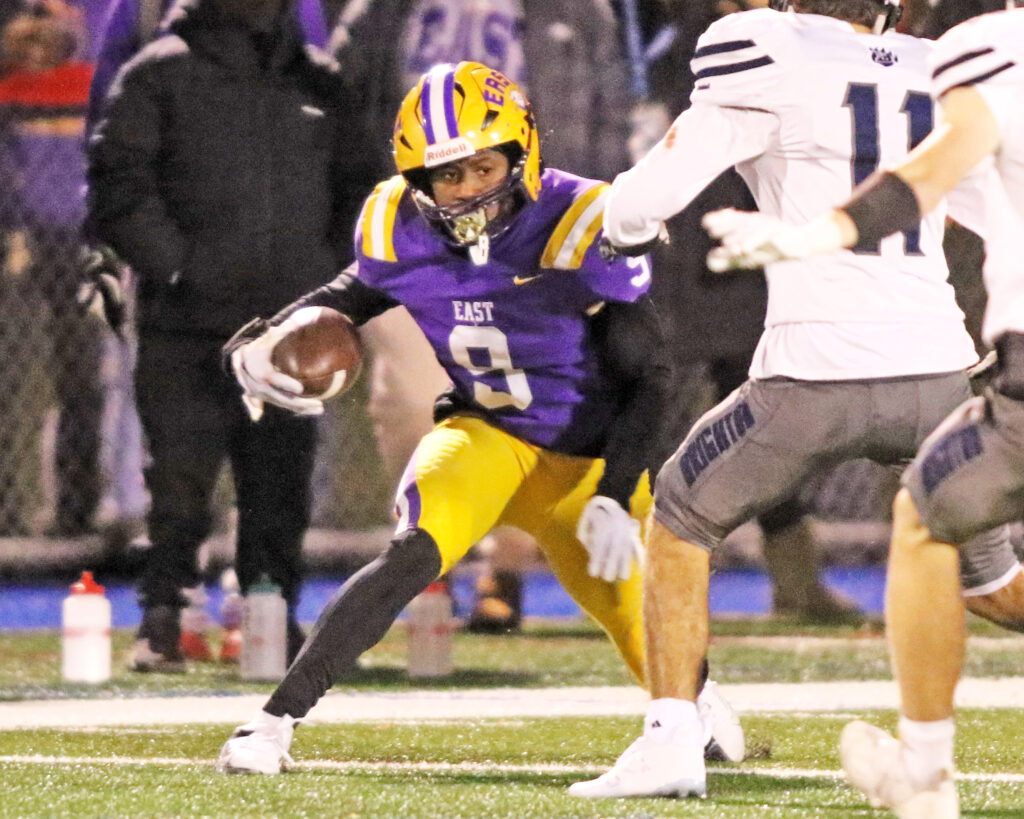 "I'm incredibly proud of this group and how they battled," Brighton coach Steve Lian said. "Even tonight, we had some key guys trying to battle through injuries. We had an incredible year with some amazing moments that I hope they'll remember forever."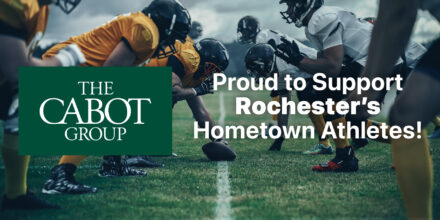 The Bruins appeared very ready to continue making memories. But Martinovich's ability to throw was hindered by injury. So even though the pound-on-the-ground running game left East susceptible to a quick-strike pass, Brighton didn't have that option available, Lian said.
Even so, they moved the ball, just not far enough at key moments. Four times they were stopped on fourth down.
"It felt like a million times," Lian said. "We could move it but we couldn't finish."
While Brighton's season is over, East/WOIS moves on to play unbeaten Clarence (11-0), the Section VI champion, in the Far West Regional at 8 p.m. next Friday at Williamsville South High School.
"We've been working for this (a sectional championship) since eighth grade," Wiggins said, "but we're not done. We've got bigger things to do."