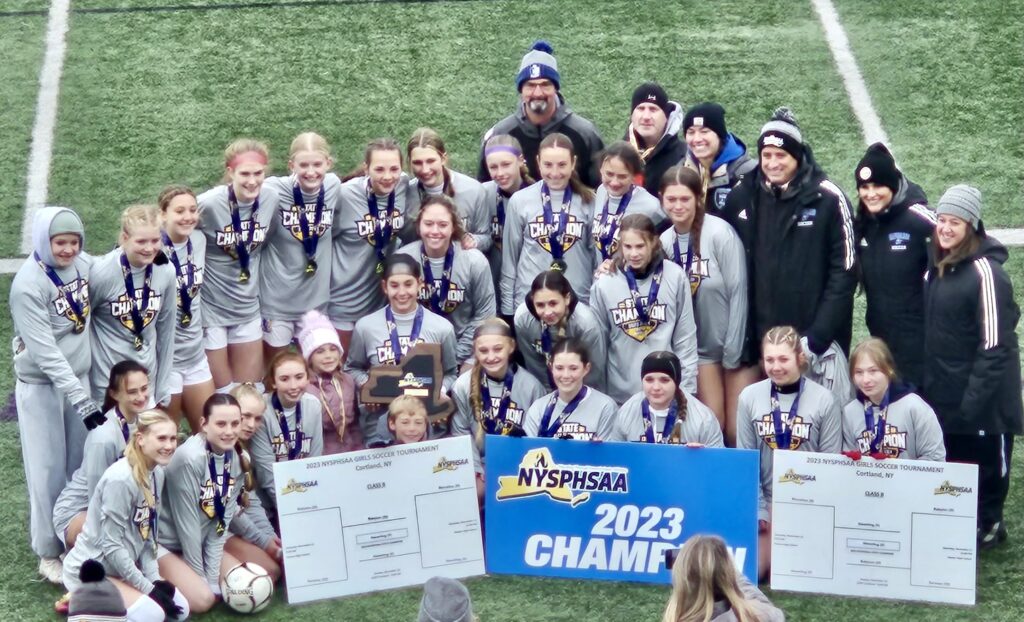 By PAUL GOTHAM
A year ago, an undefeated season ended with an overtime loss in the state championship game.
Sunday morning on the field at Cortland High School, the Haverling girls' soccer team made program history.
Keegan Smith scored the lone goal as the Rams defeated Babylon (XI), 1-0 in the 2023 NYSPHSAA Class B championship game.
The title was a program-first.
"Oh, my gosh it feels surreal," said Haverling head coach Braedyn Northrup, Monday morning via a phone call. "It hasn't sunk in yet. It's just one of those things that I think is going to take some time for me to even realize that it happened."
Smith converted on a corner kick in the match's second minute when the senior redirected a cross from fellow classmate, Ella Yartym.
"Classic Ella to Keegan corner kick," Northrup said. "Ella sent a perfectly placed ball in. As soon as she hit it, I was like that's on Keegan's head. It's coming. That's exactly what happened. She headed it into the back of the net. It just set the tone right away."
The goal was the 27th of the season for Smith who is committed to play at the University of Arkansas where compete as a goalkeeper.
"You can't say enough about Keegan. You really can't. I knew this season was going to be an up-and-down battle of getting these kids together. Keegan took on a role where there was a ton of pressure on her every single game to perform to make sure that she was basically setting the tone for the team. She did it game-after-game. She is not just a phenomenal soccer player. She's a very poised young woman that I see great things in her future."

Smith and Yartym combined to score 63 of Haverling's 75 goals this season. The duo also had 14 and 15 assists, respectively.
"You can try to stop Keegan and Ella, but you're just not going to be able to do that for 80 minutes. It's just not going to happen."
The state title came one year after Haverling claimed its first regional championship. The Rams, though, graduated several key players from that squad including Meredith Czajkowski (9 goals, 10 assists in 2022), Natalie Krelie (10 goals, 8 assists) and starting sweeper Kelsey Thorp.
"We lost a talent. We really did. I didn't see it in the cards for us this year. These kids exceeded every single expectation I had for them. I mean that wholeheartedly. They persevered. They came together as a team. It took every single person on this team to accomplish what we did. They're just a tough group of girls. It's been my pleasure to coach them."
Lola Coots made six saves for her 15th shutout of the season.
The win was the 12th straight for Haverling (21-1-0).
"There's a lot of talent on this team. They've played together for a long time now. They definitely have the determination that it took to win a state title."
Northrup, in her seventh season as head coach, took over a program that had one sectional title (1998) in program history. In the past four years, the Rams have won four sectional titles, two regionals and now a state championship. Northrup's squad has a record of 74 wins and 6 losses during that stretch.
"As a head coach, I was just hoping to get a sectional title. You look at the program and you see one sectional in 1998. My goal was to get a sectional title in my coaching career. I knew my coaching career would be long. It's my passion. I absolutely love doing it. To be seven years in with four sectional titles and a state title, I'm speechless about that."
Haverling fell to Irvington (1) in the 2022 state final, a game that was played in near white-out conditions during the second half.