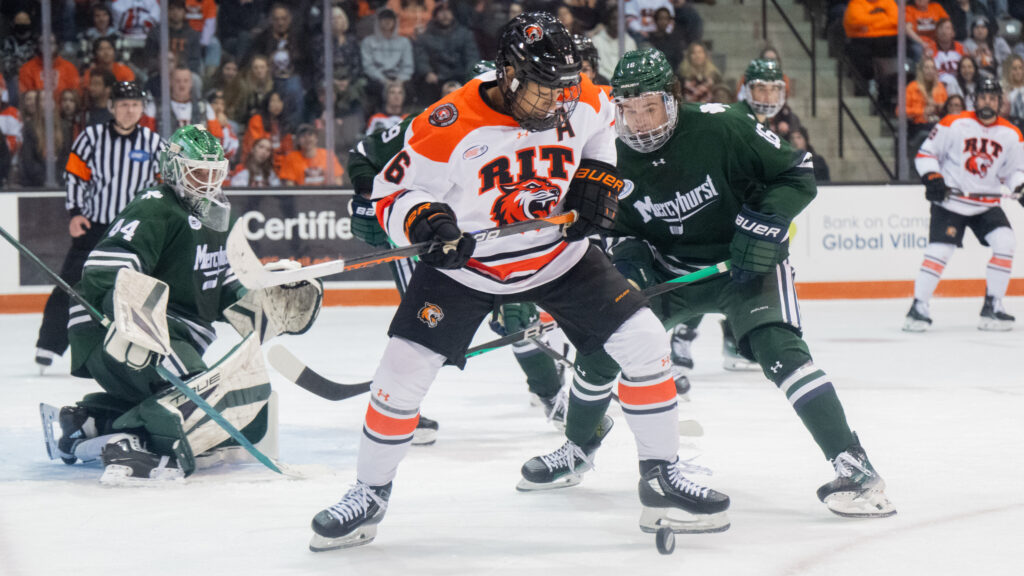 By KEVIN OKLOBZIJA
So much for the national ranking.
Having moved into the last slot in the USCHO top 20 this week, Rochester Institute of Technology couldn't complete the weekend sweep of still-finding-their-way Mercyhurst and will surely fall back into the realm of "others receiving votes" come Monday.
Freshman goalie Simon Buchler stopped 51 shots in his second career start and the Lakers, despite managing just 14 of their own shots, defeated the Tigers 2-0 on Saturday night at the Gene Polisseni Center.
That's right, 51 shots. To 14. And RIT lost.
"If this is our off night and we outshoot the opponent 51-14, I'll take the off night," Tigers coach Wayne Wilson said after his club fell to 7-3 overall, and 6-2 in Atlantic Hockey.
He's right, too. This wasn't a case of the Tigers playing poorly. Maybe they lacked a little urgency, but the effort was solid, they just couldn't beat a goalie who was dialed in and thriving in the moment.
When the final buzzer sounded, teammates made sure to secure the game puck for Buchler. Mercyhurst coach Rick Gotkin may have gotten a different game puck. The victory was the 600th of his coaching career.
Boris Skalos staked the Lakers (2-5-2 overall, 1-1-2) to a 1-0 lead 12:15 into the first period and the score didn't change until Keanan Stewart's power-play goal 7:30 into the third period.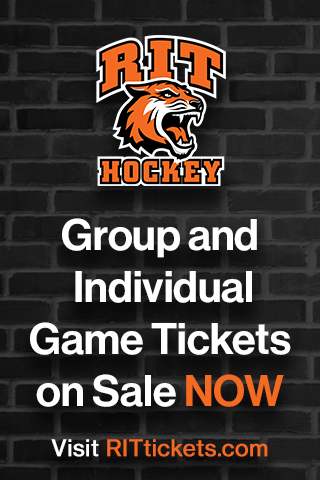 In between, the Tigers had plenty of chances and more than enough pressure, they just couldn't convert. Not that Buchler faced an inordinate number of Grade-A shots. Yes, there were 51 shots. But the Tigers weren't making him move, didn't crowd the crease and misfired a time or three.
"It was a deceiving 51 shots," Wilson said. "He did stop 51 but I didn't think we had a lot of second opportunities. That's a credit to him for not giving up rebounds but I just didn't think we were sharp enough, and our power play didn't do anything."
Zero-for-four, to be exact, including failure with 1:48 of five-on-three advantage late in the second period.
"I'm disappointed with our power play, I'm disappointed we didn't have more guys in front of the goalie's eyes," Wilson said.
RIT is off the coming week, then will play No. 14 New Hampshire at the Gene on Nov. 24-25. Wilson said the Tigers will practice just three days this week, working on "things we don't have time to do (in a normal week of practice)" and then return to a normal routine the following week.
A strong showing, especially a sweep, would likely move the Tigers back into the Top 20. Not that it matters now.
"It's not a feather but nice recognition, but it really doesn't mean anything," Wilson said.