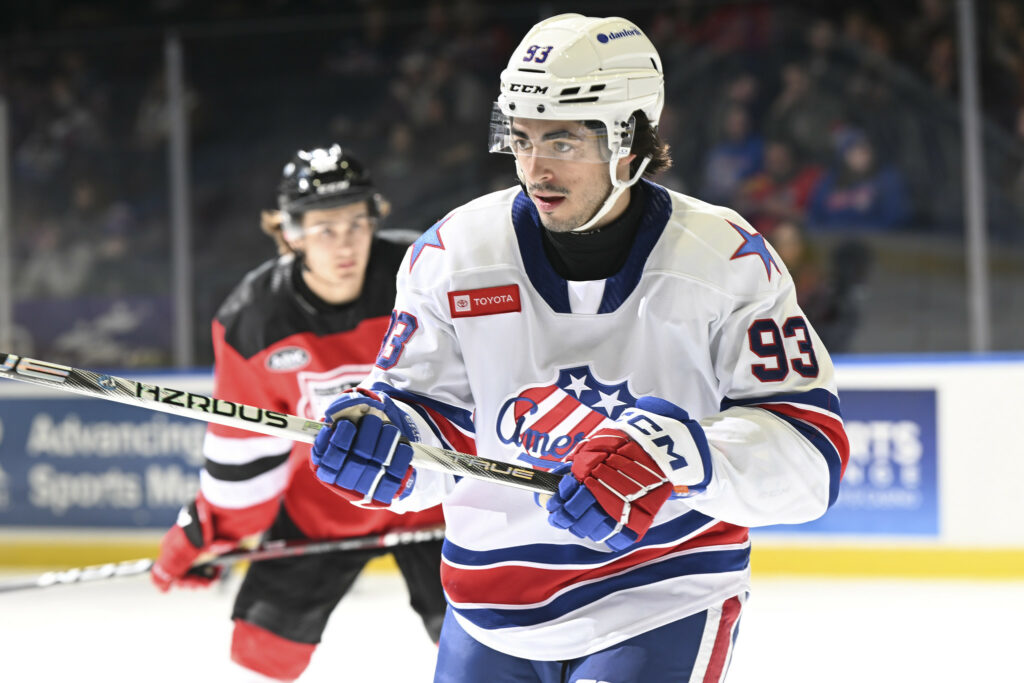 By KEVIN OKLOBZIJA
Matthew Savoie's final shift on home ice with the Rochester Americans until at least next spring didn't end so well.
Utica forward Xavier Parent was able to power past the rookie forward deep in the Amerks zone and score the winning goal just 45 seconds into overtime to give the Comets a 4-3 victory on Friday night.
The goal wasn't necessarily Savoie's fault. As Amerks coach Seth Appert said, it was more the byproduct of the three-on-three overtime format. A chance at one end, a better chance at the other, and a forward as the last line of defense.
But like so many other moments during Savoie's 14-day conditioning assignment with the Amerks, it was a chance to grow, a chance to learn how to better use his body to perhaps derail the attack of a stronger opponent.
Because that, after all, is what development is about, Appert said. You compete in difficult situations, you sometimes fail, and then you figure out how to get better.
"I think Matthew Savoie has shown – what he was starting to show in rookie camp before he got hurt – why we drafted him ninth overall (in 2022), how good of a summer he had, how much different he looks from the playoffs last year.
"And good on him. He attacked his summer, he made himself a better player, he's performed really well here."
In five games, he has produced 2 goals and 3 assists, and was an integral part in a dynamic line with second-year forwards Jiri Kulich and Isak Rosen. He scored the Amerks first goal on Friday.
But just like that, that career progress, that development growth, is about to end. Savoie's conditioning time with the Amerks expires following Saturday's road game in Syracuse.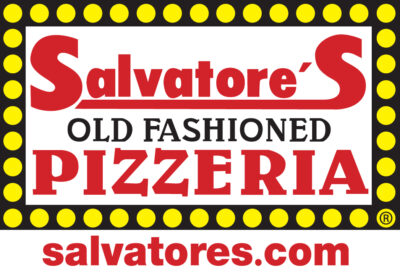 Rules limit him to a maximum stay of two weeks, so he'll rejoin the Sabres, who then must decide if he stays and plays up to nine NHL games before he returns to his Western Hockey League junior team in Wenatchee, Wash.
The majority of players at 18 and 19 do very well in continuing their development in junior hockey. It has been the NHL's best proving ground for decades.
But some players are too good for junior hockey, and Appert says Savoie is one of them, that returning to the WHL and piling up two points a game won't make him a better player.
A year ago, he scored 38-57-95 in 62 games, and then was a point-a-game performer in the WHL playoffs (11-18-19 in 19 games).
"It's an unfortunate rule that he can't stay; I don't think it's good for players, especially high-end players," Appert said. "There's a lot of guys that aren't ready for the American Hockey League at 18, 19, 20 years old, but for guys that are picked as high as he is, it's a detriment (to return to junior hockey)."
The Sabres would like to be able to send Savoie to the Amerks, if they decide he's not ready for the NHL now. But they can't.
"People think getting a bunch of points is development – it's not," Appert said. "Scoring 120, 130 points is not what development is about.
"Development is about playing at a high level, facing adversity, failing, and growing your game through that failure to meet the challenge that league, your opponents and your teammates and practice are facing you with."
Since Savoie has no control over where he plays, he's just working to better himself, regardless of the uniform.
"That's something I talked about with Kevyn (Adams, the Sabres general manager); focus on the process, focus on getting healthy, wherever you are. It's definitely a learning process."
A solid effort but no 'W'
The Amerks twice erased one-goal deficits and even led 3-2 late in the third period before Utica forced overtime and then won it in the first minute of the extra period.
Savoie, Mason Jobst and Kulich scored for the Amerks, who fell to 5-2-2-0.
But when compared to Wednesday's 7-2 loss to Syracuse, it was night and day.
"We were excellent tonight," Appert said. "I would have preferred two points, we probably deserved two points."
Tokarski makes season debut
Veteran goalie Dustin Tokarski played his first game of the season – and 400th AHL game of his career. He stopped 16 of 20 shots.
He was hurt in training camp. His only game action came on Sept. 24 when he played the third period of Buffalo's preseason game against the Washington Capitals.
"At the end of the night his stats won't look good but I loved him," Appert said. "He played the puck well and he's a calming presence for a young team."
Injury update
Forward Tyson Kozak returned after missing three games due to injury.
Five other forwards are still out, however. Captain Michael Mersch is out probably long-term with an upper body injury suffered on Wednesday, Brendan Warren is out into December with a broken jaw, Linus Weissbach may be ready sometime this month, and Aleksandr Kisakov and Brett Murray are considered shorter-term injuries.
Big crowd
The Amerks drew 6,693, with the Word of Life faith-based group accounting for 1,960 tickets.