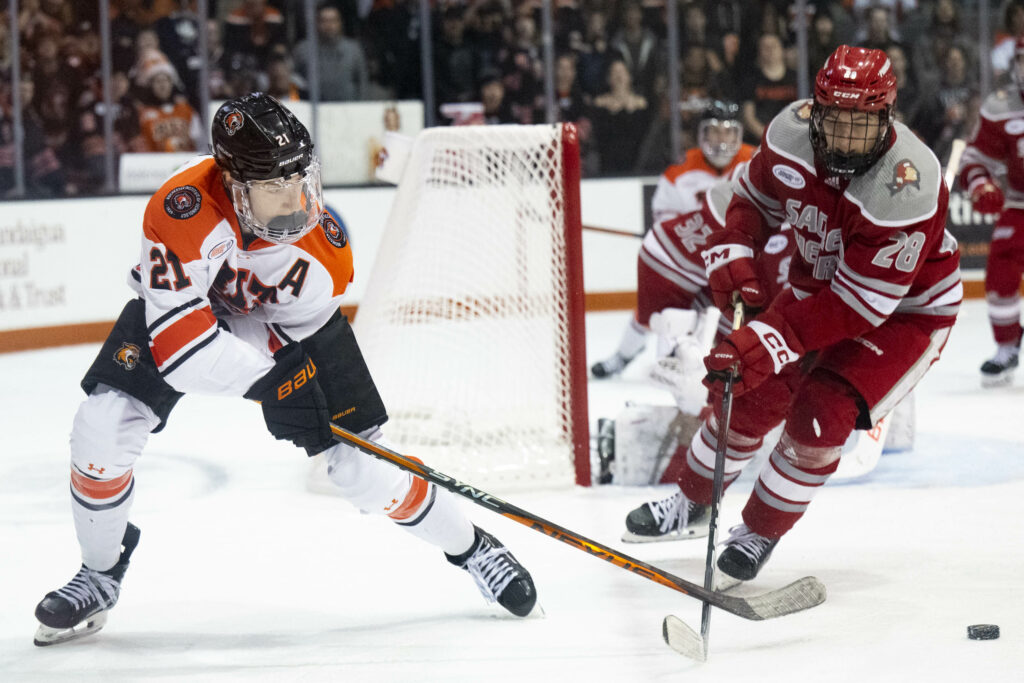 By KEVIN OKLOBZIJA
The world of Atlantic Hockey – and a little beyond – is fully aware of what Rochester Institute of Technology's top line of Carter Wilkie, Tanner Andrew and Cody Laskosky can do.
They've proven their talents with the puck.
The rest of college hockey isn't necessarily sure what RIT's other lines can do, and neither is coach Wayne Wilson.
So far, when it comes to producing goals, it's a lot of zeroes for the rest of the forwards.
"We need some contributions from elsewhere," Wilson said after a 5-2 loss to Sacred Heart on Saturday night left the Tigers with a series split in their first conference action of the season.
With graduate student Luke Lush making his first start for the Tigers – against his former school – Sacred Heart soared to a 3-0 lead in the first 23 minutes, held off a furious third-period rally, then hit an empty net twice in the final minute to inflate the margin of victory.
The Tigers (2-2, 1-1) trailed 2-0 after the first period, largely because of their own inability to finish on quality opportunities. Gianfranco Cassaro dinged a shot off the post at 3:00 that could have tied the score. Tyler Fukakusa was free between the hash marks at 8:50 but goalie Chase Clark made a blocker save. Douglas Scott was by himself in the deep slot at 15:40 but misfired.
It was a theme for the first 40 minutes.
"We didn't play poorly for two periods, but we had no intensity in our game," Wilson said. "Intensity isn't just finishing checks; it is scoring goals when you have chances, it is making tough plays when the pressure's on."
The Tigers defeated Sacred Heart 4-2 on Friday, with goalie Tommy Scarfone – an All-Atlantic Hockey selection a year ago – stopping 26 shots.
Wilson opted to give Lush the start on Saturday. Brought in from the transfer portal over the summer, Lush went 14-16-3 with a 2.70 goals-against average and .899 save percentage for the Pioneers a year ago.
While Scarfone is clearly No. 1 for the Tigers, the coaching staff believes well-spotted time off will do him well.
"Tommy's going to get, I don't know, 80 percent of the games but we think Luke is a good goalie, he's going to play," Wilson said. "That may be more in the second half when you don't have any weekends off. Looking back we probably thought Kolby Matthews (the backup last year) should have got more games the second half."
That Sacred Heart (1-3, 1-1) was the opponent wasn't necessarily why Lush got the start, Wilson said. Lush said there was plenty of roster turnover in the offseason, "so in a lot of ways it felt like any other game," he said, "but in between whistles there were some friendly smiles."
He found himself trailing just 2:33 into the game after defenseman Blake Dangos fired through a screen. Andrew's inability to move the puck out of the zone from along the boards led to Sacred Heart's second goal, by Braeden Tuck, at 17:15.
When Hunter Sansbury dangled in from the left point and fired home a shot from the left circle 2:48 into the second period, RIT was in a 3-0 hole.
"I just wish we played harder in front of him (Lush)," Wilson said.
The Tigers ramped it up in the third Grady Hobbs scored at 7:29 after a steal and quick pass from Ryan Nicholson. Wilkie and Kevin Scott then created Laskosky's rebound goal at 12:34.
But the Pioneers held off late RIT pressure for the victory.