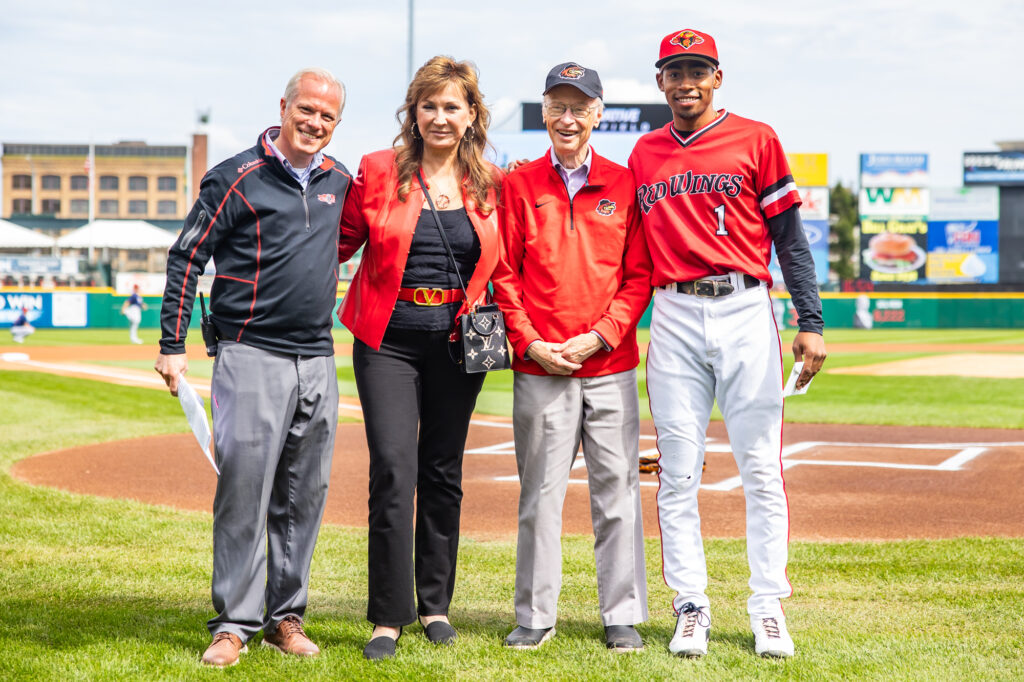 BY DAN GLICKMAN
ROCHESTER, N.Y. – What makes a successful minor league baseball season? And did the 2023 Rochester Red Wings have one? As they ended the home portion of the 2023 season on Sunday with an 8-7 walk-off win over the Lehigh Valley IronPigs, it depended on who answered and whether you were discussing the team on the field or the Rochester Red Wings as an organization.
Certainly, the Rochester Red Wings front office liked what they saw in the stands. A total of 437,560 fans walked through the doors of Innovative Field this season, the most since the COVID-19 pandemic, despite a losing team and the always-fickle Rochester weather.
"We're back to pre-COVID attendance levels, we couldn't be happier the way this season went," said Red Wings general manager Dan Mason. "As a front office, we understand we can't control what happens on the field. All of that is dictated by the Washington Nationals. So our goal is so that when fans come to the ballpark, it's worth their time and worth their money."
"And I feel like this year, we were really successful on that level- we judge our performance on the number of smiles we see at the end of the night."
President and CEO Naomi Silver similarly thought it was a success.
"It was a wonderful year for us," she said. "This year, we didn't even talk about past years. It felt like everyone was back on the same page and coming out when possible."
The product on the field, in contrast, wasn't as good. Although the Red Wings finished the season with a 38-35 home record, troubles on the road have left them with a 64-76 record overall with a week of play left.

It was not for lack of trying. The Red Wings have a streak of 133 games without being shut out, scoring at least one run in every game since they were blanked in the second game of an April 8 doubleheader. It's the longest streak for an International League team since at least 2005 and the longest for a Rochester team since at least the 1997 Governor's Cup champion team.
According to manager Matt LeCroy, it speaks to the fight in the team, a result of the long, hard process of trying to make it in sports.
"There are a lot of people in this world that would love to play professional sports, baseball being one of them," he said. "It's an honor to have that opportunity to come and play, and I think no matter if you make it or not, you owe it to yourself, to your family, to the people who brought you to this earth, to play as hard as you can compete. And the guys [do that] and have fun, [as] they know each day could be their last day. I think that's what creates that environment, to know that this could be it and leave everything on the table."
"Hopefully, they'll never lose that mentality because it's the only way to play. You play to win every game, and you do whatever you can to help our team win."
And while the Red Wings may not have won more than they lost on the scoreboard, they did see success in the ultimate purpose of a minor league affiliate: preparing players for the big leagues. LeCroy especially pointed out how Joan Adon, who went 2-12 last season in the majors, had worked his way back to the Nationals after pitching well in Rochester. Similarly, outfielder Travis Blankenhorn became one of the best hitters in the league before finally receiving a call-up to Washington later in the season.
Blankenhorn was named Rochester's Most Valuable Player by fans before Sunday's game and accepted via a video from Milwaukee, where the Nationals were playing the Brewers. Jake Noll and Cody Wilson were both named most civic-minded in a similar ceremony. The most popular player? The winner of that vote was Darren Baker.
Well-known already to baseball fanatics as the son of Houston Astros manager Dusty Baker and the batboy infamously rescued by J.T. Snow during the 2002 World Series, the 24-year-old continued to prove he is far more than just a famous last name in his first season at AAA, endearing himself to fans with his speed and defensive versatility. He also showed a flare for dramatic moments at the plate, including a walk-off sacrifice fly to finish Sunday's game. Through Sunday, the left-handed hitter was hitting .285 with 40 RBI and 17 steals. To him, though, there's still work to do, even if he likes how his season has gone.
"I feel good about the season, but I still feel like I'm in the development process," he said. "There are still a lot of things I can get better at. These coaches have helped me a lot, but for my first year and just getting acclimated, I feel like I held my own."
The Red Wings' home stadium, Innovative Field, is also in a bit of a development process. Both Mason and Silver noted improvements underway, including a new kitchen facility for the stadium's concessions and clubhouse improvements needed to retain MLB affiliation. Many of these improvements will be in place by next year.
Ah, yes, Next year. The words on the lips of every baseball fan at the end of a season. The lips often include the words "just wait 'til."
Red Wings fans could be rewarded for that wait, because next year's team may have some of the finest prospects in baseball.
Outfielder Dylan Crews, the number four prospect in all of baseball according to MLB.com, may be on the Red Wings next season. Another outfielder, James Wood, might also be wearing a Rochester uniform- he's the number seven prospect in baseball. Third baseman Brady House is 40th on MLB.com's rankings and could be playing in Rochester. This season saw five of the Nationals' top 10 prospects make it to AA. Even if some of them make the jump directly to the big leagues or stay in Harrisburg for more seasoning, at least some of them will likely be taking their positions at Innovative Field in 2024.
Even though it's something out of his control, it's something that Dan Mason knows about and is looking forward to.

"When we started with the Nats, they were ranked near the bottom as far as their minor league system," he said. "And now they're near the top. And that means exciting times are ahead for Red Wings fans."
And it isn't that far in the future, as Mason pointed out.
"We have 198 days until opening day on April 2nd," Mason said on Sunday. "So we have 198 days to make sure that 2024 is even better than 2023."