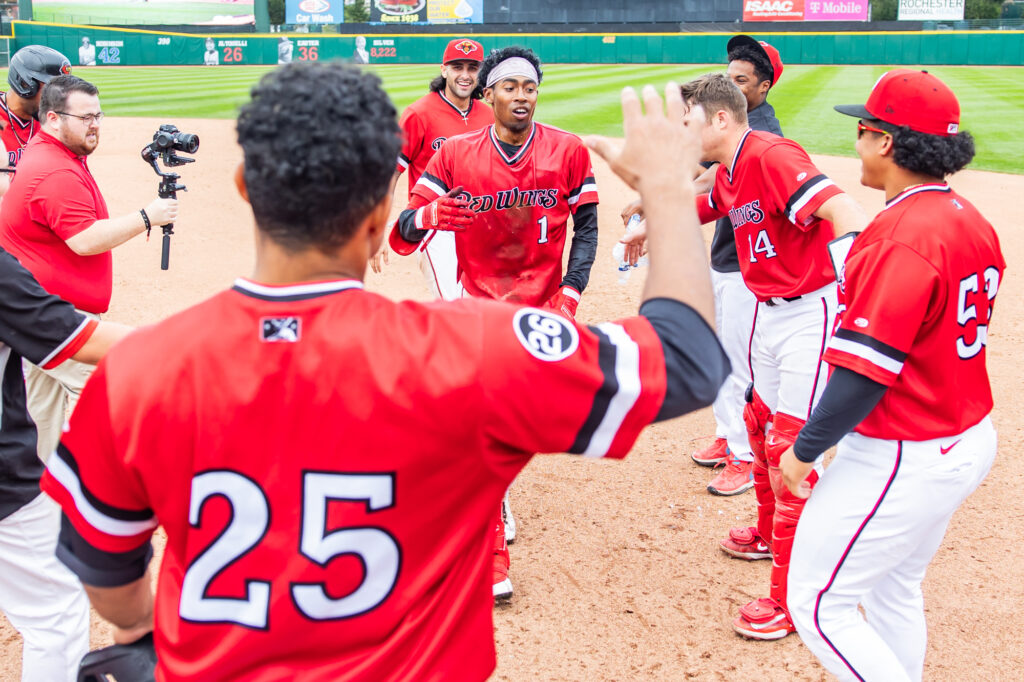 BY DAN GLICKMAN
ROCHESTER, N.Y. – In the top of the 13th inning of Sunday's home finale for the Rochester Red Wings, with a runner at second and one out, Lehigh Valley IronPig pinch-hitter Dustin Peterson hit a ball over 100 miles per hour into left field. A go-ahead hit seemed likely.
But then came left-fielder Darren Baker, diving to his left and snagging the ball before it could hit the ground. The runner stayed at second and never scored.
"It's just instinct," said Baker. "I knew if that ball falls, they're going to take a lead. We'd all been out there grinding for almost four hours, so I didn't want to lose. So I dove and luckily I caught it."
Baker ended the game a half-inning later, hitting a sacrifice fly deep to left with one out to bring Richie Martin home for the walk-off 8-7 victory. Baker, named the team's most popular player by fan vote before the game, finished the day 3-for-4 with two walks and the game-winning RBI, scoring twice.
The win, which finished Rochester's home campaign with a winning record of 38-35, came after a lengthy back-and-forth contest that epitomized a Red Wings team that, despite its overall losing record, never seemed to lack in the effort that manager Matt LeCroy loves to see.

"These guys fight," he said post-game.
"We were down, but we put some good at-bats together a couple of times, and then at the end in extra innings we tried everything we could to just get one run and finally in the end it worked out for us."
The Red Wings trailed by as much as 4-1 after two innings but scrapped back before taking a 5-4 lead on a Jake Noll single in the fourth. The IronPigs took the lead back in the fifth and held it until Baker singled in the eighth, and Lehigh Valley first baseman Darick Hall committed an error that allowed Jordy Barley to score. Hall made up for the error the next inning with a solo home run to make it 7-6, but the Red Wings came back once more, scoring the tying run, 7-7, on a sacrifice fly by catcher Brady Lindsly. The score remained that way until Baker's game-ending sacrifice fly in the 13th.
The introduction of the so-called "ghost runner" in 2021 to minor league baseball has made longer extra-inning games rare. The last time the Red Wings played a game longer than Sunday's was a 14-inning affair on April 12, 2018, in Gwinnett. They hadn't played a game at home longer than Sunday's since July 5, 2014, also against Lehigh Valley.
The length of the game was a testament to a scoreless effort by the last two men out of the Red Wings bullpen: right-hander Luis Reyes and lefty Tim Cate, who combined to no-hit the IronPigs over the last three extra innings.
"Reyes and Cate were tremendous," said LeCroy. "A club like that, with their offensive weapons, to be able to keep them from scoring in extra innings is really hard to do."
Other notable performances for the Wings on Sunday came from first-baseman Frankie Tostado, who went 4-for-5 with two RBI, and Noll, who had three hits with an RBI. Blake Rutherford doubled twice.

The Red Wings (30-37 in the second half, 64-76 overall , 13 games back) hit the road starting Tuesday for their final series of the year, at the Indianapolis Indians. Left-hander Mitchell Parker (0-0, 15.00) is set to start game one against a pitcher to be named. First pitch is scheduled for 6:35 p.m.