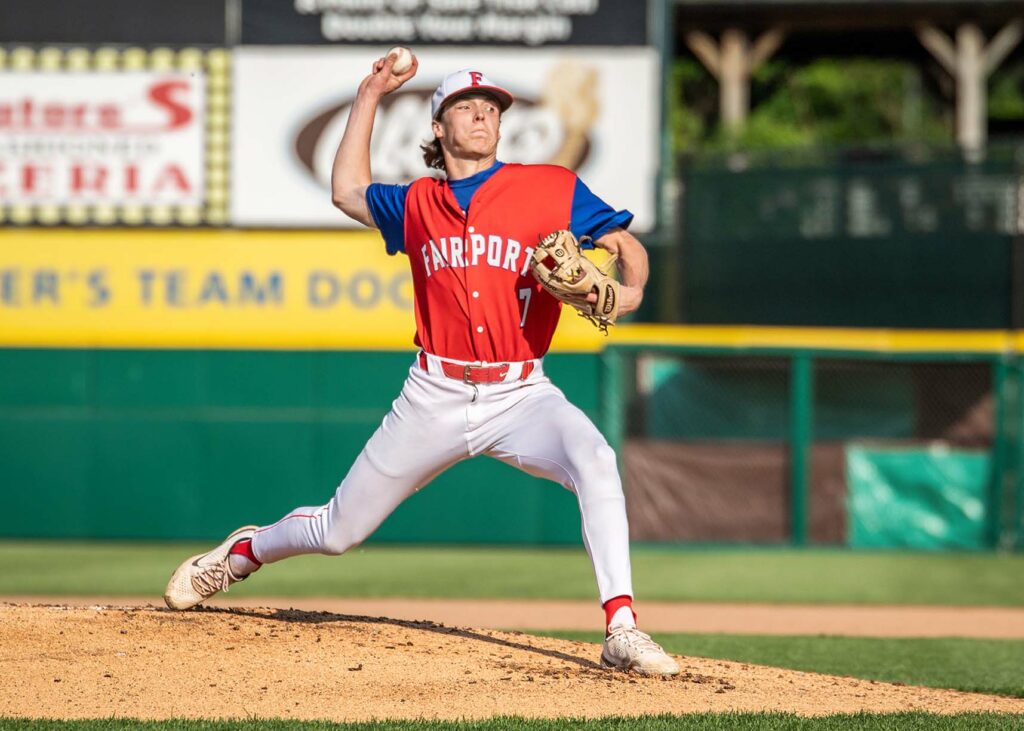 By PAUL GOTHAM
GRAND ISLAND, N.Y. — Sam Miller hurled eight-plus shutout innings, but it wasn't enough as Fairport baseball fell in 11 innings to Lancaster (VI), 1-0 in the NYS Class AA Far West Regional at Grand Island High School on Saturday.
Miller struck out six while scattering four hits and five walks in making his second straight postseason outing of seven innings or more.
The junior right-hander retired eight straight batters from the end of the fifth to the start of the eighth including a sixth inning in which he used five pitches to set down the side.
He was at his best in the eighth with bases loaded and one out.
Lancaster's Konner Hauck doubled with one out and reached third on an error. Miller issued a pair of intentional walks before getting a strike out and ending the threat with a routine fly ball.
Miller struck out seven in a complete-game effort last Saturday when Fairport defeated Victor, 5-3 in the Section V Class AA final. The championship was the eighth in program history but first since 2013.
Stephen Rizzolo squeezes the third out. Sam Miller and Jack Harrington combined to throw 10 pitches (5 apiece) in the sixth. No score heading to the seventh: Fairport and Lancaster AA FWR. pic.twitter.com/aXvxiijosF

— Paul Gotham (@PickinSplinters) June 3, 2023
Fairport's regional appearance was its first since 2006.
"Just really proud of this group," first-year head coach Kieran Murphy said. "They're resilient. They refuse to lose. I felt like we kept putting ourselves in situations, but they found their way out of it. Credit to Lancaster. They played a great game. We just didn't have enough in the bats today. The team who made the fewer mistakes won."
Fairport put two on base in the second inning when Will Stanek worked a one-out walk, and Miller followed with a base hit. But Lancaster starter, Jack Harrington struck out the next batter and induced a ground ball to end the inning.
Owen Andreatta connected on a one-out single in the fourth, stole second and moved to third on a Scott Thompson ground ball. He was left stranded.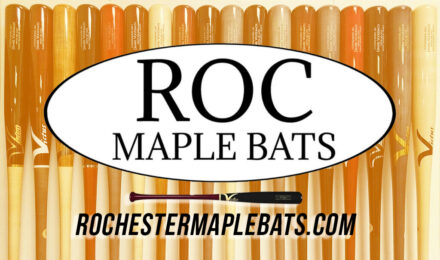 Jonathan Roessel reached on a two-out double in the eighth.
Nathan Mathis struck out six without allowing a walk over 2.2 innings of relief. The senior right-hander allowed two hits.
Twice the Lancaster infield turned double plays.
Ethan Bak reached on a one-out hit by pitch and eventually took advantage of an error to score the winning run.
The game was played with a steady breeze blowing in from centerfield.
Fairport finished with 17 wins and 7 losses on the season.
"As a graduate, this program means a lot to me," Murphy said of getting Fairport back to regionals. "It's been more than a decade. A lot of people around our town are very excited the direction of Fairport baseball. I couldn't be more proud of these kids in the dugout. They're the ones who are setting the table for something special. Really, really proud of the guys."