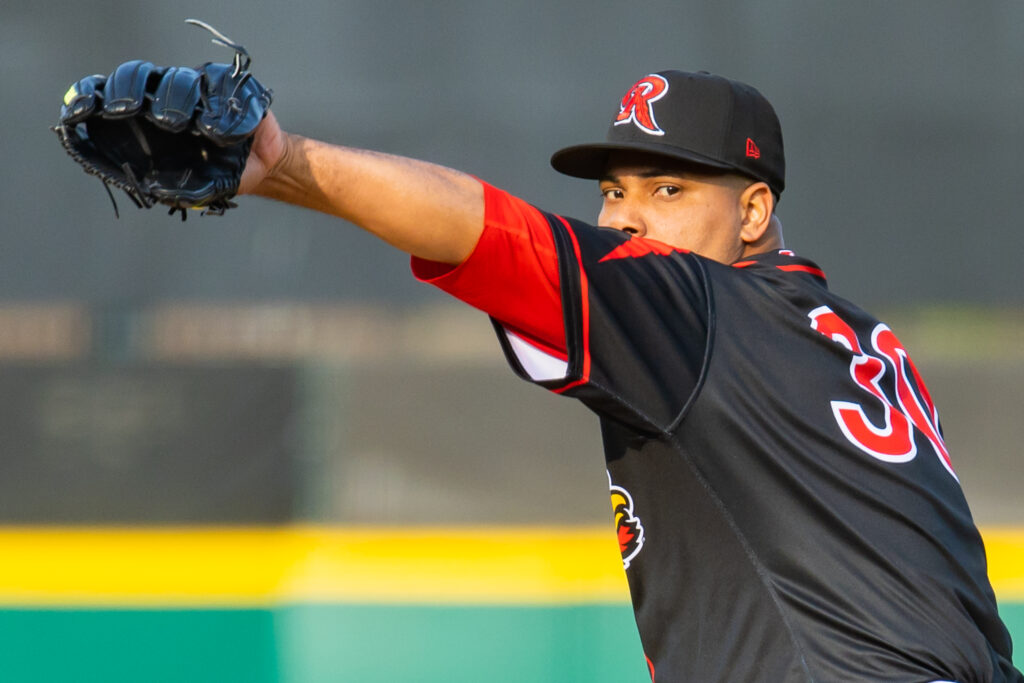 By Dan Glickman
ROCHESTER, N.Y. – The Rochester Red Wings fell victim to a late rally by the Worcester Red Sox on Wednesday, as they fell, 6-2, despite an excellent start by Wily Peralta. Leading 2-1 heading into the eighth, Red Wings relievers allowed four runs in the eighth and another in the ninth for the loss.
"Wily's outing was really good, we just didn't get it done late," said Red Wings manager Matt LeCroy.
Peralta, a veteran of 258 MLB games, went six innings while allowing just two hits and an earned run while striking 10, the most for him in a start since a game against St. Louis on August 30, 2016, when he was with the Milwaukee Brewers. He threw 78 pitches, 55 of them for strikes.
"He had total control of the game," said LeCroy. "He can pitch in the big leagues; his stuff is there."
Rochester struck first in the bottom of the first, as center fielder Derek Hill led off with a bunt single. Third baseman Carter Kieboom then knocked a single to left. Although Kieboom was thrown out trying to leg out a double, Hill still advanced to third. During first baseman Travis Blankenhorn's at-bat, Worcester catcher Caleb Hamilton attempted to pick off Hill at third, but the throw went into left field, allowing Hill to scamper home on the error to give Rochester the 1-0 lead.
One of Peralta's few mistakes came in the top of the third when Sox left fielder Narciso Crook got a hold of a 2-1 pitch and sent it over the right-center field wall for a solo home run to tie the game, 1-1.
The tie did not last long. With one out in the bottom of the inning, Kieboom came to the plate and smashed a 3-1 pitch from Matt Dermody well over the left field fence to put the Red Wings ahead, 2-1.
"This is the best I've seen of him offensively," said LeCroy. Since arriving in Rochester before this series after returning from injury, the 25-year-old is 4-for-9 (.444) with a double and a home run.
The score remained 2-1 until the top of the eighth, when relief pitcher Jose Ferrer allowed a leadoff walk to Crook. A wild pitch followed, and then a single where Ryan Fitzgerald beat a throw to first. With men at the corners, Caleb Hamilton hit a ground-rule double to center to score the tying run. The next batter, shortstop David Hamilton, welcomed Jordan Weems to the game with a three-run shot to right-center to give the WooSox a 5-2 lead. They'd add another run in the ninth on a sacrifice fly despite an excellent catch by left-fielder Cody Wilson to add the final run, 6-2.

"It's a tough loss, we fought, but we have to play a bit cleaner," said LeCroy. "I love the guys I have, but we've got to overcome little mistakes and we can't give away free passes."
"We gotta make plays, if we do that, we win."

The Red Wings continue their six-game series against Worcester on Thursday, with right-hander Paolo Espino scheduled to start. First pitch is scheduled for 6:05 P.M.