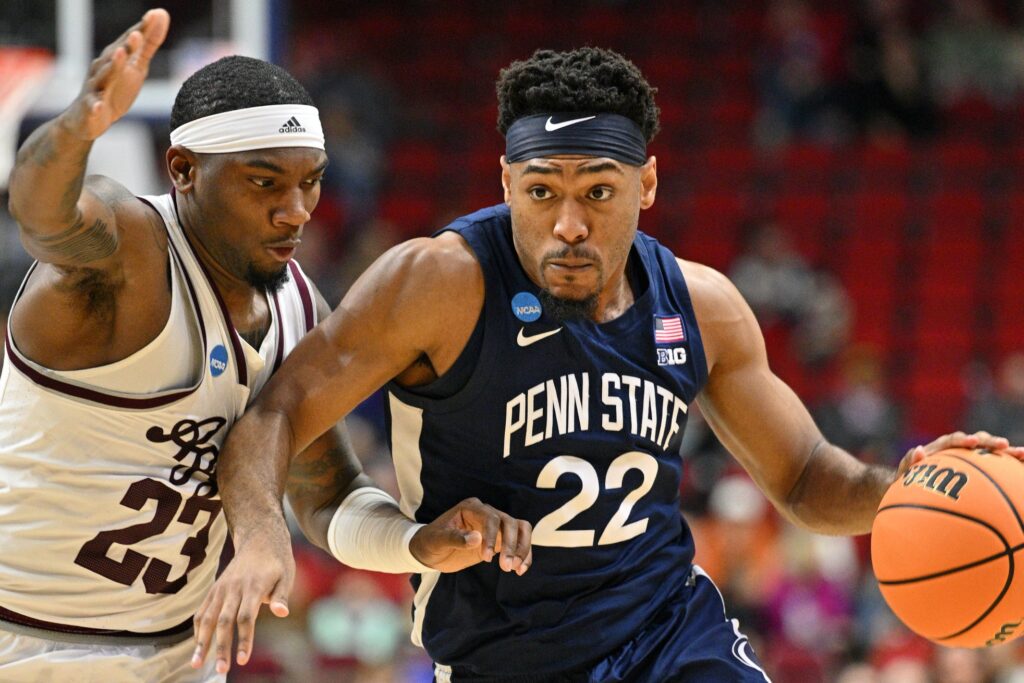 By PAUL GOTHAM
Andrew Funk poured in a game-high 27 points, and Jalen Pickett (Aquinas Institute) finished two assists shy of a double-double to lead 10th-seeded Penn State past No. 7 seed Texas A&M, 76-59 in Midwest Region action o fthe NCAA Division I Men's Basketball Tournament, Thursday.
Penn State (23-13) advanced to play No. 2 seed Texas (27-8), Saturday evening.
Funk and Pickett combined for 13 points in a 20-7 run to close the first half as the Nittany Lions took a double-digit lead (38-22) into the locker room that it did not relinquish.
Funk connected on two of his eight 3-pointers during the outburst. With less than seven minutes remaining in the half and Penn State leading 18-15, Funk converted three free throws. He followed with a triple, and Pickett set up Myles Dread from long range to give PSU its first double-digit lead of the game.
"We just came out and really shared the ball," Pickett said. "I thought we played Penn State basketball and it was hard for them to guard when we moved the ball and got great shots. So after the first couple minutes I felt pretty good what we were doing offensively especially when people were shooting from deep, making a lot of threes."
Pickett finished in the lane, and Kebb Nije's 3-pointer made it 31-20 game, and the margin did not touch single digits for the remainder of the contest.
"With a guy like Pickett he commands a lot of attention, and the way we were able to play off of him," Funk said. "What we have been doing all year came to fruition tonight."
Pickett had three of his game-high eight assists over the final seven minutes of the first half.
"He has the highest usage rate of any player we've played this year," Texas A&M head coach Buzz Williams said. "His best talent is he makes a decision immediately relative to how you are going to defend him. So that makes the other four players that are on the floor with him even better. Because he is an elite level passer that, when your rotation happens, whatever you're going to do, the decision is happening now."
The win marked the first in the NCAA Tournament for the Penn State program since 2001.
"I've only been here for one year, but I went to Bucknell and Penn State has had a big time Philly pipeline going for a long time," Funk said. "I used to play against guys like (former Penn State standouts) Tony Carr and Lamar Stevens and Nazeer Bostick. So although I wasn't a direct fan of the program I watched those guys. To be able to come here and do this, you know, with this group of guys, it's really special and, you know, I'm happy to be doing it alongside the group of guys that we have."
Pickett scored 19 points on 7-of-18 shooting. He grabbed seven rebounds and helped produce 26.1 points without committing a turnover. His floor percentage (measurement of a player's possessions on which at least one point is scored) of 51.6 was highest among Penn State starters.
"No matter what you're doing, whether it's zone, whether you're switching, whether you're not switching, they're going to get the match-up that they want," Williams said. "If you don't help, then he's going to play in the middle of the floor with the ball. If you do help, the ball is immediately going towards where you have one less guy. They did that extremely well tonight."
Penn State's matchup with Texas is a 7:45 p.m. tipoff on CBS.