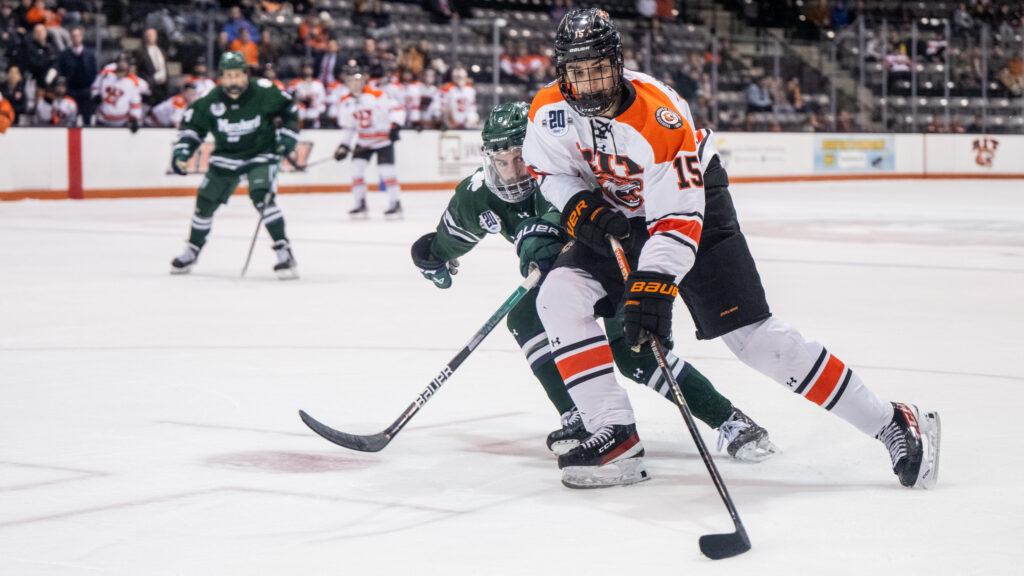 By KEVIN OKLOBZIJA
He had played a dozen games so far and had nothing on the scoresheet to show for his efforts heading into the Atlantic Hockey playoffs.
No goals, no assists and just five shots on goal for first-year winger Adam Jeffery in his time on the ice during the regular season for Rochester Institute of Technology.
And yet Tigers coach Wayne Wilson contends that when Jeffery gets the puck, he certainly knows what to do with it.
"He's a goal-scorer," Wilson said.
Jeffery chose the perfect time to prove it on Friday night, when top-seeded RIT opened the best-of-three quarterfinals with a 5-3 victory over No. 8 Mercyhurst at the Gene Polisseni Center.
The 6-foot-5, 200-pound freshman scored RIT's second goal, then broke a 3-3 tie with a net-front tip-in during a third-period scoring fest as the Tigers twice overcame one-goal deficits and now need a win either Saturday (7 p.m.) or, if necessary, on Sunday (5 p.m.) to advance.
A 1-0 nail-biter through two periods, even though RIT was dominating in shots, opportunistic scoring by the Lakers produced three goals in the first 6:24 of the third period as they took 2-1 and 3-2 leads.
"This is the first time facing adversity in the playoffs and I think we handled it great," Jeffery said of the Tigers' ability to rally rather than become discouraged.
Indeed, just 66 seconds after Eric Esposito had given Mercyhurst a 2-1 lead, Jeffery tied the score by zipping a bullet snap shot top shelf from the right circle for his first collegiate goal.
"It's an awesome feeling, there's nothing really like it," he said.

Except there wasn't much time to celebrate, or soak in the moment, especially after Mercyhurst's Jonathan Bendorf broke the 2-2 tie at 6:24.
Again, however, the Tigers bounced back. Ryan Nicholson angled a perfect pass from above the left circle to Dimitri Mikrogiannakis cutting into the deep slot off right wing and the defenseman fired into an open side of the net at 10:14.
"The fact we scored quickly after they scored was big," Wilson said.
That 3-3 deadlock held until just 1:35 remained. That's when Caleb Moretz fired a shot from the center point that was headed wide right of the net before Jeffery, posted up near the right hash mark, deflected it back on goal and past goalie Tyler Harmon.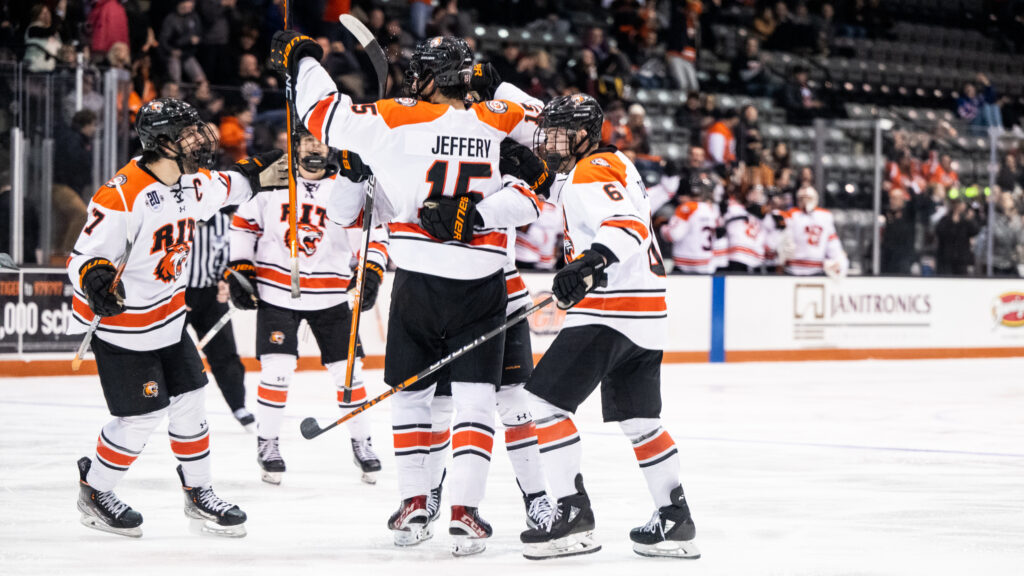 "I saw big man Jeff in front and I couldn't get the shot on net, the D-man had a good lane and would have blocked it," Moretz said.
An instant earlier, Moretz had tried to pass the puck as he angled up the left wing boards toward the point. But as he went to make the backhand tap to Nicholson, he lost momentary control and was forced to continue moving across the blue line.
"It was supposed to be a pass but then the puck bounced," Moretz said. "At that point my main priority was not getting it blocked."
Mission accomplished, both for the senior from Alaska and the Tigers, who secured victory when Grady Hobbs scored into an empty net with 13.5 seconds left on RIT's 52nd shot of the game. Tigers goalie Tommy Scarfone faced 23 shots.

"There was no panic, we were having a great game," Moretz said. "I was pretty confident if we stuck to the script, we'd be OK. When you're playing the right way, you get rewarded."
That can be said for Jeffery as well. When the season began, he was still recovering from surgery to repair a torn Achilles tendon.
"The jump from junior A to college is huge, especially coming back from injury, so scoring goals is a secondary thought," Jeffery said. "I'm just trying to get pucks deep, hit people, do what I'm supposed to do."
Off the ice he worked diligently with strength and conditioning coach Nate VanKouwenberg on his feet and legs to regain strength. Since October, his vertical jump has improved 11 inches, which has led to improved skating and power.
That's one reason Jeffery was still in the rotation when Wilson shortened his bench from four lines to three in the third period. While he had only played in 12 regular season games, including the final four, Jeffery had earned the trust of the coaching staff.
"He's very conscientious and as much as you're thinking offensively, I'm thinking defensively," Wilson said. "I knew he would help us defensively."
It turns out Jeffery helped even more on the offensive end.