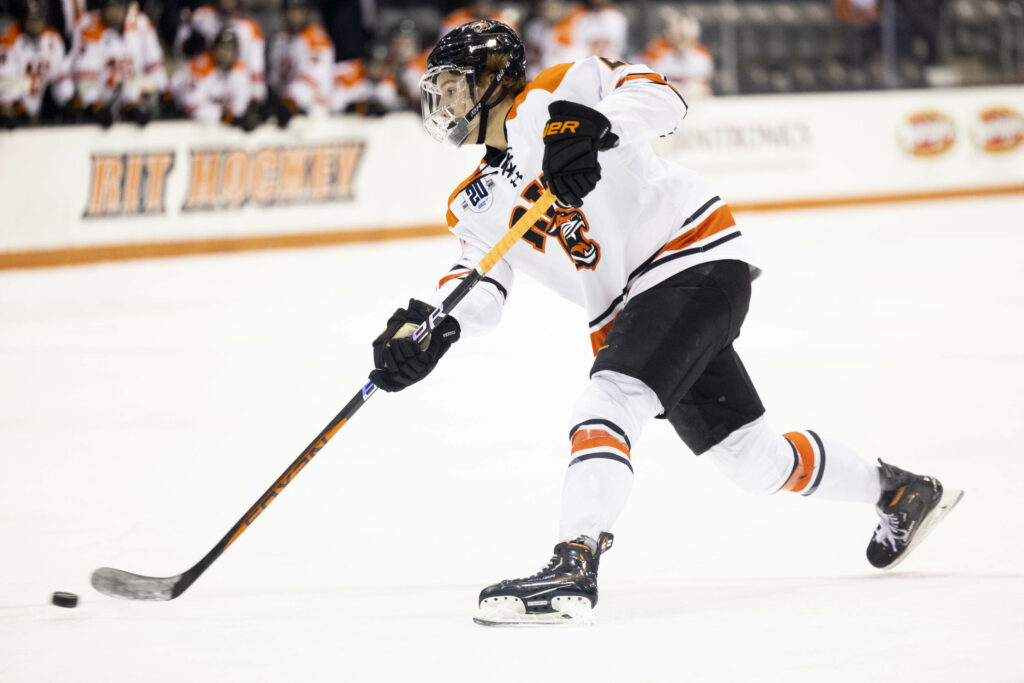 By KEVIN OKLOBZIJA
With a 12-4 record, possession of first place in Atlantic Hockey and ranked No. 20 in the country in both national polls, the Rochester Institute of Technology Tigers believe they're capable of making a lasting impression this season.
They'll find out this weekend if that belief is justified.
The Tigers, No. 20 in both the USCHO and USA Today/USA Hockey Magazine polls, will face off against Penn State (15-5) in a home-and-home series this weekend. The Tigers and Nittany Lions play at 5:05 p.m. Friday at the Gene Polisseni Center, then again at 5:30 p.m. Saturday at University Park, Pa.
It's the first time the Tigers have been involved in a regular-season matchup of ranked teams on home ice during RIT's NCAA Division I era, which began in 2005-06. The only other time RIT was ranked and played a ranked team was the season opener in 2011-12; the No. 18 Tigers lost 3-1 to No. 4 St. Cloud State.
This time, the game should provide an ideal measuring stick for RIT. With a 10-2 record against Atlantic Hockey foes, the Tigers have 30 points and a three-point lead over second-place American International. They split their two non-conference sets with Union College and Princeton University, neither of which has the stature of Penn State.
"We think we're pretty good, we're sitting on top of Atlantic Hockey," Tigers coach Wayne Wilson said, "but we haven't played a top-10 team so we'll find out if we are good."

Penn State is second in the very tough Big Ten with a 7-5 conference record and 22 points, and the resumé includes series splits with No. 3 Minnesota and No. 7 Michigan as well as October sweeps over two other Atlantic Hockey members, Canisius and Mercyhurst.
"Penn State's going to give us a glimpse of what to expect if we want to move forward at the end of the year," Wilson said. "They're No. 5; we can see what we need to do to be that. Is it play better defensively? Be more disciplined?"
Shutting down the Nittany Lions certainly won't be easy. Like RIT, they can score. RIT is averaging 3.81 goals per game while Penn State has scored an average of 3.65 goals a game. They do it a little differently, however. Penn State hasn't met a shot it doesn't like, averaging 39.5 shots on goal (compared to RIT's 30.2).
"They create a high volume of shots every game," Wilson said.
Penfield's Kevin Wall leads Penn State in goals (nine) and shares the team lead in points (16). A sixth-round pick of the Carolina Hurricanes in 2019, the senior forward also gets it done in the defensive zone. He leads Penn State forwards in blocked shots with 18.
For RIT, sophomore forward Carter Wilkie continues to lead in scoring with 9-13-22 in 16 games while defenseman Gianfranco Cassaro has produced 8-12-20.
Now, this weekend is not any sort of make-or-break moment. RIT's performance against conference competition will determine whether they'll play their way into the NCAA tournament for the first time since 2015-16.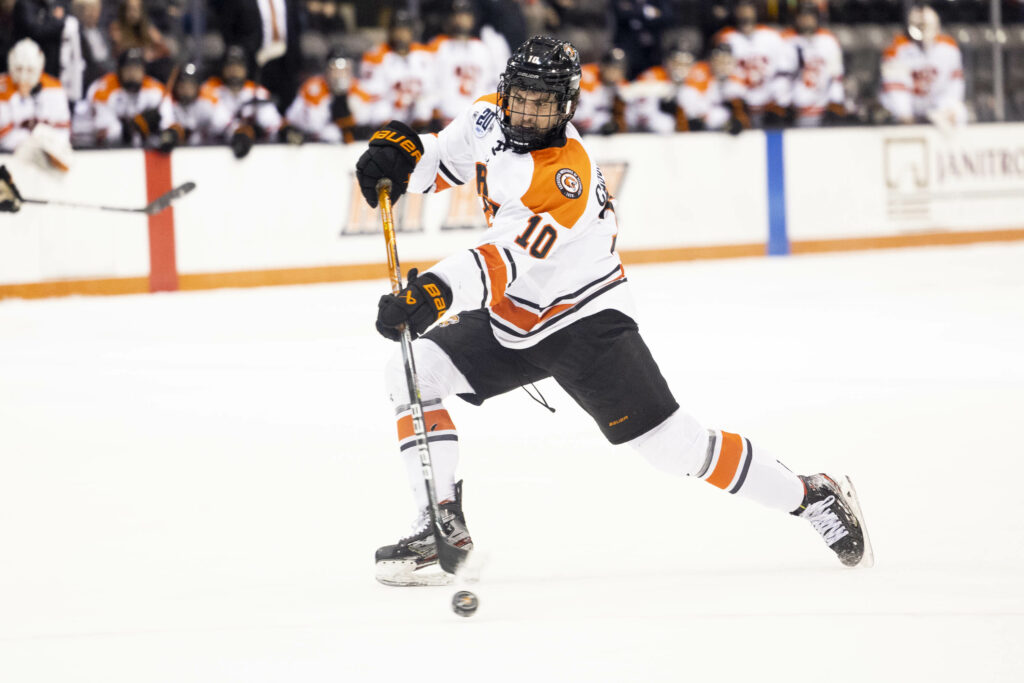 So while everyone likes to say the can compete with, or are better than, the big boys on the block, Wilson will approach the games as he always does midseason non-conference action: as an on-the-fly testing lab.
"I do like switching my lineup around a little bit and I do use some experimentation, trying different combinations," Wilson said. "A weekend like this isn't going to define us by any means, regardless of the outcome, whether we sweep or get swept, but we're excited about it."
*Article updated to reflect correct spelling Penn State's leading scorer.