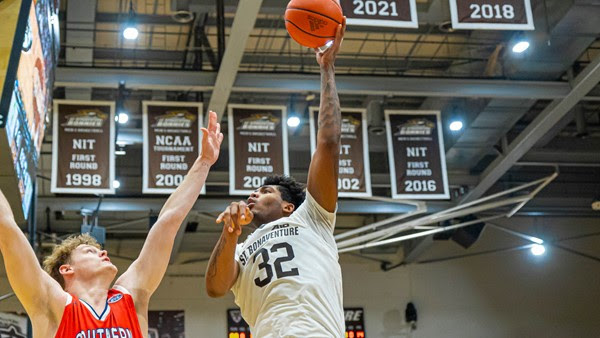 Courtesy of GoBonnies.com
ALLEGANY, N.Y. – A red-hot second half erased a quiet offensive start and allowed the St. Bonaventure men's basketball team to pull away for an 80-66 victory over visiting Southern Indiana at the Reilly Center Tuesday night.
St. Bonaventure (3-2) remained perfect on home court, thanks in large part to connecting on 10 of its first 14 field goal tries after halftime to set the tone for a second stanza dominated by the Brown and White.
The home squad also received a major boost from redshirt sophomore Chad Venning who continued his impressive play with a career-high 21 points, adding seven rebounds and three blocks.
Kyrell Luc did a bit of everything from the point again, finishing with an all-around stat line of 19 points, six assists, five rebounds and three steals (and even two blocks, including one on a USI layup attempt that brought the pre-Thanksgiving, student-less crowd to a full roar). He also drew seven foul calls against him with his aggressive play.
Reigning Atlantic 10 Rookie of the Week Yann Farell added 13 points and Daryl Banks III chipped in 12.
Both teams started slowly, with the Eagles failing to score for the first 4:45 of game time, though the Bonnies mustered just a six-point separation during that span.
Venning led the Bonnies during the opening half, scoring Bona's first four and eight of their initial 16 points.
Seven turnovers in the first 10 minutes slowed the Bonnies' efforts, and three straight trips with a trey from the Eagles gave the visitors a 20-16 edge with 6:53 left before halftime.
The first points of the day from Banks, fresh off a 34-point effort in last Saturday's win, ignited a 10-2 run to end the first half and allow the Bonnies to take a 30-24 advantage to the locker room after 20 minutes.
Bona's run would extend to 22-6 in the opening minutes of the second half as the hosts would extend their lead to double digits for the first time.
USI would not go quietly, however, closing to within 40-33 and still 14:45 to play.
The Bonnies came alive from beyond the arc in a big way, though, after being silent from distance for nearly the entirety of the game to that point.
Farell drilled back-to-back three-balls before Banks one-upped his freshman teammate with three long distance shots of his own, highlighted by a four-point play as the lead quickly went to 18.
Bona did not hit a single three-pointer during the first half, but drained seven in the second while shooting 61 percent from the floor overall after intermission.
Isaiah Swope delivered 21 points off the bench to lead the Eagles (2-3).