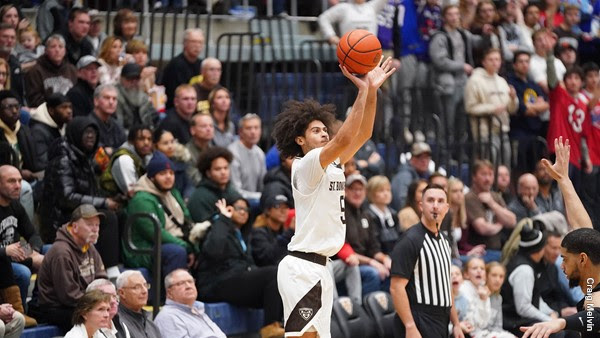 Courtesy of GoBonnies.com
ALLEGANY, N.Y. – Daryl Banks III poured in a career-high 34 points to power the St. Bonaventure men's basketball team to an 81-68 win over Bowling Green Saturday afternoon at the Reilly Center.
Banks went 10-for-16 from the floor, adding four blocks and six rebounds.
Chad Venning delivered 15 points and seven boards while Yann Farell chipped in 14 points and seven rebounds.
St. Bonaventure (2-2) led by six at halftime and seized all control with an 18-3 surge to begin the second half.
By the end of the run, Bona owned a 54-34 advantage.
Bowling Green (2-2) would get back into the game on a 9-0 run, but a Venning bucket ended the run and, later, Banks and Farell combined for back-to-back threes to rush back into command.
The Bonnies led by 15 with 3:30 left before the Falcons closed to within 73-64. A dunk from Moses Flowers put the exclamation mark on the victory.
Duquesne transfer Leon Ayers scored seven of Bowling Green's first nine points as the Falcons led early, but the Bonnies would soon find an answer.
Bona's found a spark from Venning, making his first start with the program, as the hosts stretched their lead to nine and eventually took a 33-26 advantage to the locker room at the break.
Banks drained a pair of 3-pointers for the first points of the second half as the Bonnies led, 41-31, three minutes into the second period to begin the game-changing run.
In all, 24 of Banks' points came during the second half and he finished with exactly half of the Bonnies second half tallies.
Ayers finished with 18 points to lead BGSU.
The Bonnies shot 46 percent from the floor while BGSU shot at a 40 percent clip. Bona won the battle of the boards, 40-35.