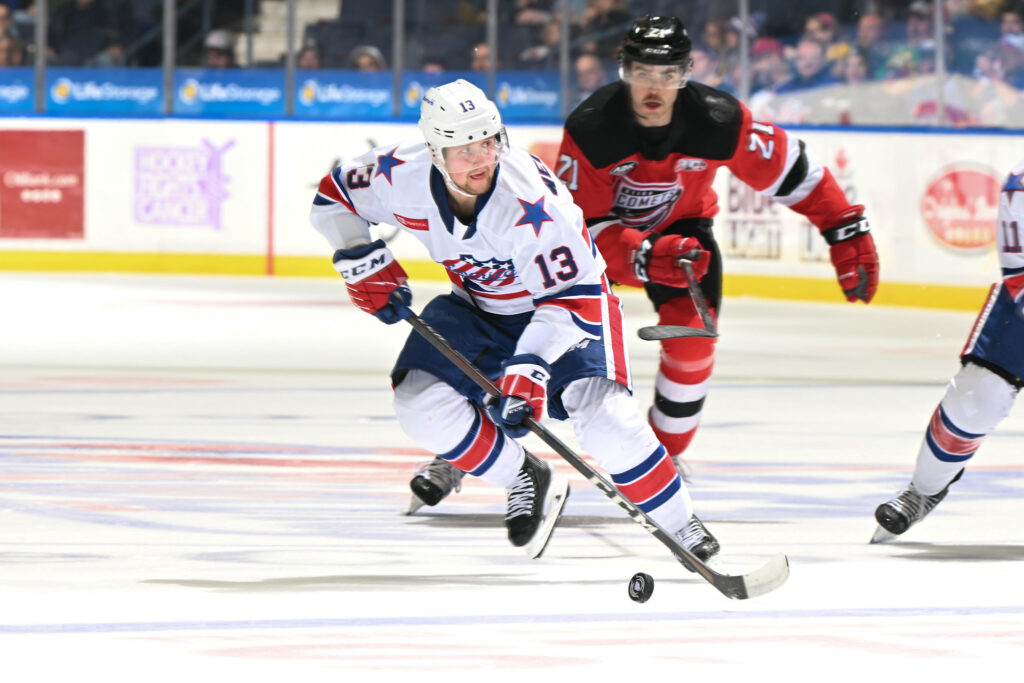 By KEVIN OKLOBZIJA
The game wasn't even 14 minutes old and Linus Weissbach had to be wondering if life on the ice could get any worse.
His turnover just outside the Rochester Americans blue line led to a goal by Brian Halonen, giving the Utica Comets a 1-0 lead at 8:43.
Five minutes later, Weissbach couldn't coral a bouncing puck in the slot in the Utica zone, and Comets winger Brian Pinho headed the other way to score a short-handed goal.
"I was very frustrated," he said.
Not that Pinho's shot ever should have gone into the net. He shot from the right circle along the boards but goalie Ukko-Pekka Luukkonen somehow misplayed it.
"He gave up about as bad of a goal as you'll see him give up," Amerks coach Seth Appert said.
But there's a lot to be said for stick-to-it-ness, for not hanging your head, for continuing to push forward.
Which is what Luukkonen, Weissbach and the Amerks did, and why they remained unbeaten on home ice (5-0) with a 5-3 comeback victory in front of 6,387 fans.
Anders Bjork's goal with 42.9 seconds left in the second period revived the Amerks, then Lukas Rousek, Weissbach and Ethan Prow scored SportsCenter highlight goals in the third.
So despite an overall performance that would grade out as mediocre, or worse, the Amerks improved to 6-3, with Luukkonen making 37 saves.
"It was a good win but I don't think we played very well," Appert said. "Despite the poor goal in the first, if he (Luukkonen) had a bad second, we would have been down 5-2 and the game's over. He was excellent."
And when a team has the ability to generate instant offense from speed off the rush, a game can turn around quickly.
Bjork's goal off a Brandon Biro pass on the quick-developing rush cut the Utica lead to 3-2 in the final minute of the second.
Then Rousek tied the score with a terrific solo effort 3:19 into the third. He powered away from Halonen high in the Utica zone, sliced between Simon Nemec and Aarne Talvitie in the left circle, then drove into the deep slot before eluding goalie Nico Daws and firing home the puck.
"It was high-end skill and intelligence combined with bravery," Appert said. "You go to the back post, you know there is the potential of getting run over."
Weissbach gave the Amerks their first lead with just 4:12 remaining, zipping a bullet snap shot over the shoulder of Daws from high in the right of the slot off the fastbreak two-on-one with Biro.
"I think Linus, and Rousek is the same way: Those guys have earned my trust," Appert said. "Coaches play players we trust, we don't play players that are skilled. Do we appreciate skill? Yes. Do we really care? Not a ton. It's skill combined with trust.
"How do you earn trust? Your habits on a daily basis. Your work effort. That you do little things right. That you're building an identity as a player that's trying to take you toward the National Hockey League."
Weissback is certainly doing that. Through nine games, he has produced a team-best six goals along with four assists for 10 points.
"He had a really good rookie year last year but really since development camp this summer, the change that we've seen in him, maturing and understanding the things you have to do to be a great player; he's earned that trust where I don't take his ice away. That's not me; he's earned that trust."
Prow then scored the clinching insurance goal just 22 seconds later, also off the rush. Riley Sheahan and Brett Murray played catch down low before Sheahan's pass from the left edge of the crease set up Prow, the trailer on the play, for a tap-in goal.
For those not counting, that's 17 goals in the past three games, and 33 in nine games.
But before there was dash-and-flash on Friday, there was a jarring check by defenseman Matt Bartkowski with about eight minutes left in the second period that changed momentum.
As the puck slid toward the corner in the Amerks zone, Bartkowski angled back to get it, with Utica's Jack Dugan, the former McQuaid standout, in pursuit. Rather than play the puck as it slid past his skates, however, Bartkowski shifted direction and drove Dugan into the boards with a shoulder check that rattled the boards.
The hit provided a little spark for the Amerks, who had very little to that point but rallied to win the front end of the home-and-home with the Comets (2-4-0-1).