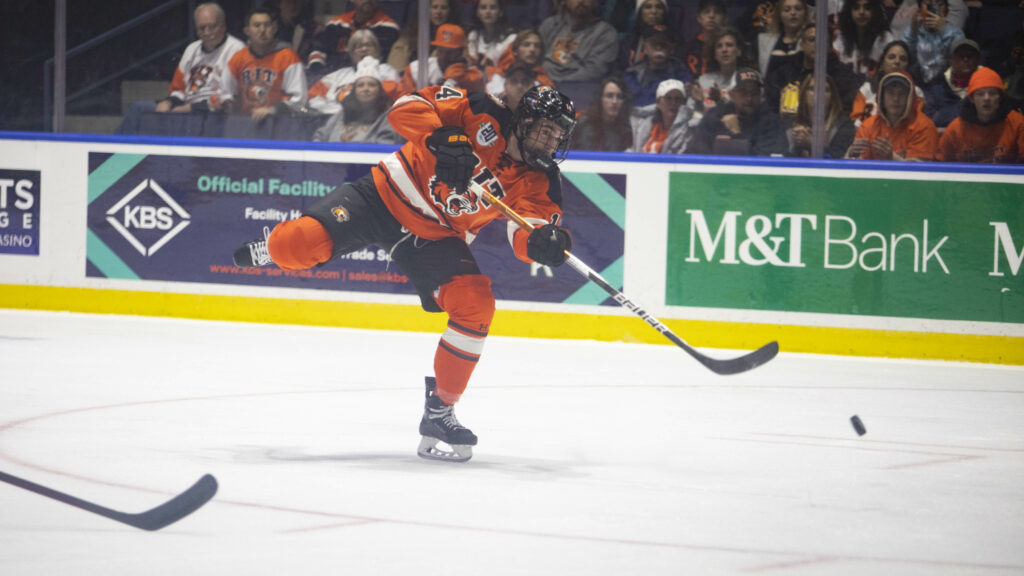 By KEVIN OKLOBZIJA
When Wendy and Rob Mahan flew from their home in Calgary, Alberta, to Western New York for parents' weekend at Rochester Institute of Technology, they intended to stay for five or six days.
That would give them time to see where their son, Tyler, was beginning his freshman year in college, and they could also see him play a pair of hockey games with the Tigers.
But Gina and Randy Wilkie, fellow Calgarians whose son Carter plays for RIT, told the Mahans they were making a mistake leaving early. You're already here, they said, just extend the stay so you can attend the Brick City Homecoming game.
"They told my parents," Tyler Mahan said, "you don't want to miss that game."
So the Mahans changed their itinerary – and witnessed a game neither they nor their son will ever forget.
Mahan scored three goals – the first, fourth and seventh for the Tigers – as RIT thumped Union College 8-5 in front of 8,766 in their annual downtown homecoming game on Saturday night at Blue Cross Arena at the War Memorial.

"Tyler has been working his tail off and he was a goal-scorer in junior, so it was good to see him get rewarded," said Tigers coach Wayne Wilson, whose team improved to 3-1.
Mahan played the past three seasons with the Whitecourt Wolverines in the Alberta Junior Hockey League. He produced 29 goals, 42 assists and 71 points in 60 regular-season games, then scored 6-5-11 in 10 playoff games.
But he knew the jump to NCAA Division I hockey would be significant, so he was just hoping to earn ice time.
"When I came here I wasn't thinking about scoring, I just wanted to work hard and contribute with physicality, intensity and just getting the win," Mahan said.
He did all of that, plus he found the net, against Union. Mahan opened the scoring 9:43 into the first period, streaking in on left wing before snapping a shot over the left shoulder of goalie Connor Murphy and into the top right corner of the net.
Grady Hobbs pushed the lead to 2-0 at 14:22, converting a pass from Aiden Hansen-Bukata, then the Tigers ended Murphy's night in goal by scoring twice in the first five minutes of the second period.
Wilkie fired a bullet wrister from the left circle into the net on a power play at 2:10, then Mahan corralled a twice-blocked loose puck high above the slot and fired it through traffic for a 4-0 lead at 4:41.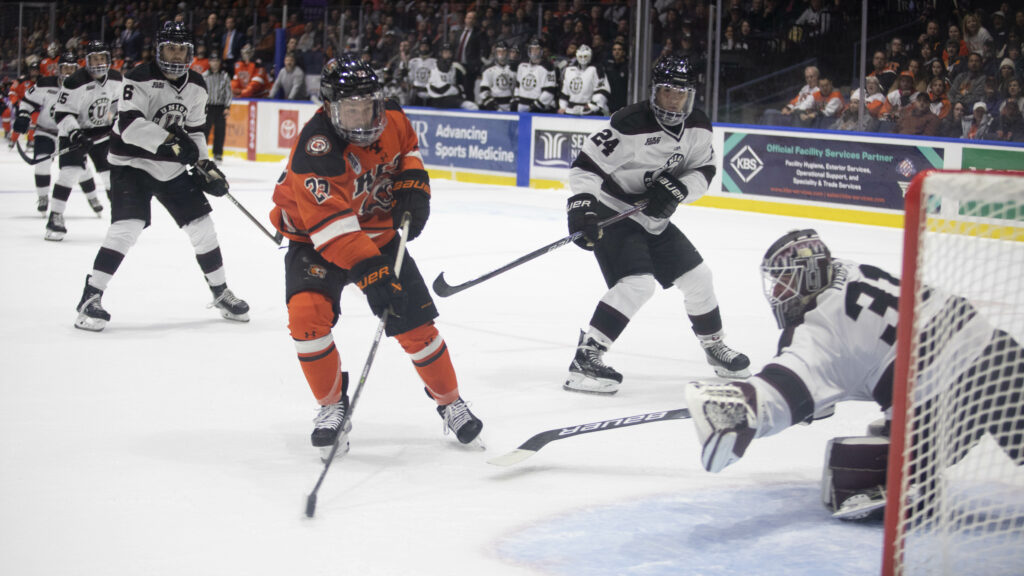 He completed his hat trick at 16:26 of the third period by scoring into an empty net.
After going without a point in the RIT's first three games, he now leads the Tigers in goals. The last RIT freshman to post a hat trick was Andrew Rinaldi on Nov. 1, 2019, and Will Calverley scored the Tigers last hat trick on Jan. 28, 2021, against Mercyhurst.
The AJHL has been a popular recruiting spot for the Tigers. Mahan caught their eye during video scouting – a necessary byproduct of the COVID-19 pandemic – and assistant Brian Hills later went to see him play.
"We liked the way he skated and the way he worked and worked," Wilson said. "He's been a really great complement to Elijah Gonsalves and Caleb Moretz."
Gianfranco Cassaro, Simon Isabelle and Moretz also scored for the Tigers, who return to Atlantic Hockey Association play next weekend with a pair of games at Air Force.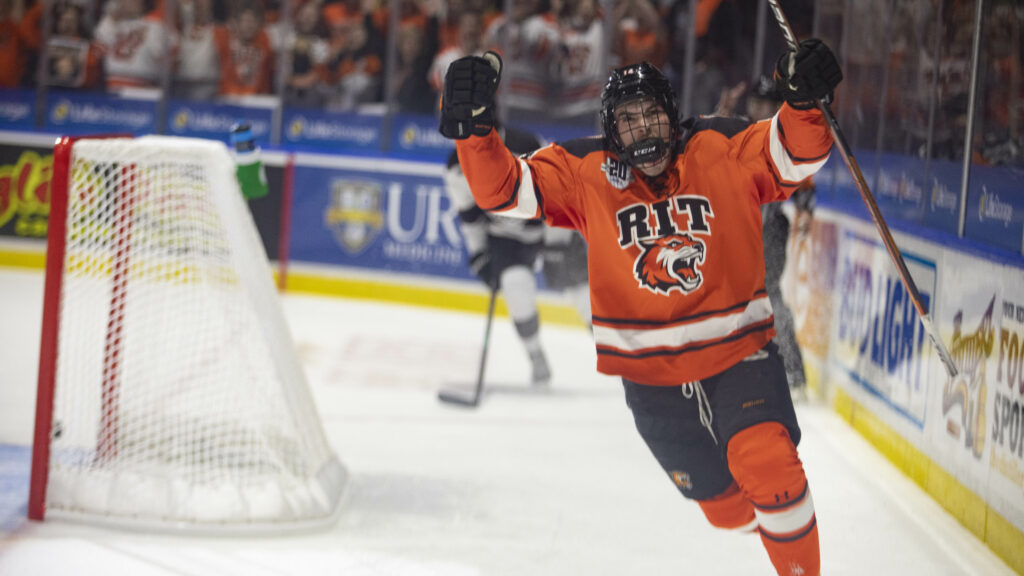 While the not-so-committed-to-defense style didn't cost RIT on Saturday, Wilson will be preaching more attention to details in preparation for the always-stingy Falcons.
"We were going forward all night but we weren't going backwards enough," Wilson said. "We were just sloppy in our own end. The third period we have to not give them a sniff. I'm not happy it got to five."
The Irish are coming
RIT will play Notre Dame in the 2023 Brick City Homecoming game on Oct. 14.
The Irish were scheduled to come to town for the BCH in October of 2020 but the game was canceled due to the pandemic. RIT split at Notre Dame last year, winning 3-2 in overtime and losing 6-0.