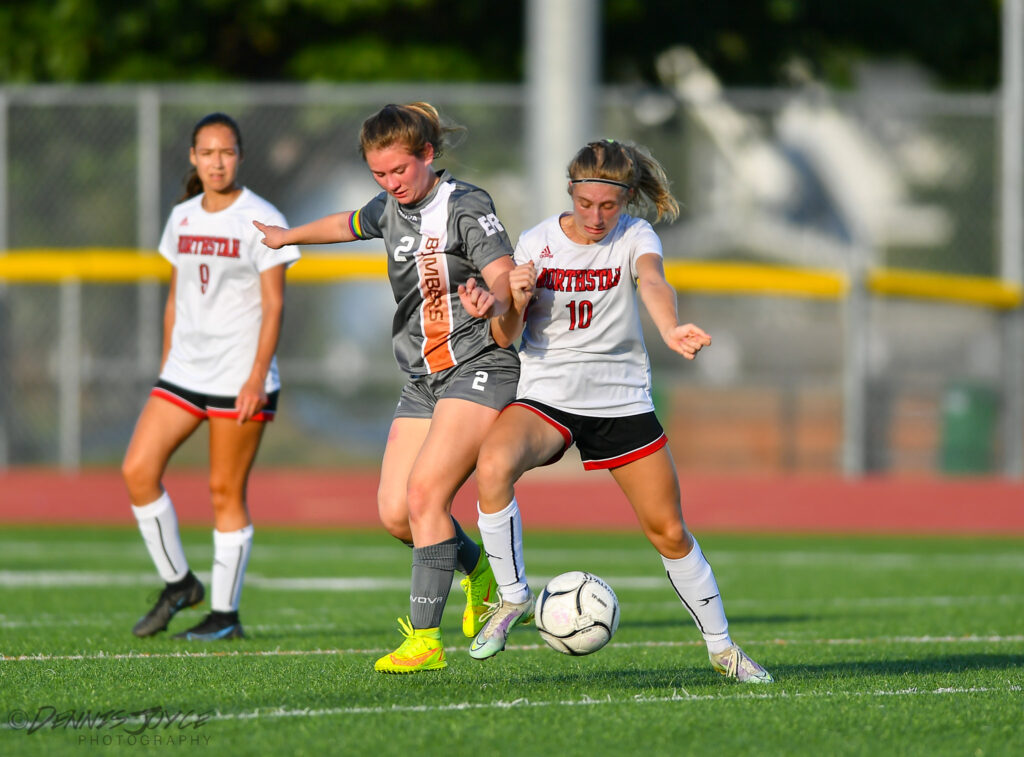 NORTHSTAR CHRISTIAN (8-0-0) 3
EAST ROCHESTER (0-5-1) 0
Ava Thomas-Guzman scored twice, and Allie Skeval added another as Northstar pulled away from a scoreless game at halftime. Alyse Wesp assisted on Thomas-Guzman's first tally two minutes after the break. Skeval had the assist on the second marker 10 minutes later. Katelyn Demarest set up Skeval's insurance goal in the 66th minute. Alisha Demarest made three saves for Northstar's fourth shutout of the season.
NEWARK (0-6-1) 0
PALMYRA-MACEDON (8-1-0) 8
Maya Ikewood led the offense with her fourth hat trick of the season, and Pal-Mac won its fourth straight game. Ikewood scored twice in the first half as the Red Raiders took a 3-nil lead heading into the locker room. Emma Robinson and Jenna Santelli added a brace apiece while Molly Seither contributed three assists. Lily Boesel accounted for a goal and an assist. Santelli, Sophie Barclay and Reagan Diehl each had an assist. Ikewood leads Section V in goals (22) and points (54).
RED JACKET (0-6-0) 1
MARCUS WHITMAN (7-0-1) 8
Lana Burnett and Zoelle Payne finished with a brace apiece while Lily Morse accounted for a goal and four assists to lead Marcus Whitman. Nevaeh Vanderwall added a goal and an assist in the win. Helen Snyder and Taylor Bond also found the back of the net for the Wildcats. Aurora Woodworth contributed an assist. Abby Kornbau (3) and Sophie Snyder (2) combined to make five saves for the win. Whitman has outscored opponents this season by a combined total of 37-4. Sophie Heilman connected for the lone Red Jacket goal on an unassisted effort.
NAPLES (4-2-1) 3
BLOOMFIELD (6-1-0) 1
Ava Hawkins scored the lone Bloomfield goal with an assist from Marcy Kast.
PENN YAN (3-3-1) 3
MIDLAKES (3-3-1) 2
Maihue Miranda-Wiltberger finished with a hat trick including a pair of second-half strikes as Penn Yan erased a deficit to win for the second time in four games. Trailing 2-1 after 40 minutes of play, Miranda-Wiltberger leveled the match 11 minutes into the second half and connected on the go-ahead marker four minutes later. The sophomore midfielder opened the game's scoring in the second minute with an assist from Makenna Mullins. Mary Givens connected on the equalizer for Midlakes and Kate Mahoney gave the Screaming Eagles a 2-1 lead with an assist from Amelia Maslyn. Camryn Ford set up the goal from Givens. Mara Deisering made 10 saves for Midlakes.
SODUS (0-6-0) 0
GANANDA (6-0-0) 13
Isabella Hoffman and Nicole Cruz scored two goals apiece to lead 11 different scorers for Gananda. Eva Jenny, Ella Lathrop, Katie Rothwell and Natalia Martyniuk each found the back of the net in the first half when the Blue Panthers jumped to a 7-nil lead. Aly Cruz, Kara Newton, Emerson Paul, Brianna Holmes and Nyah Cruz added second-half tallies. Hoffman and Lathrop had two assists apiece in the win while Rothwell, Lathrop, Martyniuk, Paul and Nyah Cruz each had a helper. Tori Ferguson and Eva Jenny also had an assist apiece. Souds keeper Rachel Fulmer made 28 saves.
NORTH ROSE-WOLCOTT (2-5-0) 1
WILLIAMSON (4-1-0) 4
A balanced offense led Williamson to its second straight win. Lauren Schmeelk opened the scoring, and Elizabeth Brandt also connected in the first half for a 2-nil lead heading into the break. Lydia Kern and Anna Herner added second-half tallies for the Maruaders. Mackenzie Bailey, Isabella Graves, Alyssa Leaty and Tania Vargas each had an assist. Morgan Peets made 11 saves for the win. Avery Boogard scored the lone NR-W goal with an assist from Gabby Cuykendall.
MARION (6-1-0) 8
RED CREEK (1-5-0) 2
Abigail Marotta amassed five goals and two assists as Marion won its sixth straight game. Marotta found the back of the net three times and assisted on another in the first half when the Black Knights jumped to a 5-nil lead. Emily Gushlaw, Ngalula Mulowayi and Abby Conover added a tally apiece in the win. Ava Schubert, Mia Hosbach and Hayley Wurster each had an assist. Mia Hosbach made six saves in the win. Bethanie Keefe and Keeley McConckey scored a goal apiece for Red Creek. Marley Sharkey and Abigail Sanzotta both added an assist.
BYRON-BERGEN (8-0-0) 3
OAKFIELD-ALABAMA/ELBA (5-4-1)
Mia Gray netted a hat trick as Byron-Bergen faced its first deficit of the year before rallying. Trailing 1-nil, Gray connected on an unassisted effort to level the match before providing the go-ahead tally 11 minutes prior to halftime with an assist from Mackenzie Hagen. Gray added another unassisted goal in the second half. The ninth-grader has 18 goals and 12 assists. Novalee Pocock made six saves in the win. O-A/E's Macy Altamirano opened the scoring in the match's sixth minute. Alahna Chatt set up the play. Lily Davis stopped 13 shots for the Yellowjackets. The goal was the first scored against Byron-Bergen this season.
ALEXANDER (2-7-0) 1
KENDALL (4-5-0) 2
Alea Barrett and Daniele Offhaus scored a goal apiece to lead Kendall. Mary Jones made 11 saves for the win. Karly Roetzer accounted for Alexander's offense with an assist from Alexis Dodge.
WHEATLAND-CHILI (7-1-2) 6
ATTICA (1-8-0) 0
Ella Chitaphong and Alison Farrell scored two goals apiece while Emily Parker and Vanessa Guererro both had a goal and an assist as Wheatland-Chili stayed unbeaten in its past seven games. Jaeda Mekker and Sienna Mekker each added an assist. Keira Nash made six saves for the shutout – the eighth-grader's fifth clean sheet of the season.
NOTRE DAME-BATAVIA (6-2-1) 0
HOLLEY (7-1-1) 3
Samantha Bates finished a pair of unassisted efforts, and Emma Brady opened the scoring as Holley stayed unbeaten in its past seven games. The shutout was the second straight for the Hawks. Jailyn Bishop assisted on Brady's marker.
HAMMONDSPORT (3-4-1) 4
MOUNT MORRIS (2-4-0) 1
Danica Dresser scored all four goals as Hammondsport won its second straight game and third in the past four. Zayda Braun had two assists in the win, and Raegan Luppino had one helper. LaZell Locey made four saves in the win. Jaelynn Gagner accounted for the Mount Morris goal with an assist from Anna Lin.
DUNDEE/BRADFORD (4-3-1) 3
AVOCA-PRATTSBURGH (5-2-0) 6
Olivia Kilmer opened the game with a natural hat trick and finished with five goals overall. Makena Schlesing added a first-half tally as A/P jumped to a 4-nil lead. Isabella Crane had two assists in the win while Kaylen Julien, Roxie Ross, Kamryn Edwards, Madison Hughes, Korrin Yeoman and Ariana Sierra added an assist apiece. Emily Hammond made 12 saves for the win. Trisha Edmister scored the lone Dundee/Bradford goal.