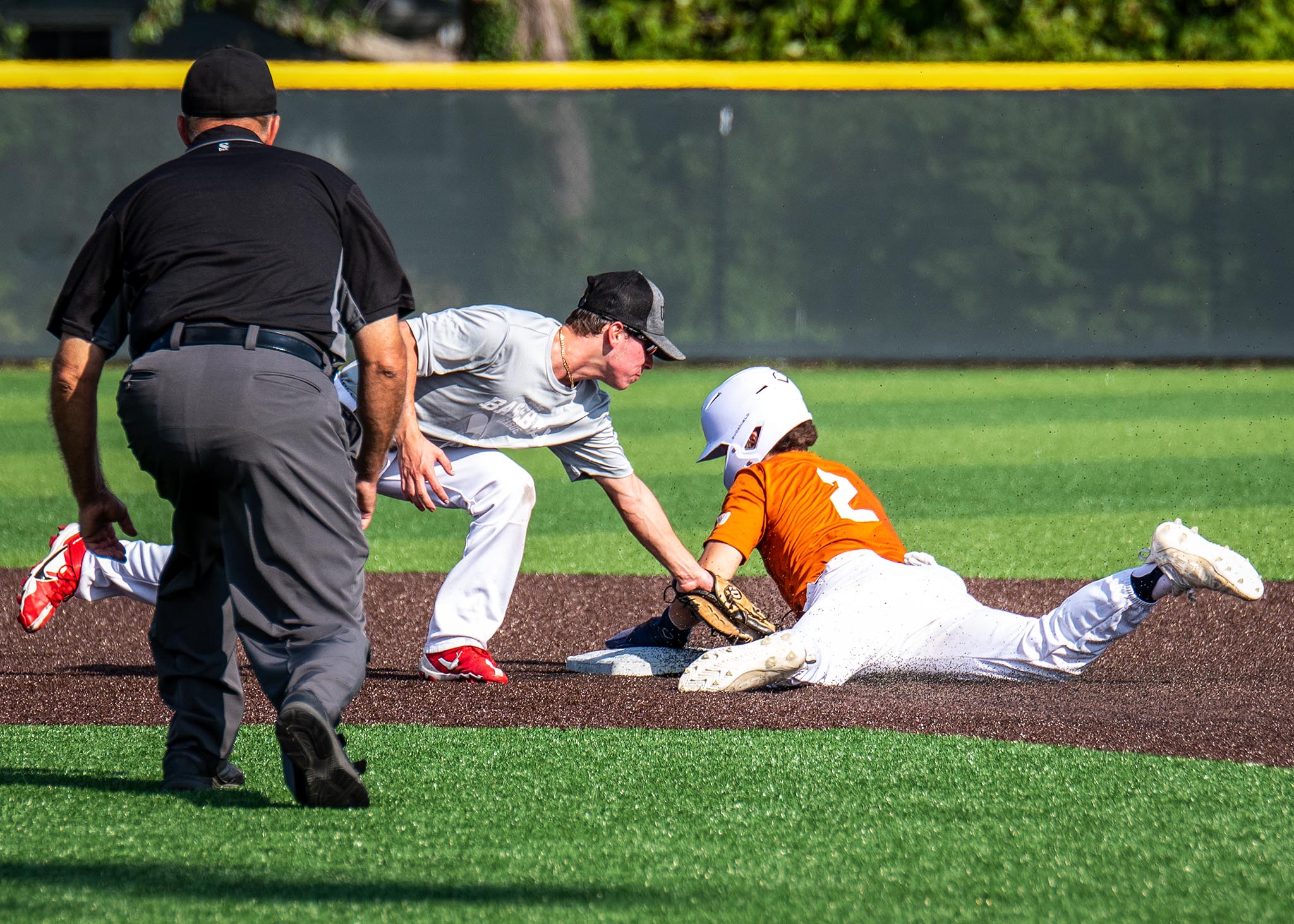 PALE HOSE (4-3) 1
GINTS (4-3) 4 
Jacob Natale capped a decisive fifth inning with a two-run single and made the lead stick with a pair of scoreless innings in relief as the Gints won their third straight game. Natale plated Nikolas Davilla and Paul Graziano with a two-out single to right field for the final margin of victory.
Jacob Natale goes oppo with a two-out, two-run single, and the Gints score 3 to take a 4-1 lead into the sixth. pic.twitter.com/1DahFD8du4

— Paul Gotham (@PickinSplinters) August 23, 2022
The right-hander retired all six batters he faced (four on strikes) to close out the win. Davilla singled and eventually took advantage of a throwing error on a stolen base at third to start the scoring in the third inning. Nicholas Freville started and struck out two over three scoreless innings. Jaydan Ryrko reached on a leadoff hit by pitch, stole a base and scored the go-ahead run on a wild pitch in the fifth. Ryan Merlo collected a single in the win.
Nikolas Davilla singles through the right side, but Shane Talbot delivers a strike from right field to get the runner at the plate. pic.twitter.com/21ECrlqanu

— Paul Gotham (@PickinSplinters) August 23, 2022
Robert Meeks worked a pair of walks. Antonio Jorge started for the Pale Hose and retired the first seven he faced – five on strikes. The right-hander allowed an unearned run on a hit and three walks. Wyatt Gray led the fourth with a single, stole second and eventually scored the lone Pale Hose run on an error. Preston Foryt tossed a scoreless inning of relief.

BUCS (3-4) 6
BOMBERS (3-4) 4
Evan Cuba worked four scoreless innings in relief to register a save as the Bucs snapped a mini two-game skid. The right-hander took over on the mound with runners in scoring position, three runs in, no outs and struck out the next batters. Cuba retired 12 of 14 batters faced – nine on strikes. Trevor Leroy started and hurled three scoreless innings to pick up the win. Timothy Leary connected on a two-out single in the top of the first to give the Bucs a lead they did not surrender.
Ben Kazel brings in a run with a two-out single through the right side, but Steven Kraus comes up throwing to end the inning. Heading to the bottom of the second: Bucs 5 Bombers 0 pic.twitter.com/Qr05NZiI2W

— Paul Gotham (@PickinSplinters) August 23, 2022
Jake Wiepert and Geovanni Rosa reached on back-to-back one-out walks. After a double steal Leary started the scoring. Leary swiped a pair of bags and eventually came home on an errant throw at third. The Bucs added two more runs in the second inning. Valencio Almborg-Perez had two hits and scored a run in the fifth. Ben Kazel added an RBI single. Trevor Leroy also had a hit.
Evan Cuba strands a runner at third. Right-hander has retired nine of 10 faced – eight on strikes. pic.twitter.com/IDDxodiAw2

— Paul Gotham (@PickinSplinters) August 23, 2022
Jace Crawford and Alex Frisone collected an RBI apiece as the Bombers scored four times in the fourth to cut the deficit to one. Christian Morrison and Cooper Bates both worked a walk in the fourth while Steven Kraus was hit by a pitch. Cuba's outing overshadowed the performance from Crawford who retired all six batters he faced without allowing a ball out of the infield. Frisone and Morrison both had a base hit.