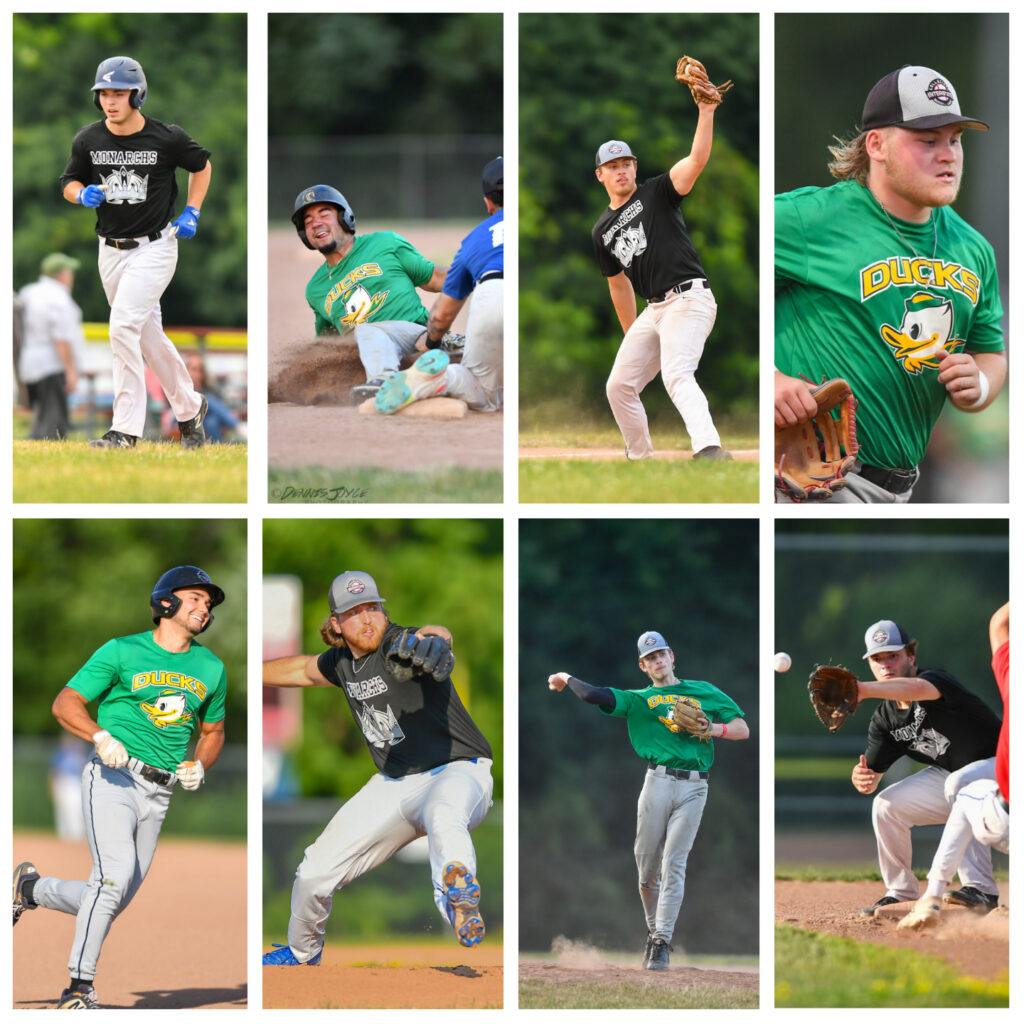 With the Interstate Collegiate Baseball League (ICBL) title looming, the league's best second-half team, Monarchs, will face the vengeance-seeking Ducks.
The Monarchs (14-8-1) and Ducks (7-15) meet for the ninth time this season on Tuesday night to decide the 2022 Interstate Collegiate Baseball League Championship.
The Monarchs opened the season going 6-2 and went 0-4-1 in the next five falling to a .500. Since then, the 'Narchs has won eight of their last 10 games, outscoring opponents 51-31 during that stretch, on the way to the league's second-best record. They have won gone 7-2 in the month of July to earn a spot in the championship round.
The Ducks upset the regular season champion, Blue Jays (10-6) to clinch a spot in the finals.
The two teams have gone head-to-head eight times this season, five of which have been decided by one run. Four head-to-head meetings have resulted in walk-off victories for the Monarchs. The Monarchs have outscored the Ducks 42-32 during the series, including a four-game sweep from July 9th to July 14th that came as part of the team's seven-game win streak.
Head-to-Head Meetings
June 20th Monarchs 7 Ducks 6
June 21st Monarchs 9 Ducks 8
June 22nd Ducks 5 Monarchs 1
July 9th Monarchs 4 Ducks 3
July 11th Monarchs 5 Ducks 4
July 12th Monarchs 7 Ducks 3
July 14th Monarchs 4 Ducks 3
July 26th Monarchs 5 Ducks 0
The Monarchs have won the last five head-to-head meetings entering Tuesday.
How they got here: The Monarchs pulled away with a 9-5 victory over the Cardinals (19-13-1) on Monday thanks to a six-run third.
The Ducks rallied for six-runs in the sixth to upset the Blue Jays 10-6 on Monday night. READ MORE
Players to watch: Dan Tirabassi (Monarchs) holds the league's fourth best batting average (.317) with 20 hits in 62 at-bats, leading the team with 15 RBI and six stolen bases.Troy Liebert (Monarchs) ranks fourth in ERA (1.89) with 39 strikeouts over 33.1 innings pitched. The right-hander owns a 4-1 record with one shutout in a 5-0 victory over the Ducks on July 26th. Opponents hit .183 when facing Liebert. Devin Hicks (Monarchs) leads the team in strikeouts with 43 over 26.2 innings pitched and holds a 3-3 record.
Jason Story (Ducks) leads the team in RBI (15) and home runs (3). Zachary Mock (Ducks) has an on-base percentage of .385 with 10 RBI and 14 hits over 46 at-bats. Nick Francesci (Ducks) has fanned 49 batters over 42.1 innings, good for third best in the league. He is 3-4, holding batters to a .208 AVG against.
2022 ICBL Championship
Tale of the Tape
Ducks
Monarchs
22
Games Played
23
116
Runs Scored
117
126
Runs Allowed
98*
-10
Run Diff
19*
.201
Average
.230
.346
On-base
.347
.261
Slugging
.305
.607
OPS
.652
166
Strikeouts
169
105*
Walks
95
27
SBs
38
6
CS
3
4.76
ERA
2.93*
1.68
WHIP
1.47
.275
AVG. Against
.204*
.934
Fielding
.936
(* denotes league best)
Coaches: Todd Kirkey (Monarchs), Pat Bigham (Ducks)
First pitch is scheduled for 6:00 p.m. at Penfield's Bachman Field.