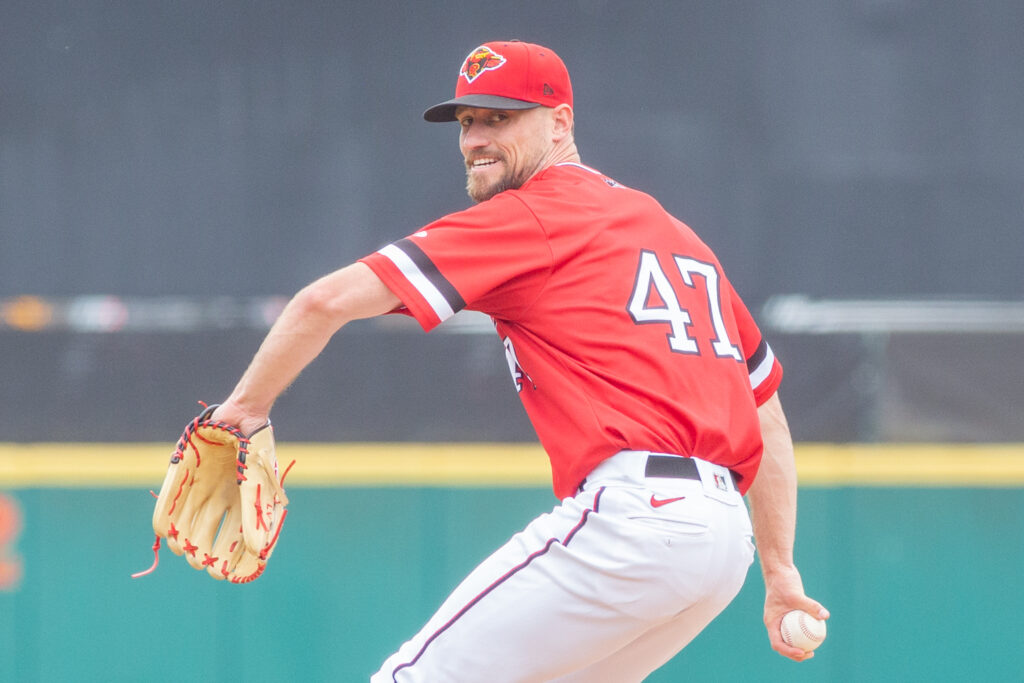 By DAN GLICKMAN
ROCHESTER, N.Y. — On a hot Sunday afternoon, the Rochester Red Wings rode a season-best performance by Logan Verrett to a 2-1 victory against the Syracuse Mets. The Wings victory meant the six-game thruway showdown ended in a 3-3 split.
The win also meant that Rochester (40-32) kept pace with Buffalo at 1.5 games back in the division, thanks to the Bisons' 2-1 win against St. Paul.
Throughout the series, the Red Wings had been battered by Syracuse's Travis Blankenhorn, who came into Sunday's game having reached base in 12 straight plate appearances. He made it 13 in the top of the first with a one-out single to put Syracuse ahead 1-0. It was part of an inning that saw Verrett give up two hits and a walk on 25 pitches before a 6-4-3 double play got him out of it before any more damage was done.
"In the first, obviously the pitch count got up there a little bit, I felt like I was making good pitches and they were either fouling them off or taking them for a ball," he said post-game. "The approach honestly didn't change for me in the six innings after that, I maybe didn't try to be as cute on the corners and try to make that perfect pitch and be competitive and make them put the ball in play. So I guess if there was any change in mentality it was just to be more aggressive."
That change of mentality clearly worked, as Verrett would not give up another hit all game. Only a fourth-inning Nick Meyer walk would keep Verrett from being perfect between innings two and seven. Ultimately, Verrett moved to 4-5 on the year with the seven-inning win, giving up two hits, one run, and two walks while striking out six on 87 pitches. It was, his manager Matthew LeCroy said, a "big performance" for him.
"He had a little trouble there in the first inning, but he made a good pitch to get out of it. Only gave up one, and then he was pretty much in total control for the seven innings," he said.
"I had all four of my pitches working today, always a good day," Verrett said.
The Red Wings would soon strike back thanks to some aggressive baserunning and clutch hitting. After reaching base on a walk, Andrew Stevenson seemingly was caught in a pickoff during Joey Meneses' one-out at-bat. Looking to make something of it, Stevenson continued to run towards second, forcing a throw from Syracuse's Mark Vientos that got past the fielder at second as Stevenson slid in safe for his 20th stolen base on the year. A batter later, Josh Palacios lined an RBI single to center to bring Stevenson home to tie the game at one.
The Wings pulled ahead in the fourth. Having reached third on a single followed by another hit and a double-steal, Jake Noll found himself at third with two outs. With Donovan Casey batting, it was then that Syracuse's Thomas Szapucki balked, allowing Noll a free pass home for the second and ultimately winning run.
The lone threat against Verrett after the first at first seemed to be far more than a threat. In the top of the sixth, Syracuse first baseman Mark Vientos drove a ball high and deep down the left-field line. At first, third base umpire Luis Hernandez called it fair, indicating a game-tying home run. LeCroy came out to protest and speak to the umpiring crew, and it was then reversed into a long foul ball. The understandably upset Mets manager, Kevin Boles, was soon out to argue with the umpires before being ejected. Vientos himself would be ejected after throwing down his helmet and bat after striking out a few pitches later.
"That's a big moment for us, I thought the ball was clearly foul," said LeCroy. "I know it was high, which makes it a bit difficult for the guy at third base to make that call, but I think they got it right, fortunately for us."
After that, Verrett and two Red Wings relievers closed out the game, with Jordan Weems scoring his 11th save on the season.
The Red Wings are off on Monday before returning to play at home on Tuesday against Worcester. Although the Wings had success against the Red Sox earlier in the season, LeCroy isn't going to underestimate them.
"We played them early and swept them at their place, which is really hard to do, but [now] they're probably a different club."
"Nothing's easy in this game, you can be beaten at any time, and we're not gonna take anyone for granted."