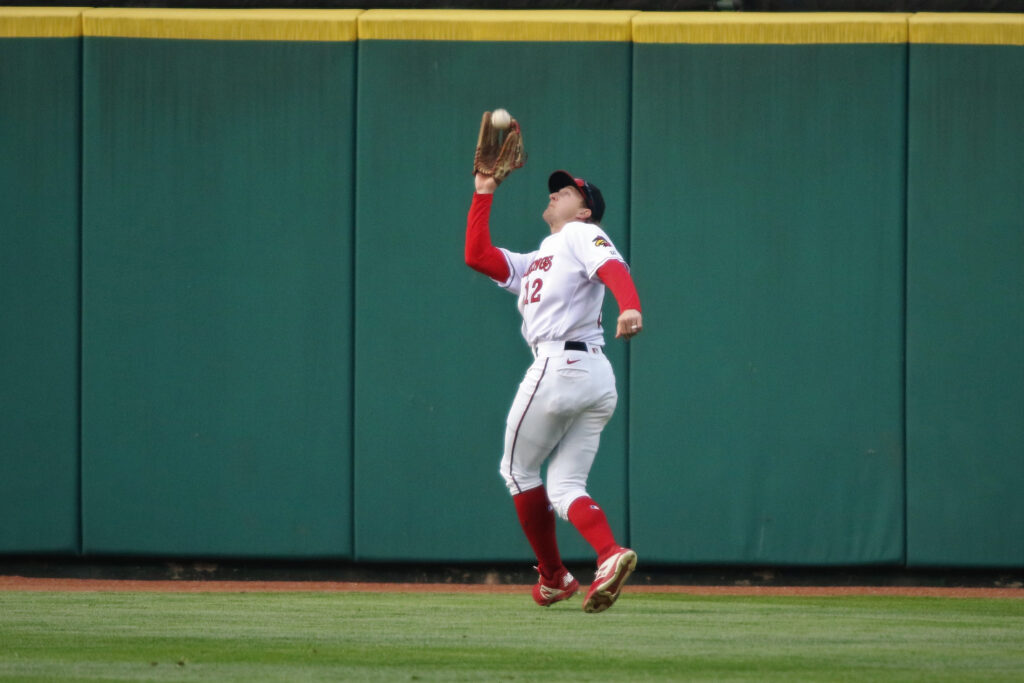 By DAN GLICKMAN
ROCHESTER, N.Y. — It was superhero night at Frontier Field on Friday, with the Rochester Red Wings wearing special Marvel Comics jerseys. Ultimately, though, it would be the Syracuse Mets who would wear the cape, winning 3-2 as Rochester left the bases loaded in the ninth and fell further back in the International League East division race.
With Buffalo's 5-4 extra-inning win on Friday, the Red Wings have now fallen to 1.5 games out of first in the International League East.
The Red Wings took an early lead in the first inning. After former All-Star Trevor Cahill walked two with one out, Josh Palacios hit a soft infield grounder. Syracuse first baseman Mark Vientos botched the toss to Cahill, sending the ball into foul territory as Ildemaro Vargas came in to score. The Wings then had a chance to get more runs with men on first and third, but it was not to be, as Jake Noll grounded into an inning-ending double play.
It was a development that, in hindsight, may have changed the entire game.
"I thought offensively we had a chance to really blow the game open there," said Red Wings manager Matthew Lecroy. "But Cahill, he's a veteran pitcher. He made pitches, got the double-play ball."
Palacios would also be involved in the Red Wings' second run, singling home Matt Lipka in the third. Like in the first, however, the Red Wings failed to score any more runs, as Cahill was able to eventually escape with a Nick Banks popout that left the bases loaded.
On the mound, Jefry Rodriguez was hampered by deep counts during his three-and-a-third-plus innings of work, with Syracuse hitters seeing at-bats of up to 11 pitches. However, he avoided giving up a run until Travis Blankenhorn's led off the fourth with a solo shot to right. A series of walks and singles against Rodriguez and his replacement Sam Clay culminated in a Warren Saunders single to tie it up at two.
After that, the bullpens took over. Despite both teams using a combined 11 pitchers on Thursday, neither bullpen yielded a run until the 8th. Clay, Patrick Murphy, and Curtis Taylor would ultimately give up just three hits in 4.2 innings of work.
"Pitching did a nice job keeping us in it," said LeCroy. "We just didn't really get it going offensively."
Blankenhorn, who had gotten the Mets on the board earlier in the game, was the man responsible for the tie-breaker. Singling off Tyler Clippard, the Syracuse right fielder then stole second. After a Luke Ritter strikeout, Blankenhorn stole third during Nick Meyer's at-bat. Wings catcher Tres Barrera's throw went over the head of third baseman Adrian Sanchez, allowing Blankenhorn to round third and come home.
Still, the Red Wings had one last rally left in them. One-out singles by Andrew Stevenson and Vargas, followed by a two-out walk to Palacios, left the Wings a hit away from likely victory. It was not to be, however, as Noll grounded to short for the force-out.
"In the ninth inning, [the] boys showed some grit," said LeCroy. "They put themselves in a chance to tie and win, and we just came up empty."
"[The Mets are] playing good, but we just gotta keep driving and hopefully we'll win the ballgame tomorrow."