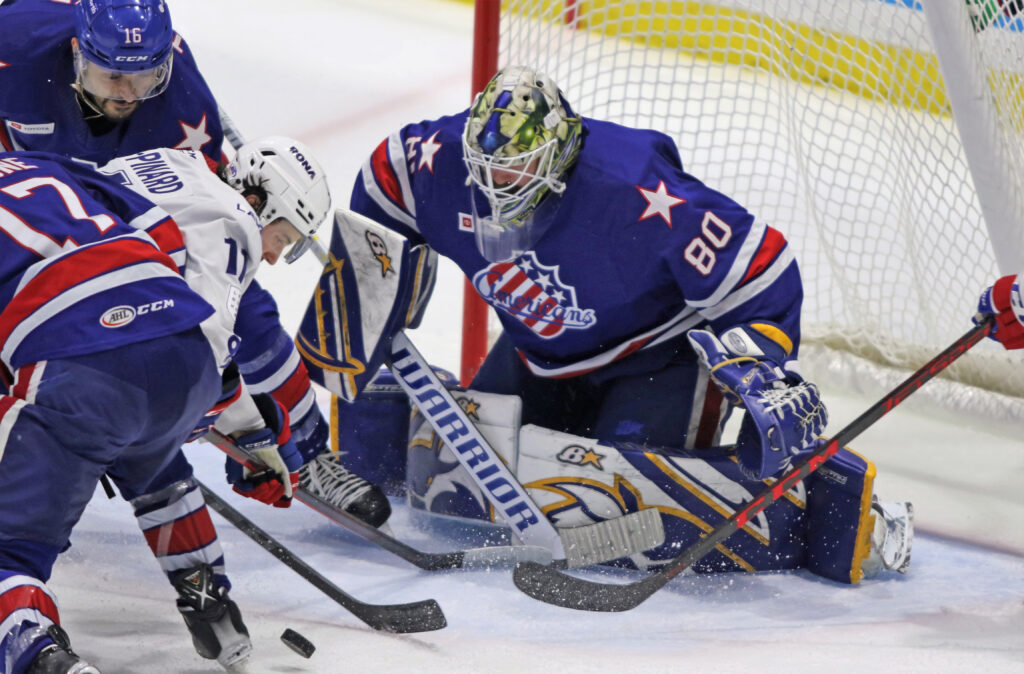 By KEVIN OKLOBZIJA
Six days earlier, the Rochester Americans were basking in the spoils of accomplishment, having just eliminated the Utica Comets from the Calder Cup playoffs.
There was jubilation. There was satisfaction. There were dowsings with beer.
And now, here they were on Wednesday night, trying to process how a triple-overtime thriller ended their season.
There was heartache. There was disbelief. There was the wiping of tears.
JJ Peterka seemed in denial. Some 40 minutes after the winning goal was scored by Jean-Sebastien Dea, the rookie winger still hadn't taken off his skates or hockey pants, unwilling to accept the dream of hoisting the Calder Cup wouldn't happen this spring.
But when Dea scored a power-play goal 1:51 into the third overtime, it gave the Laval Rocket a 6-5 victory and brought to a close the fourth longest game in Amerks history. It was also the first triple overtime game for the franchise since Game 3 of the 1999 Calder Cup finals against the Providence Bruins.
The Rocket swept the best-of-five North Division finals 3-0, outscoring the Amerks 15-7.
"Obviously we had some highs; we snuck into the playoffs, some overtime wins (four), going to battle with these guys," veteran defenseman Ethan Prow said. "It's a bitter pill to swallow but you cherish those moments."
It's just difficult to cherish those moments so soon after elimination. After all, weren't the Amerks just officially crowned the American Hockey League's underdogs of spring after ousting Belleville and then Utica? Wasn't the end of a 17-year playoff advancement drought the signal this spring would be special?
Then along came the Rocket, and just like that, in three games, the Amerks were done.
"That's the playoffs," Amerks coach Seth Appert said. "They always seem to end abrupt, or you win it all. It's obviously more fun to win it all, but when you don't, they always seem to end abruptly."
It was especially abrupt for goalie Aaron Dell, who faced 60 shots (the Amerks fired 39 at Laval goalie Cayden Primeau) and saw Laval score the tying and winning goals on power plays.
"He's been there for us the whole time," Prow said of Dell. "A great performance."
The goal that forced overtime, scored by Jesse Ylonen, came with only 1:07 remaining in the third period. The winner came with Brandon Davidson in the penalty box for what appears to be an incorrect delay of game call, made 1:20 into the third OT.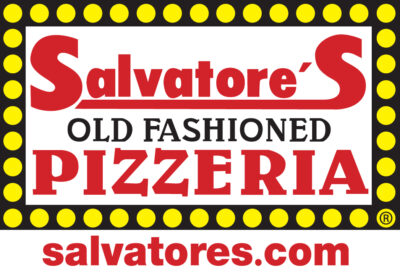 Davidson's clearing try appeared to ramp up off the stick of Ylonen and into the stands. The officials gather to discuss it but ruled it went cleanly out of play.
"You hate the way it ended," Appert said. "That was the wrong call."
The organization can quickly point how important a 10-game post-season run will be for the development of their prospects, and there's a bunch on this roster.
Those young prospects, however, weren't willing to process the totality of the three-week playoff ride just yet.
"Overall it was a great experience for all of us … but, yeah, it still sucks," said Peterka, who scored two more goals, giving him seven (along with five assists) in only 10 playoff games.
Making Wednesday's loss so bitter for the Amerks was the way they played. They vaulted to a 2-0 lead in the first eight minutes on goals by Mark Jankowski and Peterka.
Then they stumbled through a horrid four-minute stretch late in the second period, giving up four goals and finding themselves in a 4-2 hole going into the third period.
Yet Team Resiliency refused to roll over. Brett Murray scored on the first shift of the third period, just 13 seconds in. Only 1:19 later, the scored was tied 4-4 when Peterka guided home a Peyton Krebs centering pass.
And when Murray scored again, redirecting a Prow point shot at 8:35, the Amerks were ahead and the sellout crowd of 10,662 was deafening.
The Rocket tied the score with only 1:07 remaining in regulation on a power play. Jesse Ylonen fired home a shot from the left of the slot during a 6-on-4 manpower advantage, the result of a Murray slashing penalty in the offensive zone and because Laval pulled goalie Cayden Primeau for a sixth attacker.
The penalty was difficult to argue. Murray slashed the stick out of the hands of defenseman Xavier Ouellet.
"That was a bad penalty, a selfish penalty," Murray said. "It's tough."
Once in overtime, the Amerks had numerous great chances, including one by snakebit Jack Quinn that was headed into the net but hit the knob of Primeau's stick and stayed out.
"I think that's what makes everything even worse," Peterka said. "We had so many chances to win it."
And just like that, it was over.
"I'm probably more disappointed that this particular group of men will never get to be a team again," Appert said. "Tonight was fitting, down 4-2 in the third and no quit, put ourselves in position.
"We probably should have closed it out but we didn't; credit to Laval."
Said Peterka: "You don't have that many chances to play playoffs and win a couple rounds so you just soak it in."
Kevin's 3 stars, sponsored by Salvatore's Old Fashioned Pizzeria
1. J-S Dea, C, Laval … Two goals against his former team, including the winner.
2. JJ Peterka, RW, Amerks … Two more goals, dangerous always.
3. Jesse Ylonen, RW, Laval … Scored the tying goal with 63 seconds left.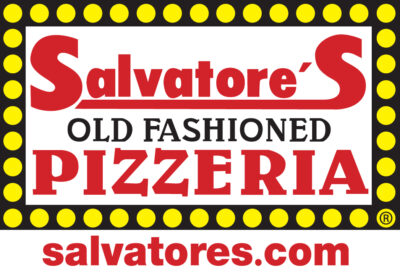 Longest games in Amerks history
April 10, 1982 vs. New Haven, 1st Round, Game 3, GWG scored 14:08 into 4th OT.
April 16, 1967 vs. Baltimore, 3rd round, Game 1, GWG scored 4:18 into 3rd OT.
May 25, 2022 vs. Laval, 3rd round, Game 3, GWG scored 1:51 into 3rd OT.
June 9, 1999 vs. Providence, Calder Cup finals, Game 3, GWG scored :55 into 3rd OT.