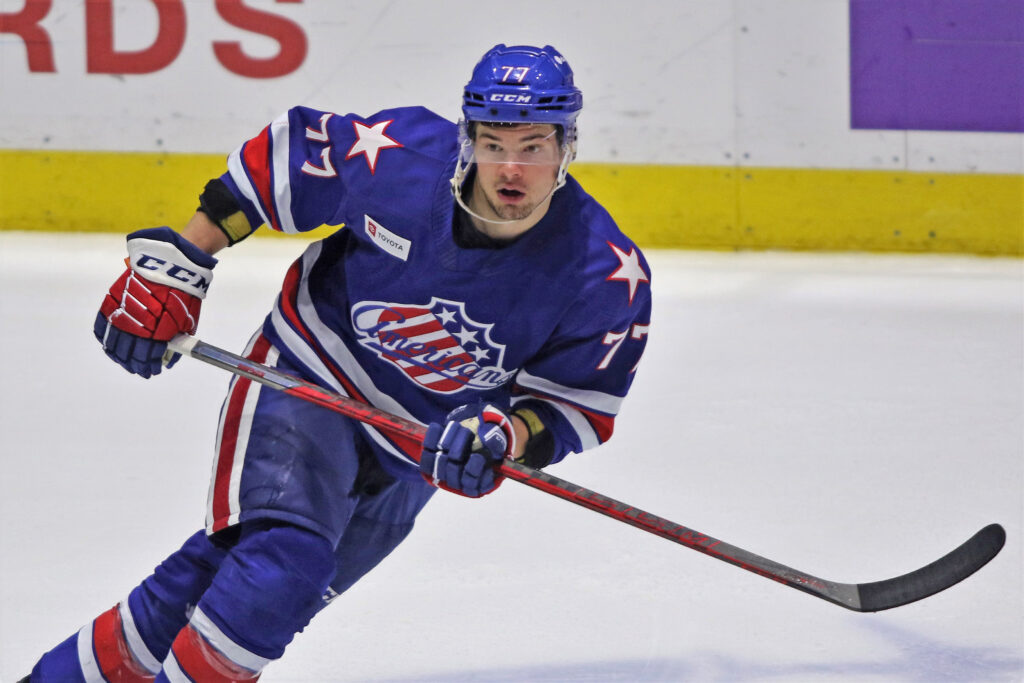 By KEVIN OKLOBZIJA
The opening game of the Calder Cup North Division finals became the Danick Martel show – in large part because the Rochester Americans were no-shows.
Martel, a seventh-year veteran winger, scored four goals in a span of 28:23 as the Laval Rocket routed the Amerks 6-1 on Sunday night in Laval, Quebec.
Amerks goalie Aaron Dell allowed three of those goals – and four total goals on 20 shots – before he was replaced by Michael Houser 31 minutes and 24 seconds into the second period.
But this wasn't just a goalie having an off night. This was a team that played well for 18 minutes, then for whatever reason couldn't match the intensity or battle of the Rocket and left the ice of Place Bell angry about their performance.
"They were feeling it and we never found our game," defenseman Jimmy Schuldt said. "When they got the lead, we got even farther from our game."
Martel became the first player to score four goals in an American Hockey League playoff game since Greg Scott did so on April 27, 2013, against the Amerks in a 6-3 victory by the Toronto Marlies. Martel had scored 17 goals in 70 regular-season games.
JJ Peterka put the Amerks ahead 1-0 at 16:41 of the first period, but Martel tied the score late, then the Rocket scored three times in the first 11:24 of the second period to turn Game 1 of this best-of-five series into a laugher.
"I think the whole night we let them play their game and we didn't have an answer for it," defenseman Casey Fitzgerald said.
The performance was confounding for a team that had played so well on Thursday in a 4-2 victory at Utica in the deciding fifth game of the North Division semifinals.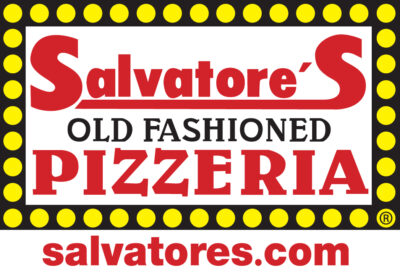 "Our puck decisions were sloppy and slow and we lost too many puck battles," coach Seth Appert said. "They're a very tenacious team. They're relentless in their pressure. They're kind of a buzzsaw, they're always on you, they're always putting you in uncomfortable situations."
The Amerks franchise hadn't lost a playoff game by five goals since April 13, 2003, the deciding third game of the best-of-three first round at Milwaukee, also 6-1.
They must rebound quickly, however. Game 2 is at 7 p.m. Monday in Laval, then the series shifts to Rochester for Game 3 on Wednesday and, if necessary Game 4 on Friday. A fifth game would be in Laval next Sunday.
To make the series competitive, the Amerks must be better in pretty much every area, perhaps starting with the power play. They went 0-for-4 with the man advantage.
"I thought they were pretty poor tonight in contributing to the loss," Appert said of the power play units.
Peterka's fifth playoff goal gave the Amerks the 1-0 lead 16:41 into the game, but then the Martel show began.
He tied the score with 1:34 left in the first period, establishing position in the right of the slot before redirecting Brandon Gignac's shot from the right point.
"We probably should have been up 2-0," Appert said. "We gave up a goal that we shouldn't have given up – not on Dell but on our team defense – to let them off the hook. Then we made the game very difficult on ourselves in the second."
Martel gave the Rocket a 2-1 lead 5:12 into the second period, firing a shot past Dell from the left circle.
The goal came off a fastbreak rush, one that began on Martel's between-the-legs breakout pass to Cedric Paquette leaving the Laval zone. Martel then took a drop pass high in the Amerks zone and was stopped by Dell but he fired home the long rebound from the left circle.
Paquette extended the lead to 3-1 only 3:14 later, converting a Rafael Harvey-Pinard pass off a two-on-one fastbreak.
Martel completed his hat trick at 11:24, plucking a rebound out of a deep-slot scramble and firing it past Dell, again from the left circle, a replay of his second goal.
That ended Dell's night. He stopped 16 of 20 shots and was replaced by Michael Houser.
Martel could have had a fourth goal in the second period but Houser stopped his shot off a two-on-one shorthanded rush at 16:08.
He did score his fourth 6:49 into the third period on a power play.
"It's frustrating but you want to turn the page – you have to turn the page," Fitzgerald said.
Recent AHL four-goal playoff games
Sunday: Danick Martel, Laval vs. Rochester.
April 27, 2013: Greg Scott, Toronto vs. Rochester.
April 20, 2000: Chris Kenady, Hartford vs. Springfield.
April 19, 1996: Chris Ferraro, Binghamton vs. Syracuse.
Kevin's 3 stars, sponsored by Salvatore's Old Fashioned Pizzeria
1 Danick Martel, LW, Laval … 4 goals, and 10 of Laval's 38 shots on goal.
2 Sami Niku, D, Laval … 2 assists, on the ice for four Rocket goals.
3 Cayden Primeau, G, Laval … Stopped 31 shots and made key saves early.