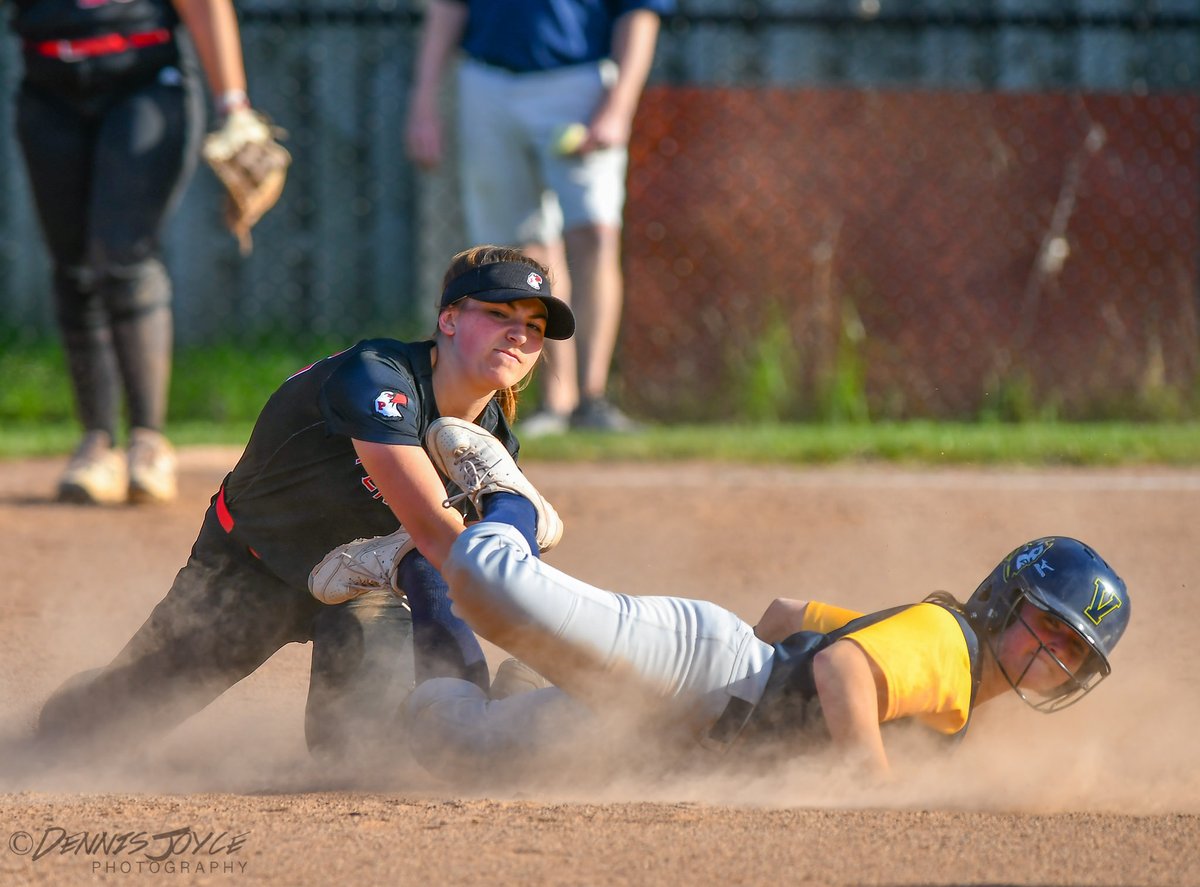 WAYNE 8
GREECE ATHENA/ODYSSEY/OLYMPIA 6
Emma Grasso and Olivia Huber connected on two hits and scored two runs apiece to lead Wayne. Kayda Schmitt went 2-for-4 with a double and an RBI for the Eagles. Sara Smith and Cameron Crawford both singled and drove in a run. Smith also ame around to cross home. Crawford allowed six runs on six hits and six walks to pick up the win. Greece's Skylar Zapata struck out four and stole home early in the game. Ally Ray Schumacher led the Greece offense going 2-for-2 with a triple and a fence-clearing home run. Schmacher collected four RBI before being walked intentionally twice. Lydia Thomas went 2-for-2 at the plate for Greece.
PITTSFORD MENDON 7
SPENCEPORT 2
Lilly Goldberg struck out 13 in a three-hitter and added three hits at the plate as Mendon (11-3) won its fifth straight game. Emma Giordano and Leilani Hernandez added two hits apiece.
VICTOR 10
PENFIELD 12
Victoria Campana, Nadia Zach and Lynn Clark connected on back-to-back-to-back singles to spark a six-run fourth as Penfield rallied to avenge an earlier. Zach finished 3-for-5 out of the leadoff spot with two runs scored. Clark went 3-for-4 with three runs scored. Teona Cruz doubled, walked and scored three runs in the win. Megan Clark had three hits in four at-bats and crossed home twice. Emma Natale reached with three singles and and came home once. Victor's Joelle Jay and Kylie Bickert both finished 2-for-4 and scored in a five-run Blue Devil first inning. Audrey Steinorth went 2-for-4 and also scored in the first. Mekenna Hobson doubled, reached base three times and scored a run. Victor won 14-2 when the two teams met in late April.
FAIRPORT 2
WEBSTER THOMAS 6
HILTON 14
BROCKPORT 4
BRIGHTON 4
HONEOYE FALLS-LIMA 3
CHURCHVILLE-CHILI 1
BATAVIA 16
BISHOP KEARNEY 2
OUR LADY OF MERCY 17
A two-out hit barely eluded the outstretched glove of Our Lady of Mercy shortstop Jaidan Odorisi. Two runs scored on the play, and Mercy's lead was trimmed to one. Monarchs starter Ava Verdi made sure that threat ended and none existed for the remainder of the contest. READ MORE.

RED JACKET 16
BLOOMFIELD 26
Bloomfield's top of the order combined for 12 hits and 11 RBI as the Bombers (14-0) stayed undefeated. Brianna Leitten led the way going 5-for-6 with four RBI and three runs scored. Calla McCombs was 3-for-6 with a double, four runs scored and three RBI. Ashlyn Wright doubled, singled, drove in a pair and scored twice. The ninth-grader also struck out six in two scoreless innings of relief. Abby O'Brien doubled and singled to go with two RBI and two runs scored. Sofie Kachmaryk was 3-for-6 with two RBI and two runs scored in the win. Abyy Graham singled twice, walked and scored four run. Stephanie Beikirch, Kayla Lasher and Brynn Westlake each scored two runs apiece. Bloomfield posted eight runs in the first, five in the second and nine in the fourth for a 22-2 lead. Red Jacket's Savannah Steurrys and Hannah Finnick both went 2-for-4 with two RBI and two runs scored in the loss. Ava Krise singled, scored twice and drove in a pair. Madison Moore collected three RBI and three runs scored. Natalie Lecceardone and Briellea Commisso both scored twice. Red Jacket cored nine runs in the fifth and five in the sixth.
WOMEN'S PREP 1
EAST 19
SOTA 13
WILSON/EDISON 3
NORTHSTAR CHRISTIAN 2
KENDALL 18
C.G. FINNEY 10
AQUINAS 9
NORTH ROSE-WOLCOTT 1
SODUS 2
Trailing 1-0 heading into the fifth and final inning, three straight  reached base for Sodus for the walk-off win. Sarah Hino started the rally with a walk before Payton Reibstein and Natalie Lamar connected on back-to-back singles for the win. Lamar reached base all three times she came to the plate with two walks earlier in the game. Hino walked twice. Jodi Haffner walked and scored the lone North Rose-Wolcott run.
NORTH ROSE-WOLCOTT 4
SODUS 8
Natalie Lamar doubled and scored two runs including one in a four-run fifth to help Sodus (8-4) pull away for its fourth straight win. Mauresha Sykes drove in a run with a single in the fifth. Emma Burr drove in a run with a single in a three-run third. Sarah Hino singled, walked and scored a run. Jordyn Graham singled and scored twice. Alydia McIntyre singled and scored for North Rose-Wolcott. Grace King and Gabby Cuykendall also crossed home for NR-W.
FRIENDSHIP/SCIO 2
AVOCA/PRATTSBURGH 6
Annabella Putnam finished 2-for-4 including an RBI double in a four-run third to give Avoca/Prattsburgh a lead it did not surrender. Putnam doubled twice in the game and scored a run. Emma Carlton finished 2-for-4 with a double, two RBI and a run scored. Kenda Pinckney was 2-for-4 with a run scored while Susie Moore drove in two runs with a single. Lilliana Joristma singled and scored. Mallory Patoine came home once. Riley Stowe connected for a triple in the win. Friendship/Scio's Nevaeh Ross singled and scored. Keely Sisson walked twice and scored.
HAVERLING 16
DANSVILLE 2
WARSAW 1
AVON 13
KESHEQUA 11
PAVILION 3
PERRY 2
YORK 5
LETCHWORTH 10
HORNELL 3
ARKPORT/CANASERAGA 8
WAYLAND-COHOCTON 13
OAKFIELD-ALABAMA 6
ALEXANDER 11
LE ROY 18
GENESEO 1
MARCUS WHITMAN 4
HONEOYE 27
HONEOYE 18
MARCUS WHITMAN 4
MIDLAKES 1
PENN YAN 12
SOUTH SENECA/ROMULUS 2
DUNDEE/BRADFORD 18
MYNDERSE 17
GENEVA 2
NAPLES 1
HAC 16
RED CREEK 2
EAST ROCHESTER 17
ADDISON 20
TRUMANSBURG (IV) 0
FILLMORE 1
BOLIVAR-RICHBURG 12
BELFAST/GENESEE VALLEY 3
CUBA-RUSHFORD 7
ANDOVER/WHITESVILLE 8
HAMMONDSPORT 4