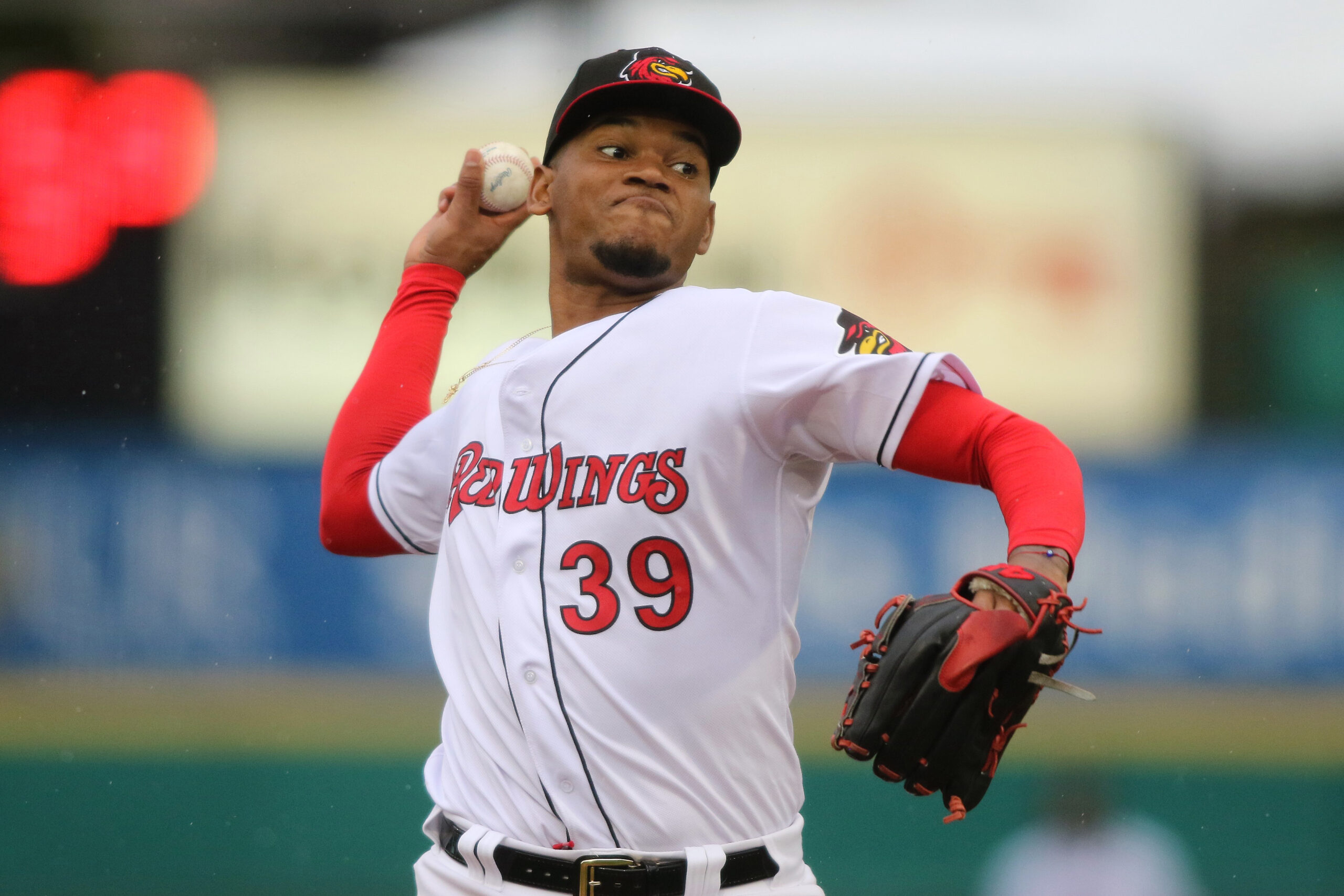 By CHUCKIE MAGGIO
Jefry Rodriguez could have pitched deeper into Tuesday evening's matchup with Scranton/Wilkes-Barre, requiring only 53 pitches through 5.1 innings pitched, but Rochester Red Wings manager Matt LeCroy wanted to close his outing on a high note.
Rodriguez, who entered Tuesday's game throwing just 53.6 percent of his pitches for strikes (141 of 263) and issuing 10 walks in 13 innings this year, produced his most accurate and efficient outing yet. The veteran right-hander tossed 43 of his 53 pitches for strikes, scattering just three hits and not allowing a run in his first walk-free outing since April 9 at Toledo.
Rodriguez picked up his first victory since last Sept. 18 against Buffalo as Rochester defeated the RailRiders 2-0 in a tidy 2:03. Each of the 28-year-old's best strike percentages have occurred in the home confines at Frontier Field. His previous best was 64 percent against Buffalo (32 of 50) on April 15.
"That's by far the best that I've seen Jefry Rodriguez throw a baseball," LeCroy remarked. "I mean you can't be more efficient than he was. … The way he went through the lineup was really just impressive. He had it all. The sliders were really good; he threw some changeups; the fastball command, for me, the way it was downhill, had some good life to it.
"It don't get much better than that, man. I'm super proud, because the work that him and [pitching coach Rafael Chaves] are doing on the side, he's able to carry it to the game. You could see bits and pieces of it during his last starts and now, to be able to put it together against the quality of lineup that they put out there, it's really good for Triple-A and he went through it pretty easy."

The sides combined for just 11 hits, Rochester tallying six of them. Nick Banks continued a favorable homestand with his second home run in as many games in the fourth inning, extending the lead after Rochester jumped ahead in the first inning on Joey Meneses's two-out double. Each run came with two outs.
Meneses has driven in at least one run in three of his last four games and Luis García, who recorded two of the team's hits and scored the first run, has scored 24 times in 22 games.
While the Red Wings have shown they can outslug teams, they have also shown that when their pitchers have good command of the strike zone, they can prevail in low-scoring contests as well. Tuesday's victory marked the first time Rochester has won scoring just two runs this season.
"Any time you can score with two outs, the way we've been pitching, that's a good combination," LeCroy noted. "I'm really proud of everybody. They competed well. The conditions were a little damp, with a little rain, and I thought our bullpen did an outstanding job of securing (the victory). … Really, really happy about everybody tonight."
Other notes: Dee Strange-Gordon returned to Washington, ending his rehab assignment. The Nationals accommodated the move by optioning Lucius Fox to Rochester. Fox, who had been in Washington since the start of the season, hit safely just twice in 25 at bats in limited major league action.
"[Fox] needs to play; he needs at bats," LeCroy acknowledged. "He didn't swing the bat that well up there, so that's one area that was of concern, a little bit, when we got him. He's a very athletic kid, so really excited for him to come down and work on his craft and hopefully get him back up to the majors.
"He'll fit right in with this group. He'll play everyday. Looking forward to seeing what he can bring to us."