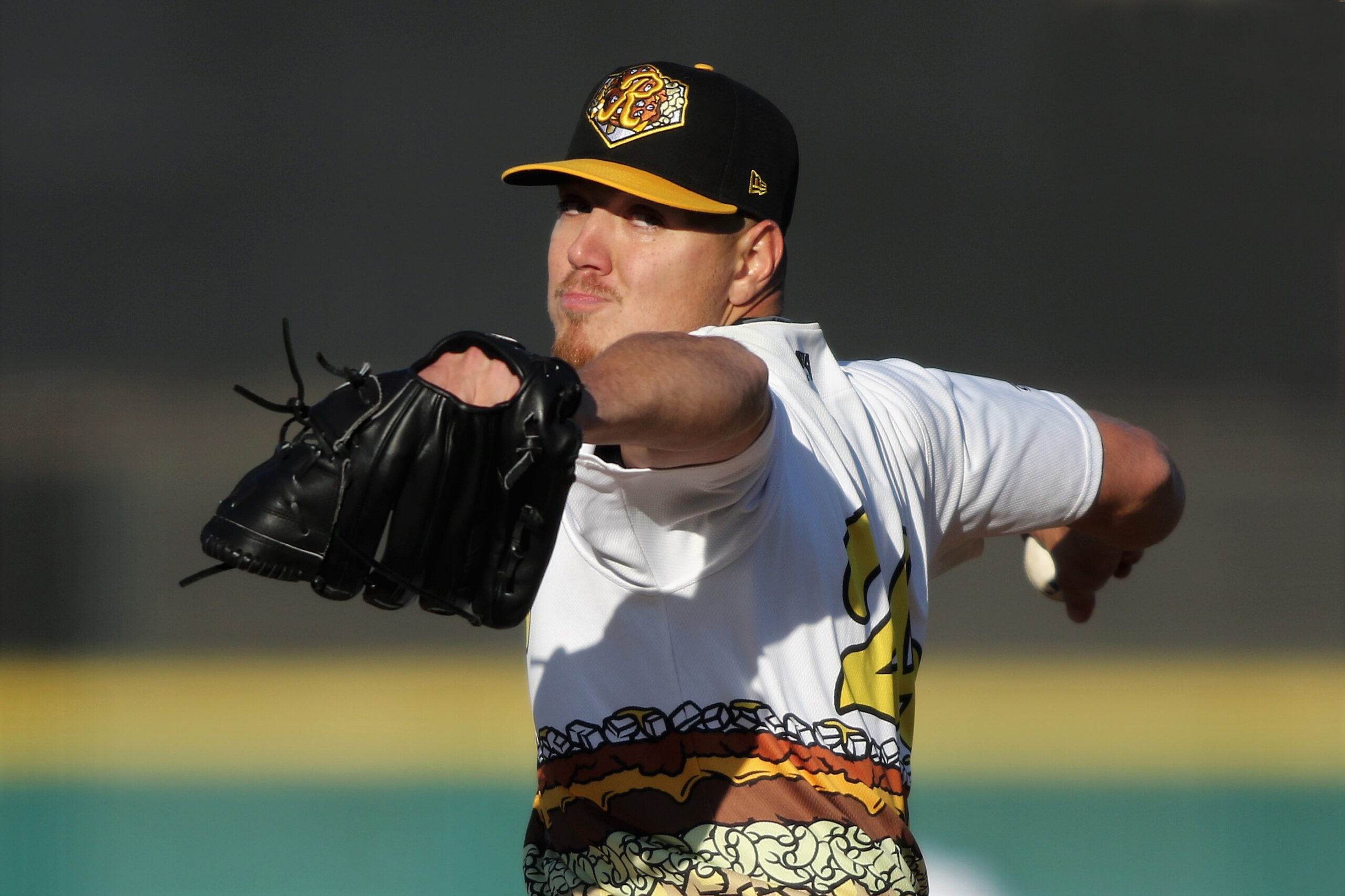 By CHUCKIE MAGGIO
The day after Cade Cavalli held Syracuse hitless through 5.1 innings called for a dip in the hot tub, a "really good stretch," a jump rope session and some pregame catch in the outfield.
Result-wise, Cavalli agreed, the outing was the best of his 10 Triple-A starts. He felt, however, that he'd executed better in previous appearances.
"That's just how baseball goes sometimes, where it doesn't go your way, and yesterday was going my way a little bit," Cavalli remarked. "I've just gotta look at the positives, look at the negatives, and keep building on it.
"I'm excited. It's a long season and I'm ready to get going, keep building upon each start."
The 23-year-old is the Washington Nationals' top-rated prospect, according to MLB.com. A mere 3.5 months passed between Cavalli's debut at Single-A Wilmington and his introduction to Triple-A last year. He and infielder Luis García are Rochester's youngest and most monitored prospects, with fans of the beleaguered parent club anticipating García's return and Cavalli's debut.
The Tulsa, Okla. native has commanded that attention and hype since the Nats drafted him 22nd overall in the 2020 MLB Draft. Handling the pressure, he explained, entails a high level of focus.
"I just try to focus on the game; that's all you can do," Cavalli acknowledged. "I get here every day and I've got work to do. That keeps me focused, and I'm trying to be where my feet are, which is here in Rochester. I'm trying to make the best of the moment that I can here in Rochester and try not to look too far ahead."

More notes from last week in Red Wings baseball:
Rochester is one of four International League East teams with seven home wins thus far, holding a 7-5 home record including a 5-3 mark in standalone (non-doubleheader) games. The Red Wings have averaged 5.9 runs at home (71 runs in 12 games) compared to 4.5 runs a game (55 runs in 12 games) away from Frontier Field.
Veteran reliever Carl Edwards Jr. provided a comedic—and timely, with the upcoming Mother's Day holiday—approach to defending home turf.
"I just think when you're home, you're home. You're not gonna let nobody come to your house and slap your mama, correct?" Edwards Jr. commented. "So I just think that's how we look at the situation when we're playing at home.
"And then when we go on the road we have to deal with crowds, deal with certain things we're not used to hearing at home. But it's baseball; we make adjustments and we go from there."
Major League Baseball has caught some heat from pitchers, most vocally New York Mets starter Chris Bassitt, about its baseballs this season. Bassitt blamed the balls for how often his Mets teammates are being hit by pitches this season, citing inconsistencies in each ball and adding, "MLB doesn't give a damn about it. They don't care." 20 Mets have been plunked in 23 games.
The Red Wings have been hit 13 times in 24 games, the fifth-most occasions in the International League. Their pitchers have only hit seven batsmen in 206 innings, tied for the second-least in the IL.
Edwards Jr., who has allowed just one run in 10.1 innings in his first year with the Nationals organization, did not corroborate Bassitt's criticism.
"I think that's just a scenario where guys just make up stuff when they're not pitching well, honestly," Edwards Jr. said. "I just think the baseball is a baseball. Regardless of how the baseball feels, both teams have to throw with it and I think that's just part of it. I think now, since this is the first month, the next month guys get more comfortable with the baseballs. And it'll go back to normal, where us pitchers can kind of get an upper hand on certain things.
"But overall, it's just a baseball and I don't try to look too far into it, if the ball's different or not. I just don't pay it no mind, no attention, because as long as I get my three outs, the baseball is out of my hand."
Nick Banks, who ranks fourth in the International League in BABIP (batting average on balls in play) at .435, raised that mark on Sunday by batting 2-for-3 on balls in play, singling and homering.
Banks batted .313 (5 of 16) against Syracuse, hitting safely in each of the four games he played to recover from an 0-for-4 series finale at Lehigh Valley on April 24. He leads qualified Red Wing batters in average at .343, overtaking Luis García (.337).
The 27-year-old, who hit just .189 in 32 games with Rochester last season, hopes to have turned a corner.
"I'm just staying within myself a lot more this year," Banks acknowledged. "Historically I'm a slow starter, and then I kind of pick up the pace. This year I started off really good. Just sticking to my routine and everything has helped me a lot. Obviously I was here for a little stint last year, so I got to experience what it's like, more of what I'm gonna see.
"Experience helps a lot. Being in pro ball for five, six years."
The 2016 fourth round pick, a Texas A&M alumnus, could be an under-the-radar callup candidate as the season progresses.